Rockerbox helps you build a
data foundation
that you can trust.
Collect
and
Track
bring in spend, performance, and first-party marketing touchpoint data from ecommerce platforms like Shopify and marketing channels ranging from search to social to OTT and produce clean and complete datasets that you can use to understand your marketing performance and what's driving conversions. Rockerbox's UI provides multiple views for analysis, but for additional control, Export lets you transfer these datasets to your
data warehouse
and beyond.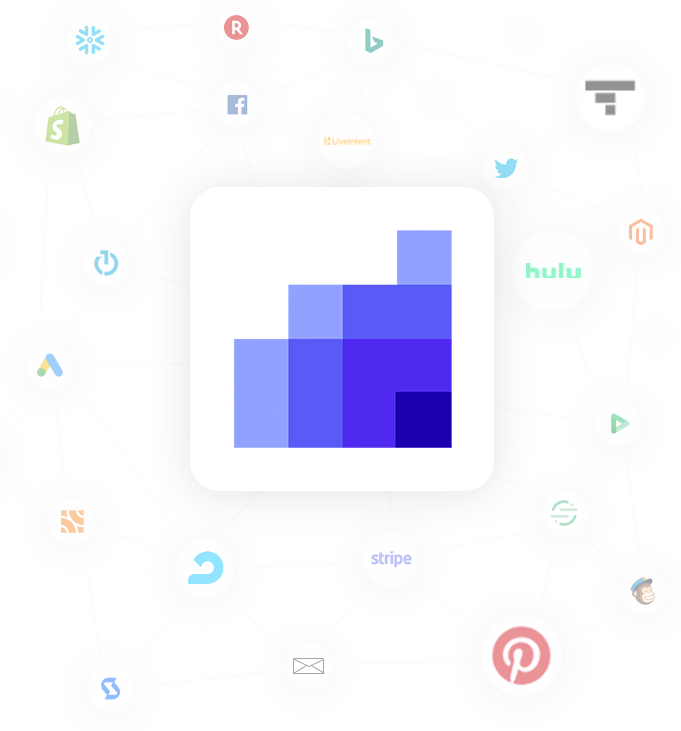 Talk to our team about the platform that can help you scale your business with reliable marketing insights.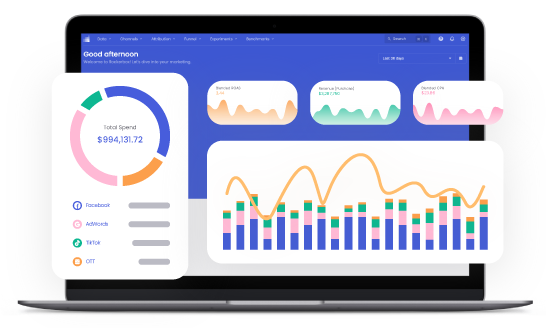 All Your Data, Where You Need It
No more disconnected marketing analysis. Rockerbox delivers insights in a comprehensive UI and offers integrations with Google Sheets and Data Warehousing platforms.
Digital & Offline Channels
We don't stop at digital channels. Rockerbox can track all your marketing from social channels and Google ads to direct mail, podcast sponsorships, OTT, and more.
Gain a Deeper User Understanding
View a cross-channel path to conversion for your users and gain insight into which of your marketing channels are truly driving conversions and how long your user journeys last.

Measurement

for the
Modern Marketer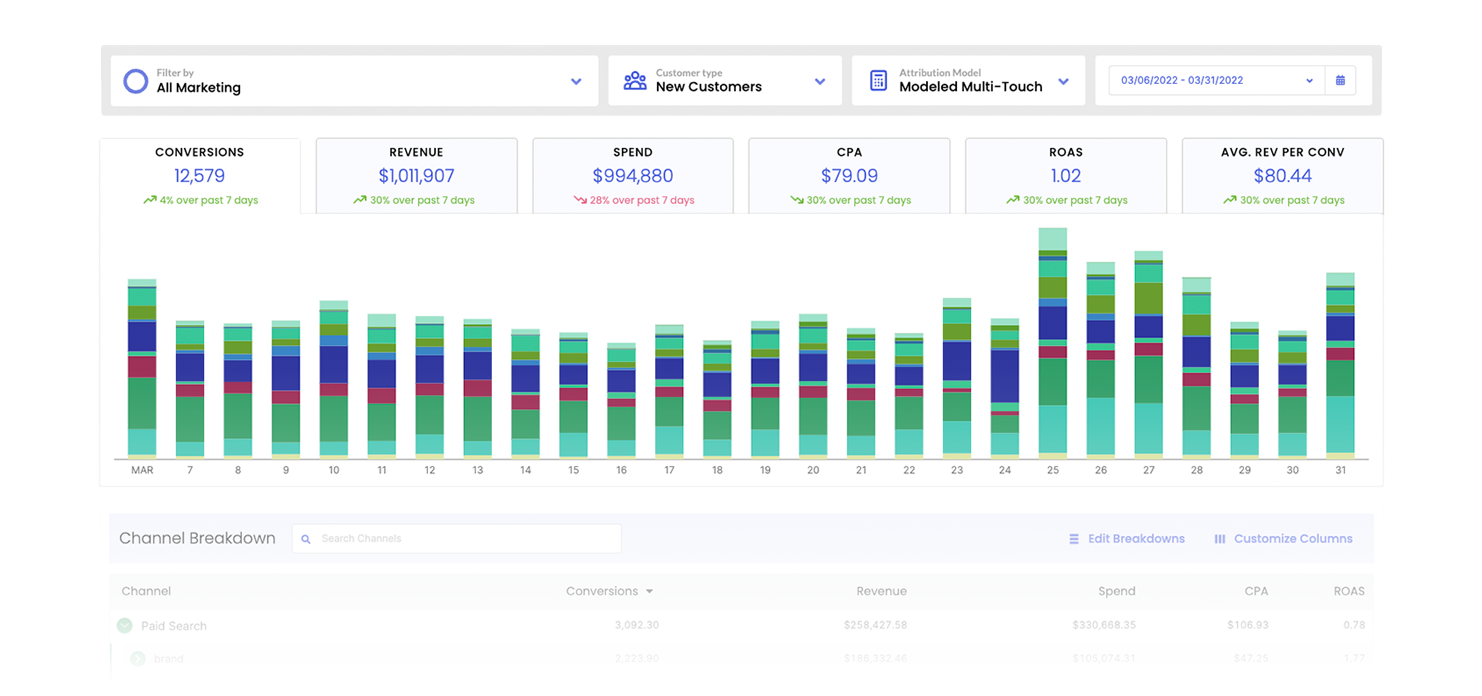 More than just MTA
MTA is a powerful tool as long as its rooted in a first-party foundation and allows you to incorporate synthetic events and cross-channel integrations. Rockerbox does all that and beyond.
75+ Platform Integrations
Connect all your marketing—and we mean all—and centralize the data into Rockerbox's platform. Rockerbox integrations span social platforms, search, display advertising, online/offline sources, and more.
Hard-to-track channels
We track everything, even things like podcast advertising, direct mail, and TV (linear and OTT), all using integrations specifically tailored to those platforms. We also offer view-through data on Pinterest and modeled view-through on Facebook for detail you won't find anywhere else.
Know what's working so you can spend confidently
Rockerbox's platform can show you the true impact of your marketing so you can scale back on what's not performing and double down on the activities that actually drive sales.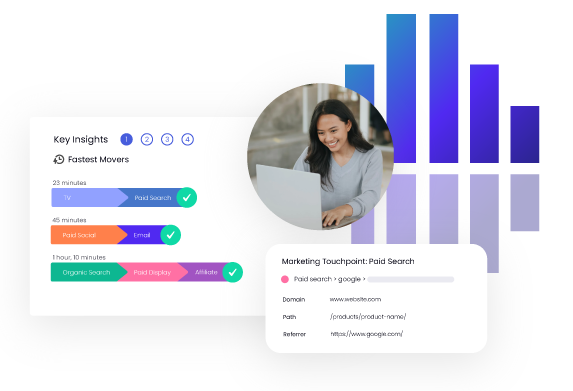 View Paths to Conversion
Rockerbox helps you gain an unprecedented understanding of the makeup of your funnel and how your customers buy with end-to-end conversion paths.
New Visitor Analysis, Channel Overlap, More
Rockerbox also offers advanced analyses that help you understand the behavior of new visitors, explore the way channels relate to your funnel, and more.
Finally see a clear picture of all your marketing performance with all your most important marketing data in one place. With Collect and Track, marketing data is at your fingers and ready to be analyzed for more insights.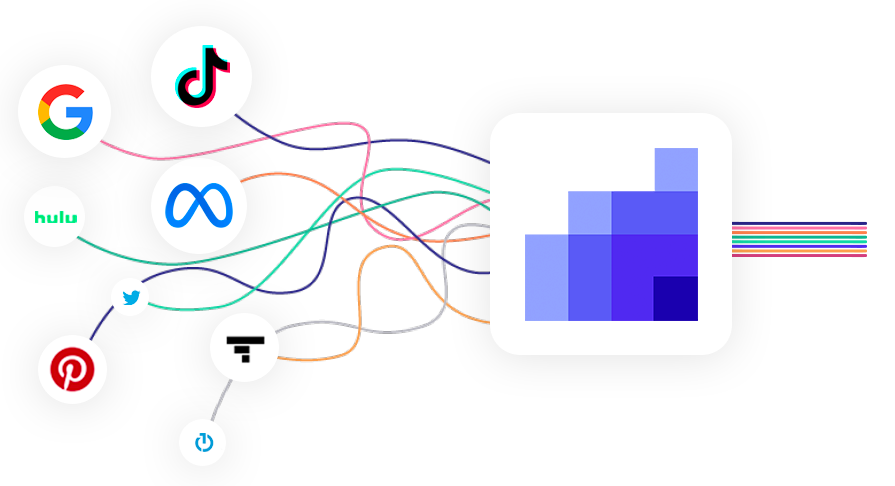 Compare siloed platform data to Rockerbox's deduplicated numbers to get a more realistic view of ad platform performance and make more educated in-platform optimizations. Take it a step further and use Optimize to set performance goals and get targeted spend recommendations.
With Rockerbox Export, we make it easy (read: no complex ETL processes) to get data from Rockerbox where you need it to go. Transfer it to your to your data warehouse for more custom insights or send it to Google Sheets for quick and easy reporting

Tula Skincare
The Challenge
Tula was directing spend toward efforts such as Instagram and Facebook acquisition campaigns without a clear picture of what was driving the most ROAS.
The Solution
With Rockerbox Collect, Track + Journey, Tula was able to pinpoint the channels that were truly moving the needle and invest more confidently in them.
The Result
Tula made the data-driven decision to increase their investment in non-brand shopping by 200%. Essentially, Rockerbox enabled them to make bold, aggressive moves while also being confident in the payoff.
No more confusion.
Just real marketing insights.
Talk to our team about how Rockerbox can change the way you spend—for the better.