Shopify brand spending less than $1M? We have a plan just for you.
Rockerbox Free
Not on Shopify but looking for more insights? Get basic insights into your marketing and industry spend trends with Rockerbox's free plan.
Basic data aggregation* for popular platforms (Social, Search)
Google Sheets reporting templates and data export
Live spend trends dashboard
*Does not include first-party data or deduplication
No credit card required.
Starter
Powerful marketing measurement and optimization tools for digital-first brands on Shopify that want to spend smarter.
Built for Shopify brands spending less than $1M
View-through impact for Facebook
First-party measurement and deduplicated conversions
The Power of Collect + Track + Journey Lite, with just the features you need
Independently measure popular channels, including Google, TikTok, Facebook, Pinterest, more
Meet the Rockerbox Products
Solving marketing data and analysis problems for digital-first brands with complex marketing measurement needs. You select your mix of products, built to fit your company.
Data

Collect: Benefit from a unified, standardized, and transformed marketing performance dataset that'll power the analysis you need to do on a daily basis.
Track: Leverage the power of first-party data that gives you an unbiased view of marketing activities, while playing nice with privacy regulations.
Export: Simplify data access. Your data in Google Sheets, your data warehouse, or anywhere else you need it—without all the manual work.

Analysis

Optimize: Set ROAS and CPA goals for your social channels and monitor progress toward those targets with clear spend recommendations.
Forecast: Leverage the power of Marketing Mix Modeling to make data-driven decisions for how to allocate your marketing budget for the best return.
Journey: Access a new view into the full customer journey and the impact of every touchpoint in your marketing strategy.
Why do we offer

a free plan?
You have to start somewhere with your marketing measurement. Even if you're just advertising on a few channels, Rockerbox Free gives you a taste of why it's so helpful to have a centralized source of marketing data truth rather than flipping between platforms.
We offer this plan so you can start to explore the value of Rockerbox for your company before making an investment, and because we're pretty sure you'll quickly start to see the benefit of our deduplicated view of conversions, first-party data foundation, and diverse integrations.
Your data at your fingertips
See aggregated data from the top channels you use: Facebook, Google, Pinterest, Snapchat, more.


See the state of marketing spend
Review marketing spend stats by channel, pulled from the activity of top DTC brands.


Report on marketing performance
Use the Google Sheets plugin and pre-created templates to get data into a format where you can easily share insights with your team.



The more visibility you have into your marketing, the more of an edge you have in a competitive digital-first landscape. For brands using Shopify, the best way to track your marketing and get a deduplicated view of your conversions is Rockerbox's Starter plan. Built for Shopify users, it combines Lite but key capabilities of Rockerbox's Journey, Collect, and Track products into a platform that gives you a clear, realistic view of your marketing performance across all the digital channels you use.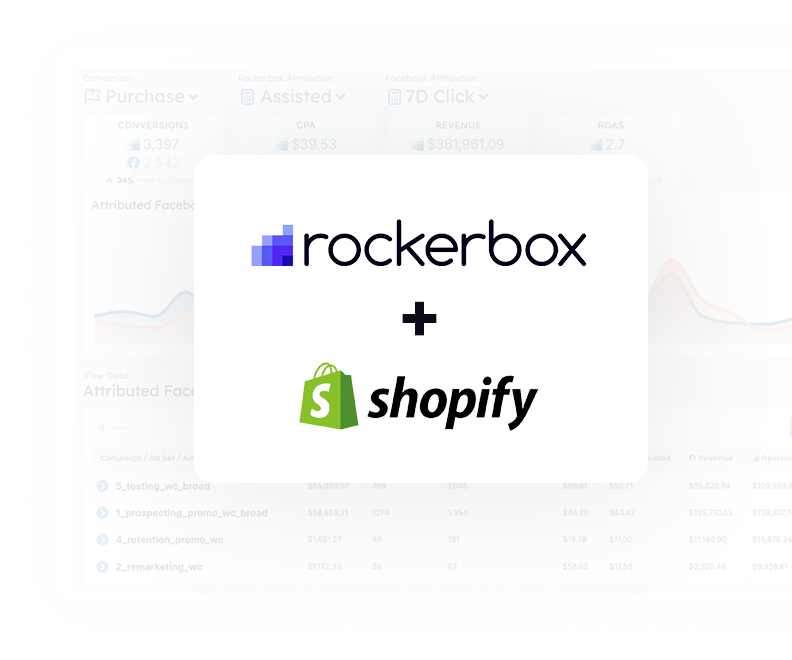 Starter:


Access to the Products You Need
Collect Lite
Pull in data from several popular channels, including Google, TikTok, Facebook, Pinterest, and LinkedIn
Track Lite
First-party data to inform a granular view of the impact of every channel you advertise on.
Journey Lite
An accurate view of your customers — and every step in their marketing journey.
No Contract Required
Monthly pricing based on your company's ad spend
Rockerbox Products:
Mix and Match to Tackle
Your Top Challenges,
Scale at Any Time
Not on Shopify? Run a highly complex marketing strategy? Rockerbox offers products that handle the data and the analysis side of your marketing, unlocking insights into where to spend and where to save your money for the best marketing results.
Build Your
Custom
Product
Package
Data
Collect: You can't expect to pull high-quality insights out of messy, incomplete data. With Collect you can simplify the process of consolidating your marketing and spend data across all of your channels, giving a clean, comprehensive dataset to run analyses off of.
Track: Evolving privacy restrictions and the loss of third-party cookies means you need a compliant and reliable way to gather user-level insights. Rockerbox's Track product allows you to gather the granular marketing and conversation data you need to understand the entire buyer journey.
Export: Getting your data into your data warehouse, or simply exporting it for regular reporting shouldn't be so difficult. Rockerbox Export takes the hassle out of data transfer. Easily get data into your data warehouse for further organization and analysis, connect to Google Sheets, and schedule both automated and ad hoc exports, easily.
Analysis
Optimize: You know how your campaigns are performing, but what next? How can you adjust spend day-to-day to get better and better returns? With Optimize you can set goals and track your progress toward them with regularly updated performance dashboards, plus spend insights for even better results.
Forecast: Marketing Mix Modeling has long been used in the advertising world to explore the impact of media without user-level identifiers. Rockerbox's Forecast product makes it easier than ever to leverage this statistical modeling technique to make predictions on future performance and guide current channel spending.
Journey: It takes multiple touches to influence a customer to buy—shouldn't you be able to see all of them and how much impact they had on a purchase? With Journey (powered by data from Track and Collect), you get access to an end-to-end view of the customer journey and exactly how much each channel impacted them along the way.
Why Our Customers
❤️ Rockerbox️
"I use Rockerbox as a source of truth for understanding the impact of my marketing experiments."

Marjorie Chelius VP Marketing
Mockingbird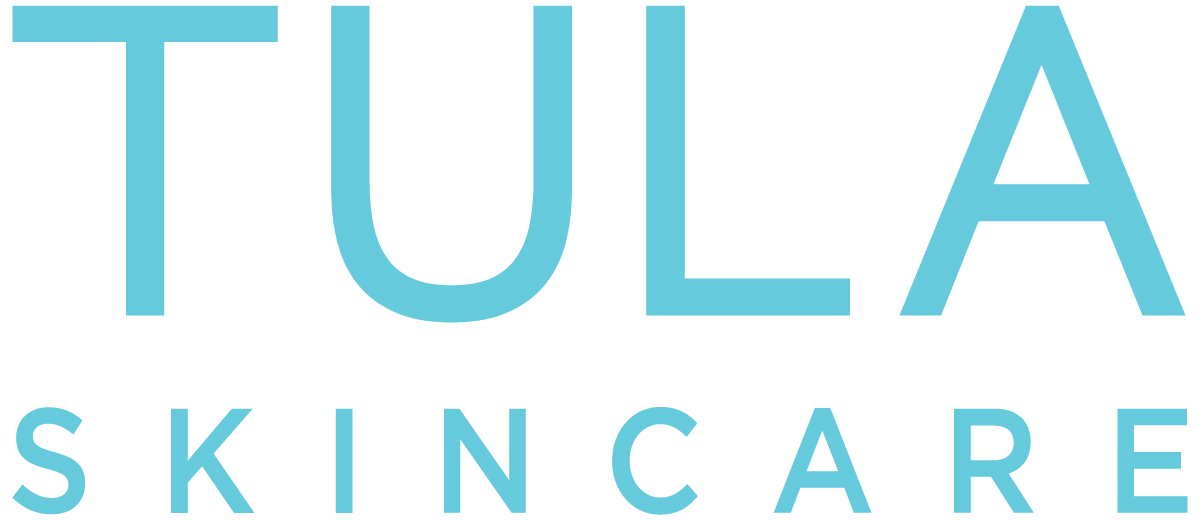 "For us, Rockerbox is the most important tool we utilize to measure and inform our decision-making. Rockerbox enables us to use the facts, use the data, and make those decisions."

Zack Abbell Vice President of Digital & E-Commerce
TULA

"There's definitely no way we would have been able to scale our spend in the way we have these last few years without Rockerbox."

Darcy Pollock Senior Director of Customer Acquisition & Retention
American Giant
What Can You Discover

With Rockerbox?
Impact of views
Display
Facebook
Pinterest
Marketing path insights
Full path to purchase
Highest value
Fastest to convert
Key marketing insights
Marketing channel overlap
New vs returning customer activities
Hard-to-track channels
Podcast advertising
Influencers
Direct mail
Linear TV
And more!
Granular attribution
First-touch
Last-touch
Even-weight
Multi-touch
Can you really track

all

my marketing?
Yes! We offer 200+ integrations with everything from podcast platforms and social channels to direct mail — and we have methodologies for measuring even hard-to-track channels. For example, when we track direct mail, we work directly with your vendor to get address lists that can be compared to your users that actually convert to understand the impact of that channel.
How long does your solution take to get up and running?
Onboarding Rockerbox is a custom experience. With instant insights to spend trends and industry data, your time to value is immediate. Most brands have all channels integrated and are on a path to operationalizing within the first few weeks of signing on Rockerbox.
How are you handling constant privacy updates and loss of tracking visibility?
Rockerbox is a future-proof solution with a commitment to updating our technology to weather any industry shifts.
Our Track product allows marketers to access first-party data to power their marketing analysis without violating privacy restrictions.
Can you scale with my company?
Rockerbox is suited for brands at multiple stages of development. Our Free and Starter plans offer the basics of measurement and help you set your company up for data-driven success, whereas our customized Products can be combined and added-on as needed to meet your needs.