Rockerbox Free
Get basic insights into your marketing and industry spend trends with Rockerbox's free plan.
Basic data aggregation* for popular platforms (Social, Search)
Google Sheets reporting templates and data export
Live spend trends dashboard
*Does not include first-party data or deduplication
No credit card required.
Starter
Powerful marketing measurement and optimization tools for digital-first brands on Shopify that want to spend smarter.
Built for Shopify
View-through impact for Facebook
First-party measurement and deduplicated conversions
Independently measure popular channels, including Google, TikTok, Facebook, Pinterest, more
Scale
Powerful marketing measurement and optimization tools, plus dedicated support and onboarding for digital-first brands with complex marketing measurement needs.
Identity resolution across multiple browsers/devices
Comprehensive digital measurement and multiple measurement methodologies (Rule based, modeled multi-touch, incremental reach, geo-lift, halo)
Marketing paths + time to conversion
Pinterest view-through data
Sponsorships and surveys
Integration add-ons: Offline, linear TV, phone, data warehousing
Why do we offer

a free plan?
You have to start somewhere with your marketing measurement. Even if you are just advertising on a few channels, Rockerbox Free gives you a taste of why it's so helpful to have a centralized source of marketing data truth rather than flipping between platforms.
We offer this plan so you can start to explore the value of Rockerbox for your company before making an investment, and because we're pretty sure you'll quickly start to see the benefit of our deduplicated view of conversions, first-party data foundation, and diverse integrations.
Your data at your fingertips
See aggregated data from the top channels you use: Facebook, Google, Pinterest, Snapchat, more.


See the state of marketing spend
Review marketing spend stats by channel, pulled from the activity of top DTC brands.


Report on marketing performance
Use the Google Sheets plugin and pre-created templates to get data into a format where you can easily share insights with your team.



The more visibility you have into your marketing, the more of an edge you have in a competitive digital-first landscape. For brands using Shopify, the best way to track your marketing and get a deduplicated view of your conversions is Rockerbox's Starter plan. Built for Shopify users, it's a great way to get a clear, realistic view of your marketing performance across all the digital channels you use.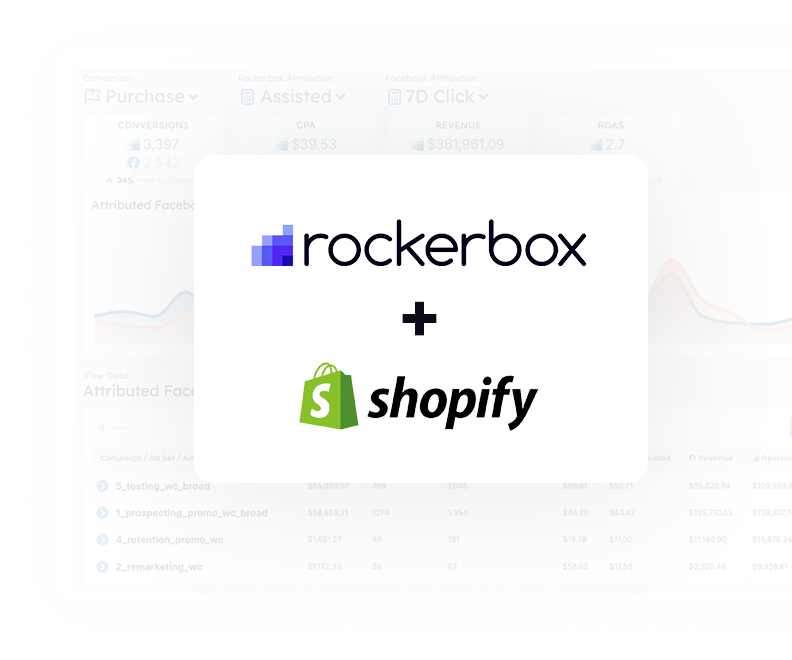 Starter

Features You'll ❤️
Accurate View
An accurate view of your customers and marketing through our first-party data foundation
Independent Measurement
Independent measurement of several popular channels, including Google, TikTok, Facebook, Pinterest, and LinkedIn
View-through Impact
View-through impact for Facebook
Top-notch Support
Help center and chat support + two calls with a customer solutions lead to go through onboarding and training + quarterly check-in
No Contract Required
Monthly pricing based on your company's ad spend
Add-Ons
Add additional customization with extra tracking for Adroll, Criteo, Sponsorships, Surveys, OTT, and Direct Mail, as well as Pinterest view-through impact
Scale Your Complex
Marketing Strategy
Identity resolution for a complete picture
Because of our first-party data foundation, we are able to gather real information on user activities, then link those touchpoints together across devices, browsers, and channels, meaning you see a realistic view of your buyer funnel.
We're everywhere your marketing is
200+ included/add-on integrations: Digital, offline, view-through tracking for display ads, custom batch files, and more.
Don't guess. Test.
Run experiments on our platform to find out which of your ads drive the most results and continually refine your marketing strategy.
Why Our Customers
❤️ Rockerbox️
"I use Rockerbox as a source of truth for understanding the impact of my marketing experiments."

Marjorie Chelius VP Marketing
Mockingbird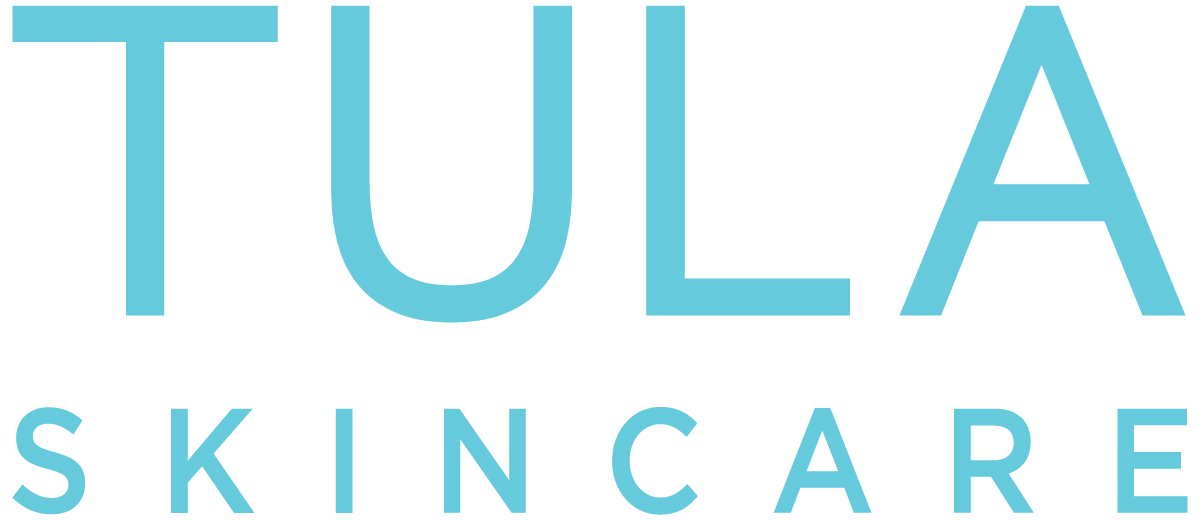 "For us, Rockerbox is the most important tool we utilize to measure and inform our decision-making. Rockerbox enables us to use the facts, use the data, and make those decisions."

Zack Abbell Vice President of Digital & E-Commerce
TULA

"There's definitely no way we would have been able to scale our spend in the way we have these last few years without Rockerbox."

Darcy Pollock Senior Director of Customer Acquisition & Retention
American Giant
What Can You Discover

With Rockerbox?
Impact of views
Display
Facebook
Pinterest
Marketing path insights
Full path to purchase
Highest value
Fastest to convert
Key marketing insights
Marketing channel overlap
New vs returning customer activities
Hard-to-track channels
Podcast advertising
Influencers
Direct mail
Linear TV
And more!
Granular attribution
First-touch
Last-touch
Even-weight
Multi-touch
Can you really track

all

my marketing?
Yes! We offer 200+ integrations with everything from podcast platforms and social channels to direct mail — and we have methodologies for measuring even hard-to-track channels. For example, when we track direct mail, we work directly with your vendor to get address lists that can be compared to your users that actually convert to understand the impact of that channel.
How long does your solution take to get up and running?
Onboarding Rockerbox is a custom experience. With instant insights to spend trends and industry data, your time to value is immediate. Most brands have all channels integrated and are on a path to operationalizing within the first few weeks of signing on Rockerbox.
How are you handling constant privacy updates and loss of tracking visibility?
Rockerbox is a future-proof solution with a commitment to updating our technology to weather any industry shifts.
In light of Chrome's removal of 3rd-party cookies and additional privacy changes from Apple, we launched Custom Tracking Domains in 2019. With this implementation, trackers are served from a company's own domain and Rockerbox is treated as a 1st-party cookie by all browsers.
Can you scale with my company?
Rockerbox is suited for brands at multiple stages of development. Our Free and Starter plans offer the basics of measurement and help you set your company up for data-driven success, whereas our Scale plan offers additional integrations, conversion tracking, data views, and more.