Answers

to your marketing questions.
Attribution reimagined
Forget what you've heard. Attribution done the Rockerbox way provides a clear picture of all your marketing, plus what's working—or not.
Incrementality testing
Incrementality has its place in your marketing measurement strategy. We give you access to incrementality and more.
Conversion path insights
What touchpoints to buyers hit on the way to a sale? What's the role of each channel in my marketing funnel? We have the answers.
Experiments
Run experiments and see clear results that help you optimize your advertising efficiency in each platform.
New visitor analyses, more
The data Rockerbox consolidates for you is the answer to many questions you have about your customers and your business.
A first-party data foundation
Attribution based on third-party cookies is flawed. But when it's built on a first-party data foundation like Rockerbox, attribution is a reliable way to analyze your marketing effectiveness.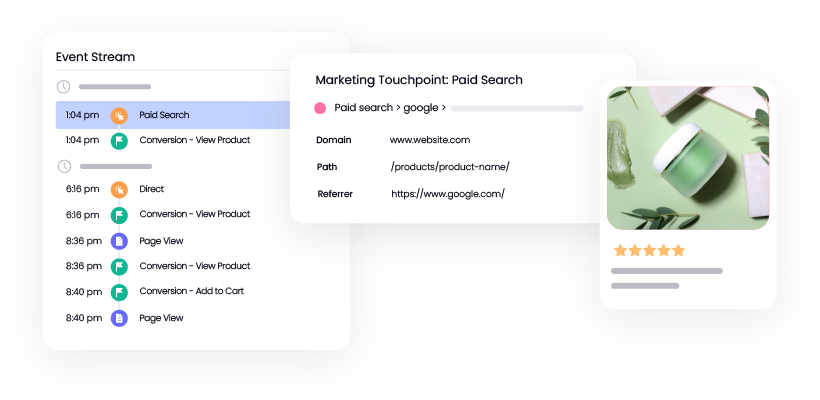 Single-touch, MTA, Model-based
Based on your needs and marketing strategy, you can select an attribution model that works for you, whether it's rule-based (MTA, last touch, first touch) or based on machine learning.
Model comparison
Once you've selected an attribution model, you have the ability to compare models and see the differences in CPA and ROAS between them. Better yet, our models are transparent and fully customizable.
Your marketing analysis.
Our data.
The tools you need for incrementality tests and more.
Incrementality Testing
When used as part of a larger analytics strategy, incrementality is a useful way to measure the impact that different marketing actions have on particular outcome, such as purchases. We provide the data needed to determine the incrementality of channels being tested.
Media Mix Modeling
Media Mix Modeling (MMM) combines marketing data and data on external forces and incorporates historical data in an effort to uncover the most impactful tactics for a brand. We help our clients do MMM more easily by offering an aggregated source of marketing spend data across all channels.
Understand the path to
conversion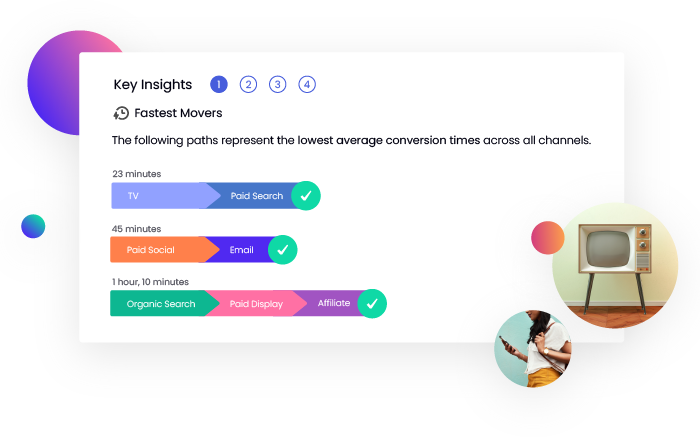 Full-Funnel Visibility
In Rockerbox, you can see not just which channel triggered a conversion but all the different channels that a customer touched along the way that contributed to their decision. From top to bottom of the funnel, you can get a clear picture of the most efficient conversion paths.
Funnel Position Analysis
Rockerbox lets you explore the ways your channels interact with your funnel as well as the channel mix at any given points in the funnel
Time to Conversion
When you know how long different conversion paths take you can optimize your funnel to speed up the time it takes to get your customers to purchase.
User Path Comparison
It's easy to compare different user paths in Rockerbox to answer questions about which user paths are the most effective and efficient.
Run experiments. Gain marketing confidence.
Curious how different messaging affects conversion or how different groups respond to your marketing? Run experiments in Rockerbox so you can make data-driven decisions for your marketing.
1.
Setup
Pick the platform you want to test on and establish a baseline.
2.
Testing
Select one or multiple test campaigns to compare to the baseline.
3.
Results
Review performance metrics and evaluate the lift between the baseline and test, plus its statistical significance.
Advanced
analyses
A world of insights at your fingertips

New Visitor Analyses
New users are the ones that keep your top of funnel strong. With Rockerbox's New Visitor Analytics, you can understand where new audiences are coming from, how they cost to capture, and how engaged they are.
Channel Overlap
How much do you know about channel redundancy? Are you paying to influence an audience that's already covered by another channel? Rockerbox Channel Overlap analyses help you uncover areas for optimization.
Custom Analyses
Have more questions regarding your marketing? Talk to us about designing analyses using your Rockerbox data, or explore our data warehousing integrations that let you sync the data you need to build your own models.
Get Started with Rockerbox
Explore the platform that doesn't confine you to just one measurement methodology.