Make Your TikTok Spend Count
TikTok advertising and marketing are time-consuming. Finding the right influencers, creating content, keeping it fresh and new on a regular basis—all of these things can be costly and require a big lift on your team. With Rockerbox, you can finally understand which of your TikTok ads and posts are helping to drive business on a granular level.
See the Value of TikTok—and All the Rest of Your Marketing
It's hard to get a holistic view of your B2C marketing. Different platforms deliver different kinds of data in different ways, and getting all the information you need in one place takes time and effort. Rockerbox has a better way—All of your marketing metrics in one place where you can see how they perform individually and all together. From platform performance to customer journeys, it's all available at your fingertips in regularly updated dashboards.
Start Tracking Spend and Performance in No Time
Go from fractured measurement to centralized measurement and start proving the results of your work quickly. Rockerbox setup is simple and speedy. Just authenticate your account and append URL parameters and you're ready to start tracking TikTok.


Why You Need Marketing Measurement for TikTok
With an estimated $11 billion in ad revenue projected for 2024, there's no denying the astronomical growth in TikTok popularity. Brands are using TikTok and seeing success with it, but that's in spite of TikTok's incomplete attribution. To truly continue to scale and succeed on the platform, brands need to up their attribution game.

Rockerbox gives you the measurement edge you need to understand your marketing performance and your customers that much better than your competitors.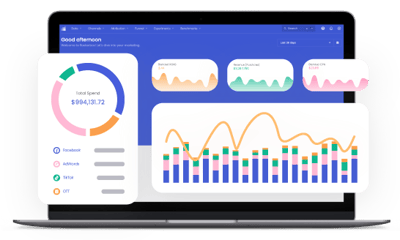 Measure TikTok the Right Way with Rockerbox.
TikTok and other third-party measurement platforms only show you part of the picture—with Rockerbox, you know what's working and can tie it back to real conversions on your site. Start a conversation with our team today about using Rockerbox for TikTok measurement and more.