Eliminate the need for data engineers to perform Extract, Transform, Load (ETL) operations
Export offers a clean, analytics-ready dataset, designed according to the best practices of Track and Collect. Its unique sharing model doesn't require a data engineer, offering significant cost savings over competitors. That means the responsibility of keeping the data up-to-date lies with Rockerbox, providing marketing analytics teams with greater autonomy.




Export empowers you to overcome:
Cumbersome Data Exports
Exporting your reporting data and getting into the format you need can be time-consuming and error-prone, leading to inefficiencies in data analysis and decision-making.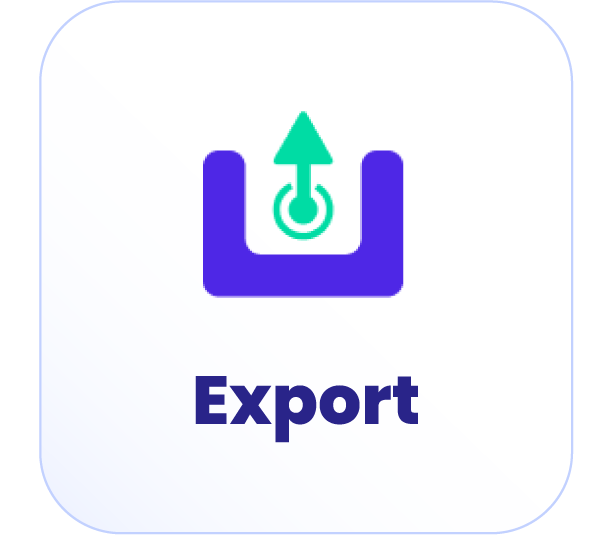 Data Compatibility Issues
Different platforms often use different data formats and structures, making it challenging to integrate and analyze data cohesively.
Lack of Automation
Manual data exports require constant human intervention, leading to delays and potential data inaccuracies.
A powerful data export solution
Export is a data-management product that efficiently transfers the data collected by Rockerbox into customer data warehouses and beyond. This product integrates with popular data warehouses, including Snowflake, Redshift, and BigQuery, and provides users with an analytics-ready dataset that can be used for custom reporting and analytics.
With Export, you can:
Easily export data from Rockerbox into your data warehouse.
Leverage our Google Sheets plugin for yet another way to organize and review your data.
Automate the data export process, saving time and minimizing the risk of human errors.
Achieve data compatibility and consistency, allowing for seamless data integration and analysis.
Customize export schedules and destinations for increased flexibility and convenience.
When to Choose Export
Export accelerates the capabilities of marketing analytics teams by providing fundamental datasets ready for automation, dashboards, and custom analyses. It also saves time and money by eliminating dependencies on data engineering teams for ETL operations, ensuring that marketing organizations can autonomously handle their data.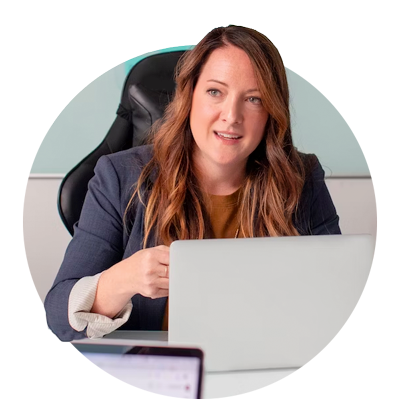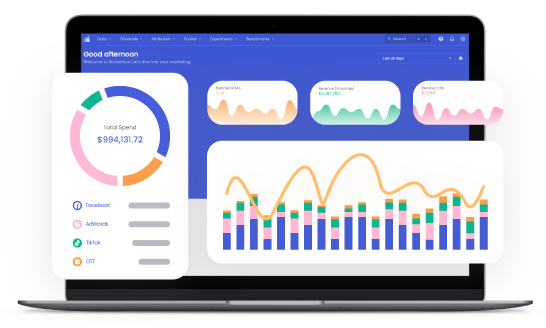 Marketing Analytics
Export Rockerbox marketing data gathered from various channels, such as social media platforms and advertising networks, in a single, unified report for comprehensive analytics.
Deeper Insights through Data Integration
With Export, organizations can seamlessly import Rockerbox data into their internal data warehouse. Once there, it can be merged with existing datasets - such as customer behavior data, product usage data, sales data, and even customer support interactions.

By correlating Rockerbox data with these existing datasets, the organization can draw comprehensive insights that reflect the unique facets of their business and customers.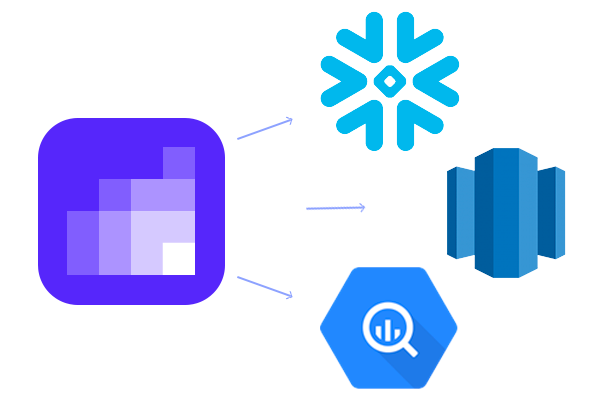 How It Works
Connect Your Data Warehouse
This integration allows first-party data and ad platform numbers to flow directly into your data warehouse, freeing up your entire team to focus on discovering the customer and marketing insights that will help you grow.
Transfer Data to Google Sheets
Make quick work of your regular reporting with a plugin that syncs data directly into Google Sheets and prebuilt templates to streamline analysis.
Access Automated or As-Needed Exports
Exports allows you to quickly pull pivotal marketing data from Rockerbox whenever you need it, at any level of granularity. Even large date ranges take just seconds to download.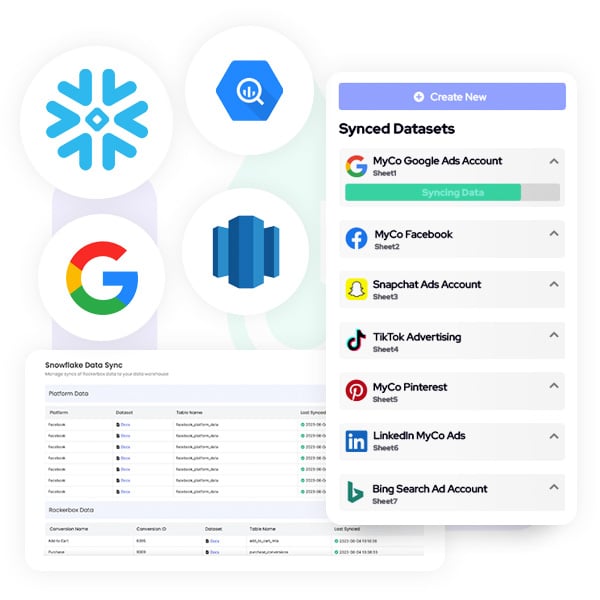 KURU Footwear chose Rockerbox's Journey to gain a deeper understanding of the value of their marketing activities and optimize their paid social channels.
By leveraging Rockerbox's user-level path to conversion data, KURU scaled their social spend by 350%, achieving greater visibility into their approach and strategy, and making informed business decisions in a targeted market.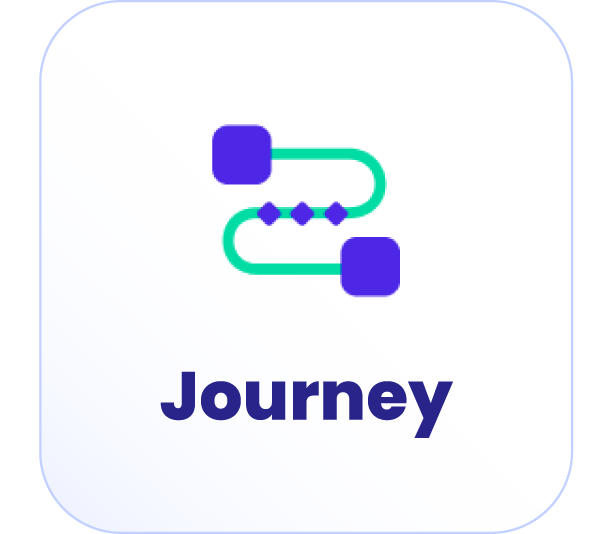 The Problem
KURU needed to move beyond basic dashboarding and last-click attribution to gain a holistic view of their marketing efforts and understand the impact of view-through data on their overall marketing ecosystem. They also sought to measure offline events accurately to test into new channels effectively.
The Solution
Rockerbox's Journey product provided KURU with synthetic events, enabling them to measure view-through data and offline events accurately. The dynamic and customizable data model of Rockerbox allowed KURU to receive better, quicker, and cleaner answers to critical business questions. With a true partnership approach, Rockerbox's support helped KURU make wise investment decisions.
Put Your Data Where You Need It
Streamline your data export processes with Export and make data-driven decisions faster and more efficiently than ever before.