How to Use
Rockerbox Experiments

Setup
Identify the platform where you're running your Experiment and select the baseline against which all your tests will be compared.
Testing
Add one or more test campaigns to your Experiment. These will be compared against the baseline.
Measured Results
Rockerbox Experiments calculates metrics for your tests, including performance, lift against the baseline and statistical significance.
Rockerbox Experiments

Optimizes Your Campaign Performance
Fill in Knowledge Gaps
Rockerbox Experiments enables brands to expand the ways they measure their marketing performance on top platforms, including Google, Facebook, Snap and TikTok.
Maximize ROI
We recommend that brands invest about ten percent of their overall advertising budget in experimentally measured campaigns. Rockerbox Experiments allows you to allocate spend wisely by reporting on a campaign or channel's lift and impact on conversions, CPA and ROAS.
Combine Methodologies
When combined with Rockerbox's best-in-class attribution, Rockerbox Experiments provides additional capabilities and expanded datasets to help enable a more data-driven marketing organization.
Testing Methodologies

Experiment With Different Messages
Are you juggling between creative messages or landing pages? Set up ads for each and see which catch your customers' attention.
Splitting an Audience Into Groups
Does one audience segment respond more favorably than another? Create campaigns targeting different groups and measure the impact.
Geography-Based Marketing
Cluster the country into markets and try out different user journeys. Depending on your goals and the capabilities of the ad platform, this can be done at the State, DMA or Zip-Code level.
Examples From
Rockerbox Experiments
Not sure what to test? Here are a few examples of experiments from today's top brands.
What is the impact of YouTube and Pinterest?
Measure the effects of upper-funnel marketing channels by observing their impact on branded search.
How does performance change by CTA?
Are your customers more responsive to an upper-funnel call to action, like a newsletter signup? Create different messages and test the results.
Is audience targeting worth the cost?
Your lookalike audience ad set has a better ROAS than your broad audience ad set, but you want to know if it's really worth the investment.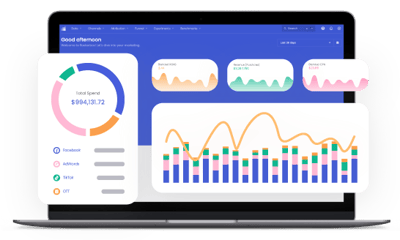 Get started with Rockerbox