It's everywhere, and it's complicated. How does a customer go from unknown to purchase? What influences them to ultimately buy? Is it the first touch? The last touch? Should you look at every touch? What about incrementality?
The space is loud.
In this post, we're going to start at the top, because you aren't born knowing everything.
Already an expert? You may like this webinar on "Pro-Level Strategies for Marketing in a Downturn" instead.
Table of Contents
What is Attribution?
The short answer: Marketing attribution is the analysis of marketing touchpoints that lead to a purchase or sale.
On average, consumers need 15+ touch points before making a purchase. That's almost double the touchpoints reported just two years ago. As a marketer, knowing that you need to reach a consumer so many times before they purchase your product, it's increasingly valuable to identify which touchpoints are most effective (and why).

Leveraging marketing attribution gives you insight into how channels are performing, and what is actually driving business. Which in turn allows you to invest back into the channels that are driving the most value.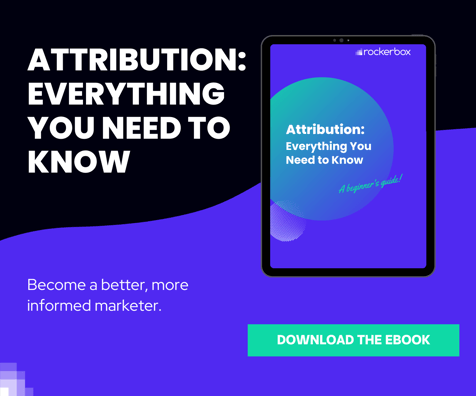 What Are Attribution Models? (Also called Measurement Models)
All of that is easier said than done, though. Identifying the best ways to attribute value to channels is not only complex, but also somewhat controversial. There are dozens of modern methods used to track channel efficacy and, honestly, not one right approach or answer.

Our goal here is to help you holistically understand the attribution landscape, so that you can make the most informed decision on how you should look at marketing measurement and attribution. So let's look at the most common methodologies and why they work (or don't work) in some cases.
User Level Attribution Models
How do you know that a user who purchased your product was influenced by your advertising? Is it possible to attribute sales back to specific campaigns, channels, and users in your customer journey? If so, how much money did each channel contribute to overall sales?

These are some of the questions that marketers need answers to in order to optimize their marketing efforts. Choosing how you will review your marketing touchpoints and assign value is critical to building an attribution model. Below are some of the most common attribution models used by DTC and ecommerce brands.
Multi Touch Attribution (MTA)
MTA is a versatile attribution model that can be adapted to a company's specific needs. This model helps marketers measure the effectiveness of both advertising and marketing efforts. MTA bases its analysis on the assumption that users interact with multiple channels before converting. It measures the influence of each channel on a user, as well as how many times they were exposed to each channel (via impressions). MTA also factors in timing and weightings when attributing conversions.

The benefit: The benefit of the MTA model is that you are getting a holistic view of your marketing impact, cross channel.

The risk: True MTA is one of the strongest attribution modeling approaches, however, MTA is also one of the most misrepresented models in attribution. Some people view MTA through an altered lens, convoluting the actual value of the model. MTA models reliant on third-party cookies alone are flawed and risk extinction as privacy regulations and policies evolve. When evaluating a MTA model, ensure you are choosing a solution that will allow you to leverage first-party data, synthetic events and cross channel integrations (online and offline).
First Touch Attribution
First touch attribution is simply the measurement of the effectiveness of a marketing campaign by measuring the number of people who first interacted with a brand during or after that campaign. This can be done through purchases, web page clicks, social media interactions, and more.
The benefit: First touch attribution is most useful when you want to measure the effectiveness of your marketing efforts and/or sales team's performance, but it can also be used to measure events like conferences or trade shows where you have an opportunity to interact with hundreds (or thousands) of prospects at once.

The risk: First touch attribution neglects to assign value to the volume or frequency of other touchpoints, which can warp performance indicators if not fully understood. It's best used in tandem with other models to understand the complete impact and value of your marketing channels.
Last Touch Attribution
You're probably familiar with last touch attribution, but if not, it's a way to measure the effectiveness of your marketing efforts. It is also a popular method of credit assignment used in multi-touch sales chains.
In short, last touch attribution assigns 100% of the revenue to the last channel that interacted with a user before they converted (i.e., made a purchase). By doing so, you are able to identify which channel drove more conversions and make adjustments accordingly for future campaigns.

The benefit: The benefit of last touch attribution is seen in understanding the conversion points best. These are arguably the most valuable touchpoints in your marketing arsenal.

The risk: Without also looking at channel touches and impact, last touch can be misleading, assigning greater revenue per channel than needed to actually drive a conversion. Like first touch attribution, it's best used in tandem with other models to understand the complete impact and value of your marketing channels.
Even Weight Attribution
Even Weight Attribution is one of the most popular attribution models. It's simple to calculate and easy to understand, which makes it useful for measuring the effectiveness of both advertising and marketing efforts.
In this model, all touch points are given equal weight in the calculation. For example, if you convert on a website after being exposed to a keyword ad while searching in Google and then being shown an email ad later that day on Gmail, the two touch points will be given the same amount of weight by Even Weight Attribution: 50%.

The benefit: Even weight attribution looks at the entire prospect lifecycle, assigning weight to every touchpoint. This ensures that all channels are receiving value for a conversion.

The risk: Though more inclusive than first or last touch, even weight attribution can skew the efficacy of channels by not taking into account the value of each channel independently.
Aggregate Attribution Models
Let's face it, attribution models are complicated. There are dozens of different ways to apply them and each channel has its own unique set of variables that affect its performance. But in the end, all brands want to know one thing: how much does marketing work? It's a simple question but one that's impossible to answer without a solid understanding of how channels interact with each other in terms of their effectiveness. Aggregate Attribution Models allow you to see exactly how much lift one channel contributes towards another over time so you can make smarter decisions about your budget allocations based on actual results rather than conjecture
Incrementality
Incrementality is the percentage of the channel lift that is attributable to the channel. It is calculated by dividing the channel lift by the total lift to arrive at a percentage. This metric measures how much of an impact your channels have on your overall goals, such as revenue or signups, and it's important to understand in order to evaluate performance. If you want to know how much of an increase in sales was due solely from marketing efforts versus other factors (e.g., new product release), then incrementality can help you calculate this number and identify where there's room for improvement.
The benefit: The benefit of incrementality is that you can evaluate channel efficacy based performance with and without your investment.
The risk: Incrementality is an imperfect method, it's one of the most complex methods, which in turn makes it less intuitive for marketers looking for fast, actionable data. The volume of data needed to make statistically significant conclusions is often beyond that available to marketers. It is also an experiment-based approach, which requires time before results can be analyzed.
Halo Analysis
Let's say you have a group of channels and we want to know the incremental lift for each channel. The most common way to answer this question is by using a halo model. A halo model helps us understand how well each channel performs in relation to each other. For example, if you're trying to sell shoes but use social media marketing as my primary channel, then it's going to be hard for you because you're not leveraging your resources effectively; however, if you use social media in conjunction with TV and print ads, then it might work out better for you since people are more likely to buy from someone they've seen on TV or read about in print than just from someone they've seen on social media alone.
The benefit: The benefit of leveraging halo analysis is that you are viewing channels in conjunction with each other, which gives marketers a more realistic view of channel efficacy.
The risk: One downside of leveraging a model hinged on the halo effect is the intrinsic integration of channels that may or may not be linked in reality. This is, however, a small risk, and unlikely to materially change findings or impact.
Geo Lift
Geo Lift is the amount of sales a store generates from its local area. It's the difference between sales of a store and the sales of its local area. From an advertising perspective, geo lift refers to the lift seen in a particular market given the advertising budget spent in that market.
It measures how much more revenue is generated by advertising than would be expected based on its own share of the market. A typical way to think about it is that if you spent $1 in advertising, how much more would you make in sales?
The benefit: Geo lift allows you to measure lift in a specific geography, giving marketers insight into channel nuances per geo.
The risk: The largest risk in relying solely on geo lift is that the testing requires statistically significant amounts of data and impact, which may not always be available to marketers. It is also an experiment-based approach, which requires time before results can be analyzed.
Media Mix Modeling (MMM)
If you're a marketer and you want to know how much the Google Ads campaigns drove checkout traffic, you can use its Media Mix Modeling (MMM) to figure out exactly that. In terms of pure ROI, this is one of the easiest ways to measure an individual channel's effectiveness—but it also has some pretty significant limitations.
The benefit: MMM relies on historical data. For advanced brands, this is a benefit in that they can leverage known variables versus assumptions. MMM is a holistic, high-level approach.

The risk: One limitation is that MMM only measures average impact on average sales across all segments—it doesn't consider whether or not those segments have different purchase behaviors or needs that might require different types of marketing strategies in order for them to convert at a higher rate. For example, if your campaign focuses exclusively on people who have already bought from your company before but haven't purchased in awhile (e.g., lapsed customers), then perhaps an email campaign would be more effective than Google Ads because these are people who are less likely to respond positively toward direct marketers' calls-to-action when compared with others who are new prospects for your business. It lends itself to causation versus correlation.
What tracking methodologies are used to support the above attribution models?
As visibility into channel efficacy continues to shift with privacy and policy adjustments, the most common methodologies used to support measurement and attribution are evolving as well. Tracking methodologies used to support marketing attribution can be bucketed into a few broader categories: deterministic/direct, synthetic/probabilistic, and other. Let's take a look at the most commonly seen methods:
Deterministic / Direct
Direct click tracking
Direct click tracking is a method of tracking by which you can determine exactly how many times a visitor has clicked on something.
Direct impression tracking
Direct impression tracking works similarly to direct click tracking—the main difference being that instead of measuring interactions with individual links within a website, it measures overall user activity across multiple digital properties. This type of measurement includes details like total time spent consuming content on one site versus another—something that's useful if your goal is traffic generation rather than sales conversion rates.
Custom integrations (log files)
Custom integrations that give you access to user log files are a core piece of successful marketing attribution. Integrations with channels like Pinterest allow marketers to view impression-level data directly from the channel sources.
Address match
Address matching is the process of matching activity to an IP address. That allows marketers to connect viewing data and engagement across numerous devices and channels.
Synthetic / Probabilistic
Synthetic Events
Synthetic events are a solution used to model and report against information that we believe happened. For any event where we can not directly measure or track whether the user has been exposed to an advertisement, we attempt to probabilistically tag a user as having been exposed to that piece of advertising.
Spike Visit Analysis
Most of what we've discussed has been online. But, what about offline channels? Leveraging spike visit analysis helps marketers quantify channel impact—even offline.

By analyzing the impact on site sessions after a TV commercial airs, marketers are able to insert a touchpoint along the user's path to conversion for linear TV.
Other
Customer Surveys/ Post Purchase Surveys
Just like it sounds, customer surveys are the use of surveys to gauge how a consumer heard about your brand or product.
Promo Codes / Vanity URLs
Similar to customer surveys, using promo codes or custom URLs to attribute traffic source allows brands to create unique tools to allow customers to tell them indirectly how they heard about a brand or product.
Why Is Attribution Important?
As we've established here, attribution is important because it helps marketers understand the impact of their marketing efforts.
It allows you to determine which marketing channels are driving the most ROI for your business.
Attribution helps you understand what marketing channels are most effective at driving conversions (i.e., leads, customers).
Without attribution, marketers are blind to what's working for them.
Benefits of Leveraging Marketing Attribution
But beyond that, marketing attribution is an invaluable tool. Leveraging a robust marketing attribution process and approach allows you to:
Identify the best marketing channels.
Identify the best marketing tactics.
Identify the best marketing programs.
Identify the best marketing campaigns.
Identify the best marketing messages.
How to Choose a Marketing Attribution Platform
Choosing the right marketing attribution platform can be a daunting task. There are many options available, and each follows different models, leverages different methods, and has access to different tracking. To help you make an informed decision about which platform is best for your business, consider these factors:

Are all of your goals met by this platform? If not, how can you change your strategy to work with the tool?

Is it easy to use? Is there support available if something goes wrong?

How quickly will you be able to take action on findings? Are the insights going to be fast enough to pivot your approach?

How flexible is the solution? Can it grow with your company as you expand our teams across various functions like content and operations management?
Conclusion
For marketers, attribution is one of the most important tools in your arsenal. It allows you to understand how well your campaigns are working and what sort of impact they're having on customers. With this information, you can make strategic decisions about where to invest more resources and when it's time to cut back on spending.
With Rockerbox, you can piece together the entire customer journey. Rockerbox helps you to execute better in-channel optimizations and stop wasting money on channels that aren't performing. We take the frustration out of attribution, empowering you to accomplish your goals without the need for additional technical resources.