As 2022 comes to a close, we at Rockerbox are reflecting back on what we've achieved over the past four years.
What you may not know about Rockerbox is that we didn't start out as an attribution company. We spent our first few years as a business managing prospecting campaigns for Fortune 1000 brands, during which time we discovered that the available attribution solutions couldn't keep up with modern marketing teams.
In 2018 we shifted our focus to building a customizable attribution platform that could scale with the needs of growing digital-first brands. Here's some of the recognition we've received since that shift:

Inc. 5000 List


About the List: The Inc. 5000 is a prestigious list that features the fastest-growing and most inventive private companies in the country. Businesses on this list are seen as serious players in their respective industries and are poised for continued growth.
Rockerbox was recognized for achieving a three-year growth of 603%, a direct result of the hard work of our team members, and the innovation-focused culture we've built.

The MarTech Breakthrough Awards
Best Marketing Attribution Solution
About the Awards: The MarTech Breakthrough Awards is a prestigious annual awards program recognizing the world's most innovative products, solutions, and services in the global field of Marketing, Ad & Sales Technology. The 2019 program attracted more than 2,500 nominations from over 15 countries worldwide.
Rockerbox was recognized as the best marketing attribution solution for enabling quick decision-making, incrementality, and LTV analysis and supporting the ways in which modern marketers need to operate.

Programmatic Power Players (2x)
Measurement & Analytics
About the Awards: AdExchanger's Programmatic Power Players list is the digital marketing industry's first searchable guide to the best agencies, tech providers, and partners in the business. Winners are chosen from hundreds of submissions from across the globe based on the strength and breadth of their offerings, documented case studies, and client references.
Rockerbox was chosen as a leading attribution provider two years in a row based on our multitouch attribution tool to measure lift and incrementality in both online and offline marketing efforts, and our company's ability to evolve in a rapidly changing landscape.

Digiday Technology Awards
Best Attribution Tool
About the Awards: The Digiday Technology Awards recognize companies advancing the digital media industry by fostering tech-focused innovation — specifically, the kind that powers relevant and personalized advertising.
Rockerbox was recognized as the leading attribution tool for highlighting the effectiveness of multiple channels and helping brands drive performance and acquire new audiences.

Inc. Magazine Best Workplaces
Best Workplace Honoree
About the Awards: Inc. Best Workplaces awards recognize businesses that set the standard for excellence in company culture. Companies named to this list have created cultures that thrive in the face of adversity, redefine the modern workplace and foster employee growth and advancement at all levels.
Rockerbox received this recognition in part because of the core set of values we have used to build our team and guide our decision-making over the years. We're transparent about these values because we know that they're pivotal to our growth, and people that embody them find success at Rockerbox.

Top CTOs in the Advertising Platforms Startup Space


About the List: CTO (Boardroom Media) highlights top employees, founders, and board members from their directory of over 1,000,000 startups and over 5,000,000 people who hold key positions in these companies. The Top CTOs in the Advertising Platforms Startup Space list in particular recognizes leaders with exceptional management skills who operate as a key part of an innovative, market-leading organization.
Recently named to this list was Rockerbox's Co-founder and CTO Rick O'Toole, who directs our company's product and technology vision. Rick previously led integrations at AppNexus and was a founding data science engineer in the company's Marketplace-Analytics group. It was during this time that he met his Rockerbox co-founder and CEO Ron Jacobson.

G2 Awards
About the Awards: G2, the world's largest and most trusted software marketplace, recognizes the world's best companies and products based on authentic, validated, and timely peer reviews.
Rockerbox has received multiple G2 awards over the years, including High Performer in the Marketing Analytics category and Leader in the Attribution Software category, for providing a best-in-class product and experience for our customers. Read why our users love us on G2.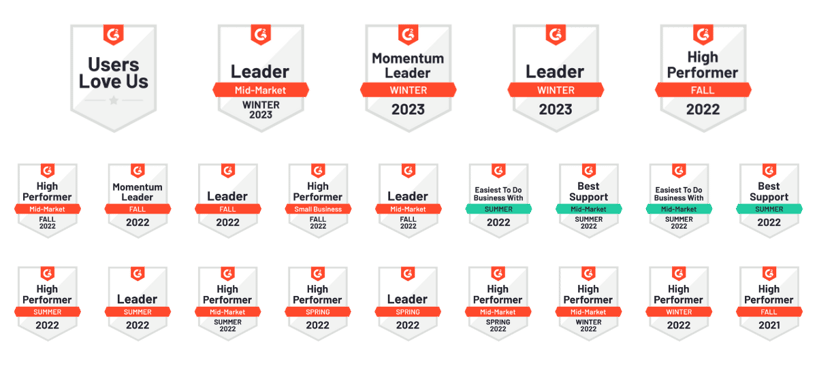 ---
We as a company are proud of all we have achieved since 2018 and, keeping with one of our values to continually improve, are looking forward to the future as our product evolves to meet the ever-changing needs of our clients.
Subscribe to our newsletter and follow us on LinkedIn, Twitter, and Facebook to keep up with Rockerbox in 2023 and beyond.