"You don't build a business. You build people, then people build the business." — Zig Ziglar
Rockerbox has been named a 2022 Best Workplace by Inc Magazine. And we're extremely proud.
Rockerbox joins an elite group of 475 honorees selected from thousands of submissions.
"We have an amazing team of passionate, ambitious, and caring people that aim to improve Rockerbox and themselves every day," said Ron Jacobson, co-founder, and CEO of Rockerbox. "Rockerboxers are energized by the challenges that we're facing—because a challenge is really just an opportunity to solve harder problems. And best of all, we're only getting started."
Building a company isn't easy. Building a company that attracts and retains quality employees for years is even harder. At Rockerbox, we've chosen to prioritize our team just as much as we prioritize serving and elevating our customers. And we believe that's why they think we're the best.
"Not long ago, the term 'best workplace' would have conjured up images of open-office designs with stocked snack fridges," said Inc. editor-in-chief Scott Omelianuk. "Yet given the widespread adoption of remote work, the concept of the workplace has shifted. This year, Inc. has recognized the organizations dedicated to redefining and enriching the workplace in the face of the pandemic."
Culture on purpose
Great company culture doesn't happen by accident. Over the years, we crafted and honed a core set of values that we use to build our team and guide our decision-making. We're transparent about these values because we know that they're pivotal to our growth, and people that embody them find success at Rockerbox.
Rockerboxers:
Do more with less. 💪
Continually improve. 🤓
Are biased towards action. 🏃‍♀️
Solve problems. 🧐
Speak their minds. 💡
We asked a few Rockerboxers what they love about the company—here's what they said:
"You're given autonomy to not only execute on your role but also to help shape and rethink processes as it's a results-oriented company and not a process-driven company." — Omar Elmaghrabi, Product Manager
"I love building things, and with this crew, it's an absolute joy to do so." — Val Kirilova, Head of People + Talent
"Having been with Rockerbox for several years, I love working with the talented, creative folks on our team—but the thing that really sets Rockerbox apart for me is that it has created an environment in which everyone is empowered to solve problems and take on new challenges. By pairing these opportunities with an emphasis on personal wellness, Rockerbox enables me to bring my best self to work every day!" — Jenny Bivens, Full Stack Engineer
"More than any place I've been before, Rockerbox empowers people to make decisions and take big risks so they have true ownership over their work." — Sameen Karim, Head of Product
Customer-centered growth
It's those qualities and core values that allow us to move fast, and innovate faster—something our customers appreciate and echo daily.

"[Rockerbox is] on the cutting edge. They stay on top of the entire marketing ecosystem and are very quick to integrate with new platforms and update their own systems given changing industry dynamics," said Aaron Zagha, CMO at Newton Baby. "[They're] simply the best attribution platform."
Rockerbox serves more than 120 customers, including top DTC organizations, and helps clients make smarter marketing decisions and investments.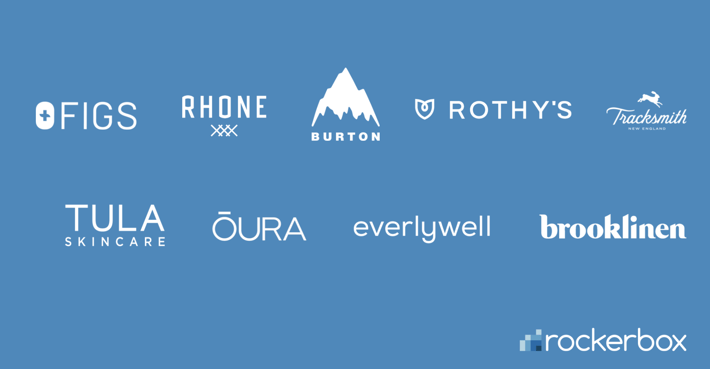 To the future—and beyond
We're proud of where we are, and we can't wait to see what the future holds. The best part? Just like our CEO Ron said, this is only the beginning.
Rockerbox is the leading marketing attribution platform for DTC and ecommerce brands. We provide hundreds of customers like Tula, Everlywell, and Oura with the marketing data infrastructure needed to run, measure, and scale a data-driven marketing organization.
Looking to join one of the best workplaces? We're hiring.

Are you a DTC or ecommerce company looking to elevate your marketing game through actionable insights, measurement and attribution? Let's talk.