Meet Kayla from Newton Baby
Kayla Johnson is the Social Media Manager at Newton Baby. Leveraging her DTC marketing experience, Kayla currently handles all strategy and implementation for Newton Baby's organic social efforts, while overseeing paid advertising for Snapchat and Pinterest.
Kayla's expertise was especially valuable throughout the launch of the Rockerbox Pinterest integration in spring of 2022. Not only has Newton Baby experienced tangible results with the new integration, but their team's feedback has been extremely helpful to the development of Pinterest integration.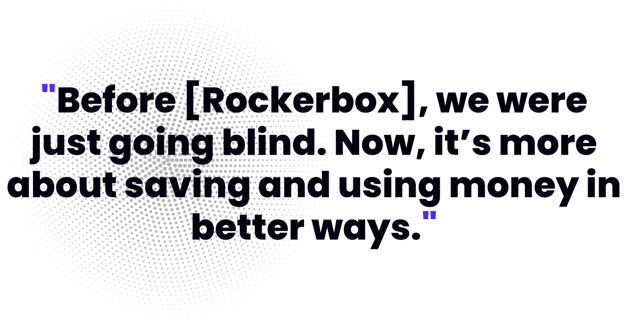 Why Newton Baby Partnered with Rockerbox
As a thriving DTC brand, Newton Baby was already successful at scaling and experimenting on most digital advertising channels. But the core marketing priority was, and still is, focused on achieving an acceptable ROAS on any new initiative.
Because Newton already knows which channels they want to try (or not try), most of the team's energy is devoted to generating a steady ROAS at all times. Newton Baby aims for a 5x return, but Kayla's team was finding it difficult to get an accurate read from the analytics and dashboards within individual platforms, including Pinterest.
There was also the pain point of attribution windows within platforms, which were too narrow and generic to accommodate Newton's niche audience and relatively long buying journey.
"It really does matter how much we're spending on a channel and how much we're getting in return. We need to see those real dollars."
How Newton Baby Benefits from Rockerbox Data
Collectively, Rockerbox helps Newton Baby solidify digital ad activities that are going well, while optimizing available budget and making better spending decisions across the board. With Rockerbox, Newtown has uncovered the following insights:
Only 37% of eventual Purchasers from Pinterest convert within the first 7 days for Newton Baby. Using only Pinterest's reporting and the limited time window available, Newton Baby was losing visibility into over 60% of the valuable conversions that would ultimately be impacted by Pinterest. With Rockerbox, Newton Baby can see the impact of Pinterest activities on conversions over a longer time range - which is crucial given Newton Baby's longer consideration period.

Pinterest had a stronger overall performance than other social channels, especially as a retargeting channel, with a CPA that's half that of Facebook's.
There's very little overlap between users reached on Pinterest and other top-of-funnel channels like Facebook and influencers. For example, only 13% of users with Pinterest touchpoints on their path to conversion also contained Facebook. Knowing that Pinterest is incremental, Newton Baby is able to scale effectively.
Adding Pinterest as a retargeting channel in addition to Facebook allows Newton Baby to continue retargeting users without seeing diminishing returns due to Facebook's shrinking retargeting pools.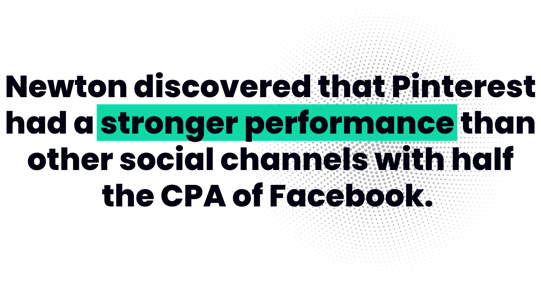 Leveraging the Pinterest Integration
With the recent Rockerbox + Pinterest integration, Kayla and her team are now looking at as many attribution windows as possible. Before, they felt blinded to the true nature of what was happening with Newton's Pinterest ads.
Once they started evaluating impressions in Rockerbox, the data revealed that the highest performers (according to Pinterest) were actually the reverse of what Rockerbox proved to be true. For example, where Pinterest would show a low ROAS, Rockerbox would show a dramatically better metric. As a result, Rockerbox provides a clearer, more reliable look at real customer conversions, which Newton depends on to make smarter decisions.
With the Rockerbox integration, Kayla and her team can gather better insights into specific Pinterest ads and creative so they know where to place effort and money. Since Rockerbox displays data at such a granular level, they can actually look at various ad levels and target spending toward specific images.
"We're looking at Rockerbox and Pinterest data almost every day of the week, especially during high sale periods."
Understanding Attribution Windows
Prior to implementing Rockerbox, Newton experienced several pain points in terms of attribution windows. Because of the nature of their product (a luxury crib mattress for expecting parents and their newborns), the path to purchase and consideration time is relatively long.
Within Pinterest, Kayla and her team observed that the path to purchase was about 55 days. On other channels, like Facebook, attribution windows are limited to roughly 7 days. That does nothing for a DTC brand like Newton, because people purchase luxury items more slowly, rather than on impulse.
With Rockerbox, there is no attribution window. Now, the Newton team has better visibility on the first point of interaction all the way until the purchase point. In some cases, the time between an initial ad interaction and eventual purchase is 5-6 months long!
This data is also highly valuable in terms of SEO, keyword targeting, and ad copy adjustments. Now, Newton can start evaluating performance earlier in the funnel while making smart adjustments and optimizations to ad strategy.
Utilizing 'Uncapped' Budgeting
One of the biggest frustrations that Newton's marketing team has experienced during high growth has been deciding where to put more budget accurately, and knowing intuitively which moves to make for the best results. Additionally, on certain platforms (like Pinterest), algorithms play a role in what performs well, and it can often take months to see if a particular ad or campaign is working.
This creates a new issue—finding the balance of waiting for performance, while not wasting money in the meantime.
With an objective source of truth, like Rockerbox, teams can better understand which assumptions are right and wrong. To put it simply—the data is there to back up the facts, especially when it comes to financial decisions.
"We put the money where the performance is, unless we don't know what we're doing or what's working, and then there's a cap. Rockerbox has uncapped our budget."
What Does the Future Look Like?
In the near future, Kayla and the Newton team plan to continue exploring the rich data that Rockerbox provides. This includes taking a closer look at ROAS, attribution windows, and potential ad optimizations. With enhanced visibility, growing DTC brands like Newton Baby can take ownership of their advertising choices and hit relevant KPIs along the way.
Gain New Insights with Rockerbox
At Rockerbox, we want modern DTC brands to be able to scale channels confidently—not feel like they're flying blind. This is why we centralize all of your marketing data (paid, organic, digital, and offline) into a single location so that you can gain a holistic view into the performance of your advertising.