CBT Nuggets is a leading subscription provider of training, primarily in IT, project management and office productivity topics. Its comprehensive library contains thousands of training videos ranging from Cisco networking to Microsoft Word.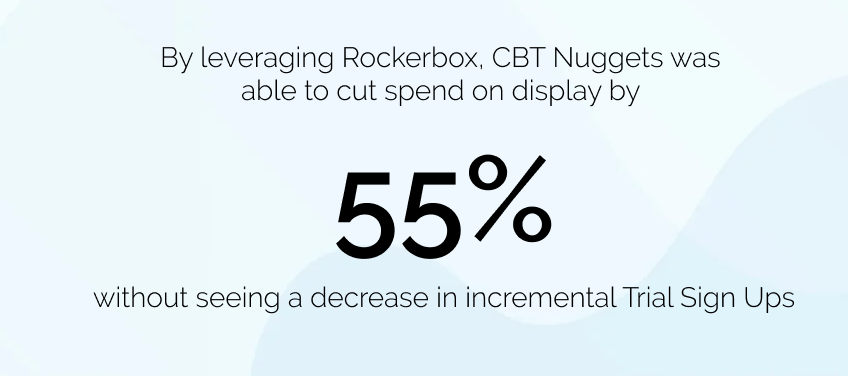 Meet Matt and Zac from CBT Nuggets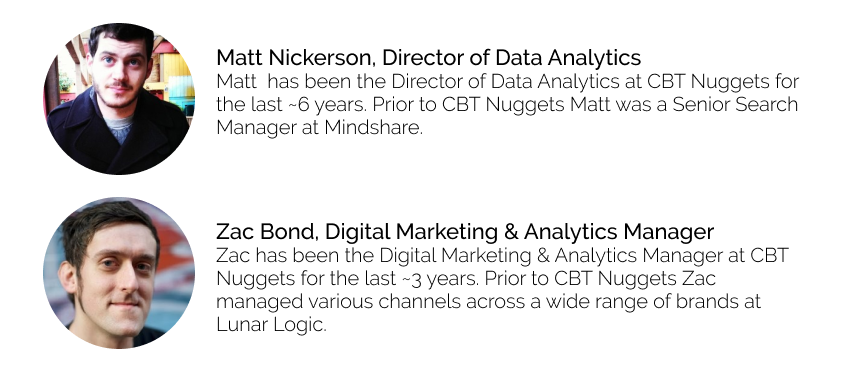 How CBT Nuggets Leverages Rockerbox
1) Lessening their reliance on Google Analytics

Prior to Rockerbox, CBT Nuggets primarily evaluated its marketing performance by looking across Google Analytics and platform-reported numbers. However, Matt never found this setup, especially the reliance on Google Analytics, to be sufficient.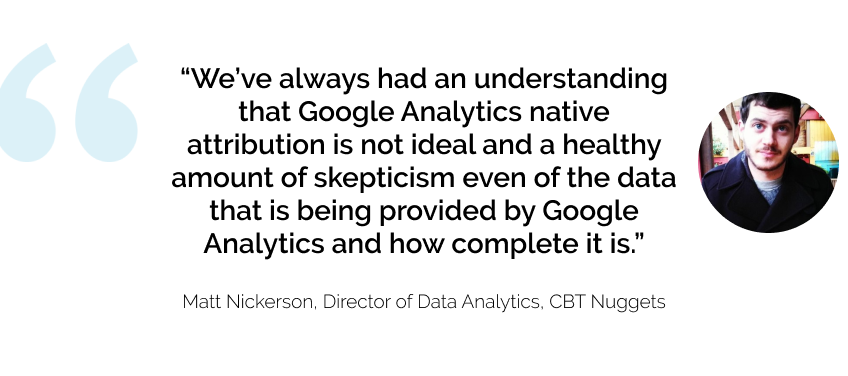 Since the CBT Nuggets team has started to leverage Rockerbox, they've been able to confirm that the data coming out of Google Analytics is often flawed. There are times when "Google Analytics says this drove one conversion and Rockerbox says it drove one hundred," says Zac. With Rockerbox, Matt and Zac have the ability to catch these differences and are more aware of the data issues coming from Google Analytics.
2) Evaluating YouTube via post-purchase surveys
YouTube is an important channel for CBT Nuggets that has always been difficult to track. To tackle this, CBT Nuggets has implemented post-purchase surveys. "From a marketing perspective, the single most valuable survey we have is the one question 'How did you find out about us' dropdown on the free trial," says Zac.
Rockerbox's integration with CBT Nuggets ingests these survey results and combines them with the full user-level path to conversion that Rockerbox has constructed. CBT Nuggets has the ability to control how Rockerbox leverages these survey results, resulting in conversion credit being shifted away from direct and towards YouTube. This gives CBT Nuggets "insight into YouTube that we completely would have missed otherwise."
3) Centralizing all of their marketing data
Marketing at CBT Nuggets is highly rooted in data. They've invested in building out a Data Analytics team that manages the maintenance and building of a centralized source of data that marketing can make decisions from. Given this background, CBT Nuggets is especially interested in having all of their cross-channel, log-level marketing data in-house. Getting all of this data into one place, however, is more difficult than it may sound.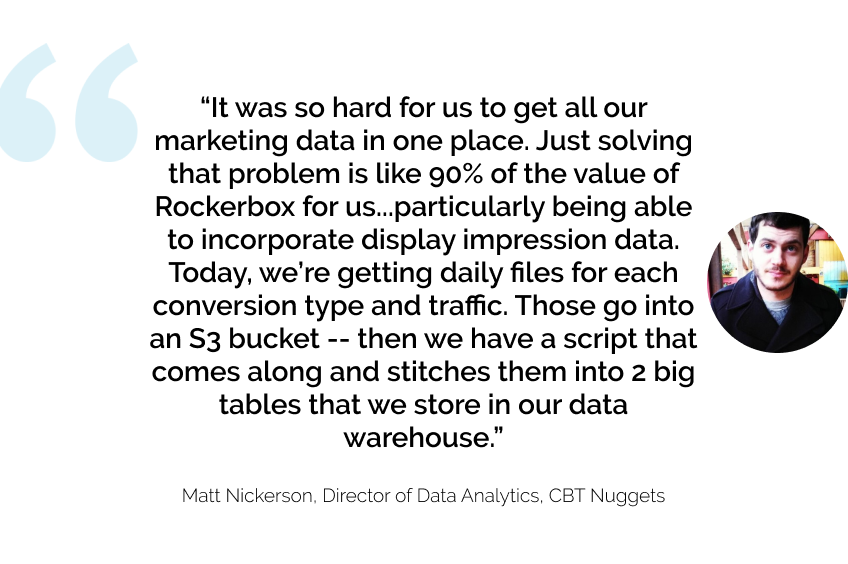 CBT has been able to accomplish all of the above by leveraging Rockerbox's data outputs rather than having to hire. Just this one aspect of Rockerbox saves CBT Nuggets "half of what we'd have to pay another full-time employee on the data team," says Matt.
4) Developing their own attribution model
Rockerbox is fully transparent about our data-driven attribution models. We enable clients to see all the details behind each model run (the features included, the predictiveness, ROC curves, precision / recall, confusion matrix). This transparency enables customers to detect when a Rockerbox model isn't matching their expectations.
As Matt says, "When we were trying to make sense of the models that were showing up in the dashboard, there were concerns around some of the model performance metrics. The ROC curves and the precision accuracy statements don't match what we would hope to see." While CBT Nuggets could have worked with the Rockerbox Data Science team to adjust the model, they decided to take the self-serve route:
Where's the ROI from Rockerbox?
CBT Nuggets leveraged Rockerbox to make changes to its marketing mix, specifically starting with display.