TULA is a leading DTC skincare company. Since its founding in 2014, TULA has been growing at a rapid pace, with year-over-year sales for April 2020 up five-fold, and nearly double March sales.
Meet Patrick and Zack from TULA
Patrick Gleason is the Director of Performance Marketing at TULA, coming to TULA with a marketing background from companies, including Mixbook, Shutterstock and Vimeo.
Zack Abbell is the Vice President of Digital & E-Commerce at TULA. Prior to TULA, Zack has led teams at Poppin, Aden & Anais, and GSI Commerce (eBay Enterprise/Fanatics)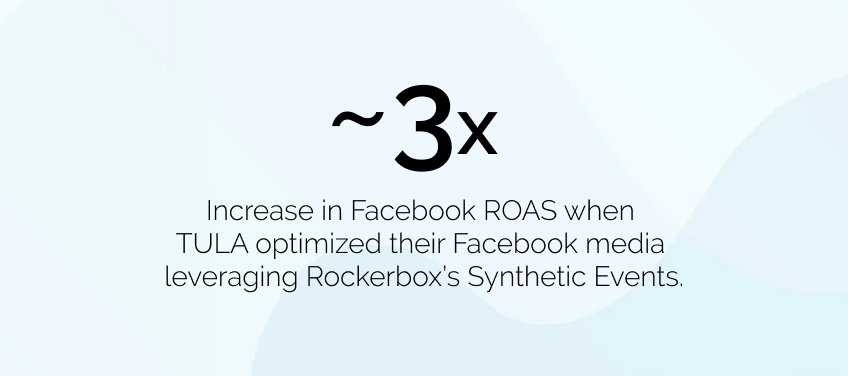 How TULA Leverages Rockerbox
1) Annual Budgeting
All companies have to go through an annual budgeting process. The leadership team works through budget targets utilizing Rockerbox as a key component of its forecasting exercise. For TULA, Rockerbox has become a core component of the forecasting and budgeting process. Ultimately, it's the driver of how to allocate the annual marketing budget: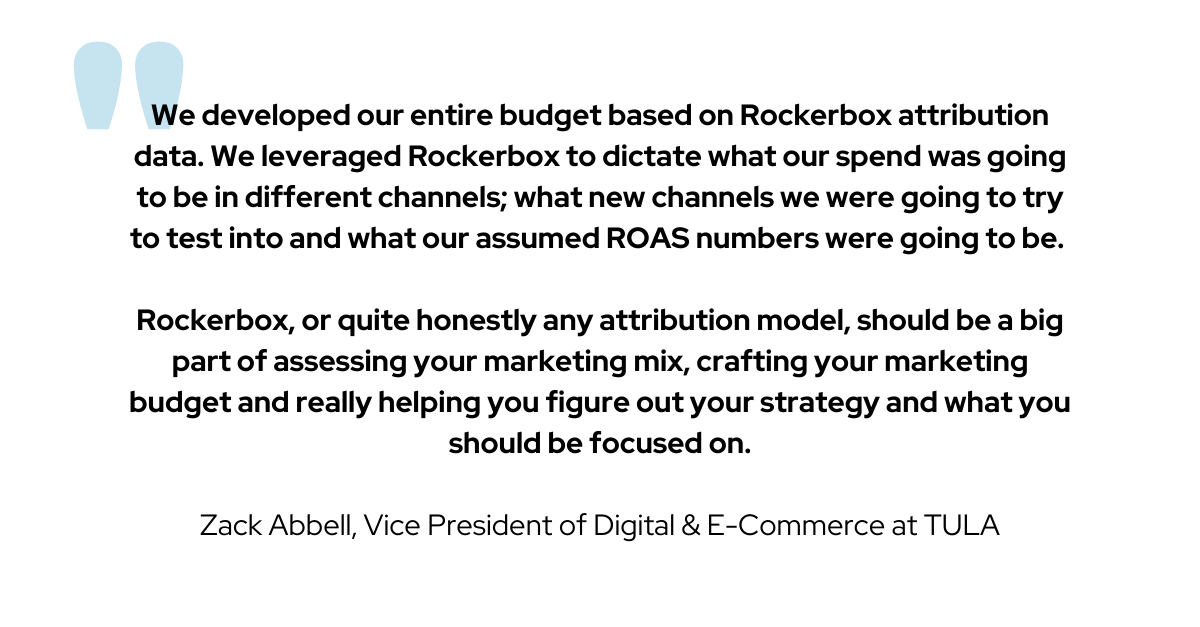 2) Testing New Channels
TULA had been aggressively looking to launch and test new channels in 2020. By leveraging Rockerbox, TULA has been able to ensure that these tests don't go to waste. "Leveraging Rockerbox has given us more confidence to expand into channels that we weren't in previously," says Patrick.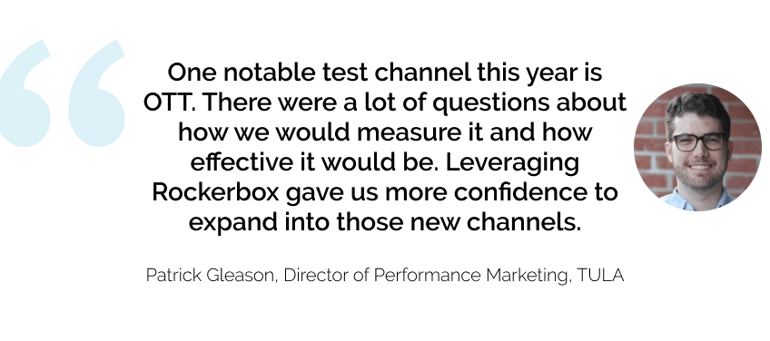 3) Lift Studies + Rockerbox Synthetic Events
Lift studies and hold-out tests have become an important tool for the TULA team to gauge the performance of their channels. "Lift studies, hold-out groups wherever you can are a perfect option to analyze a specific channel. We use a combination of Rockerbox and those lift studies / hold-out studies to validate our performance," says Zack.
At the same time, there are substantial limitations to using lift studies on a daily basis. "Lift studies are good for one-off understanding but we can only run them at set periods of time. We're not getting real-time data on them and any adjustments we make as a result of the Facebook Lift Study we would need to run another lift study which has significant budget minimums and significant time to get another read," says Patrick.
TULA has leveraged Rockerbox's Synthetic Events as a real-time way to compensate for these limitations.
Where's the ROI from Rockerbox?
Catching and stopping wrong decisions quickly
"There's obviously a cost to Rockerbox, but there's an opportunity cost to making wrong decisions. When you make the wrong decision for a month, it's bad. When you continue with those decisions and have a lot of false positives, what you're functionally doing is you're tanking your business. For us, Rockerbox is the most important tool we utilize to measure and inform our decision-making. Rockerbox enables us to use the facts, use the data and make those decisions. It enables us to understand what touches came in which order and helps us determine how we'd like to weight the multi-touch attribution moving forward." - Zack Abbell
Being able to invest more aggressively and confidently
"We increased spend significantly on non-brand paid search (shopping) in April. Prior to our relationship with Rockerbox, we may have invested a lot of that into Instagram acquisition or Facebook acquisition campaigns. What we did leveraging Rockerbox data last month was really aggressively lean in on non-brand paid shopping. Our overall spend was up over 200% vs the previous month. Without having the Rockerbox feedback validating that it was driving incremental new-to-file business that was predominantly first-touch, I don't know that we would have made those decisions. We would have taken a more conservative, staggered approach and surely left a significant amount of orders on the table. We would not have been as aggressive without Rockerbox in place." - Patrick Gleason