gorjana is a California-based luxury jewelry brand that creates jewelry that customers want to live in, specializing in curated collections and fine jewelry and accessories. The company operates successfully in the direct-to-consumer eCommerce space in addition to maintaining boutique retail locations.

Over the past several years, gorjana has focused its efforts on becoming an omnichannel digital brand with a deep understanding of customer conversion metrics as they relate to advertising and marketing spend.

In this highlight, we'll break down how Rockerbox has provided gorjana with the knowledge required to spend and test smarter, especially on channels that are most valuable for their audience. gorjana's overall campaign strategy also includes leveraging the latest Rockerbox + Pinterest integration to better understand Pinterest ROAS.
Meet Kyle Brucculeri from
gorjana
Kyle Brucculeri is the VP of eCommerce at gorjana. With roots in the eCommerce sphere, Kyle has played a direct role in helping gorjana grow at scale, even in the midst of a pandemic that drastically impacted customer purchasing behaviors.

Additionally, Kyle has been directly involved with testing and launching the Rockerbox Pinterest integration throughout the summer of 2022. Kyle and his team know firsthand what it means to reach beyond platform-only data to achieve real results in a complicated market.
Why gorjana
Partnered with Rockerbox
Prior to implementing Rockerbox, gorjana was a budding eCommerce brand that mostly stuck to familiar territory, with ad placements primarily on Google and Facebook. As a smaller business, adhering to these key advertising players allowed them to closely monitor performance and track precisely where dollars were going.

Over time, business growth has brought enormous changes to gorjana's spending power and available digital marketing budget. Kyle reports that gorjana has now increased their ad spend by 10x since joining Rockerbox while also 2x-ing their ROAS across 20 paid channels.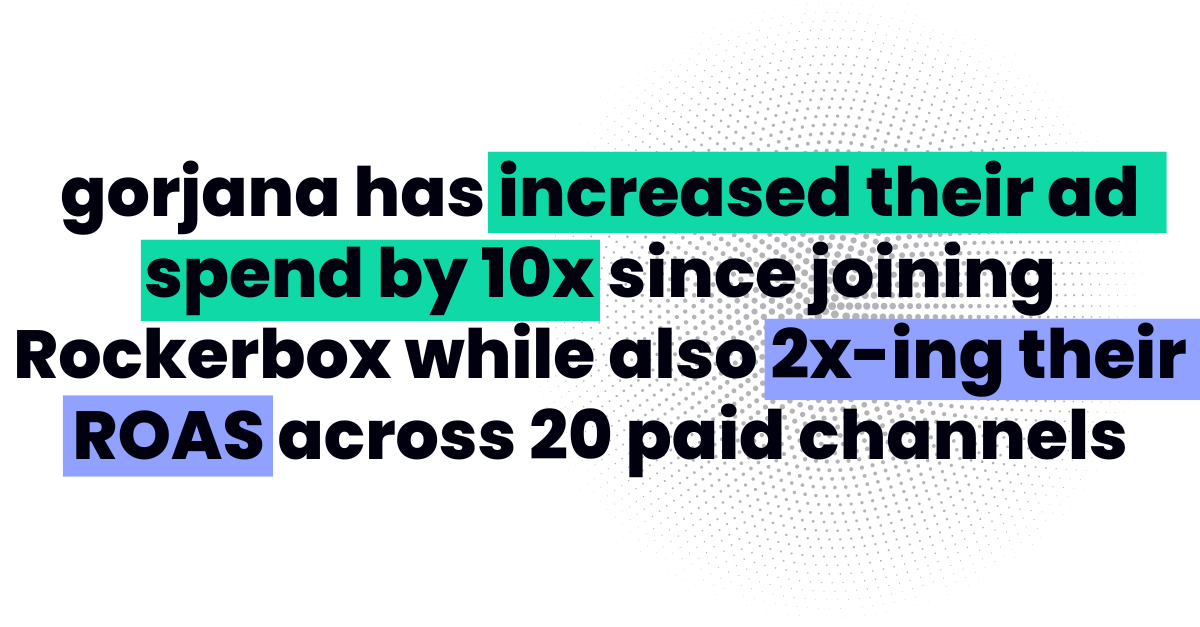 "[Rockerbox] has allowed us to feel confident in scaling and seeing how our dollars influence the entire customer journey. We have so much more intelligence in terms of optimizing campaigns holistically and knowing where these campaigns fit within the customer journey."
How gorjana
Benefits from Rockerbox Data
Through hands-on experience, Kyle shares that the single most valuable thing about Rockerbox is that it allows gorjana to view total ad spend in the context of the conversion lifecycle. Without a platform that provides this type of reliable data, brands are stuck optimizing with last-click data or in-platform metrics alone. Many marketers know that these data points are often misleading and can result in stunted growth and less accurate decision-making.

With Rockerbox, gorjana has been able to leverage comprehensive, multi-touch data in order to directly influence growth and scalability. For example, gorjana has tested 20 paid marketing channels spanning both online and offline since working with Rockerbox, many of which they've been able to quickly prove the value of and scale.
Grow Beyond

Last-Touch and Platform Data

With Rockerbox's multi-touch attribution, gorjana has succeeded in optimizing more than they ever could with last-touch metrics from Google Analytics alone.

According to Kyle, although last-click data sometimes doesn't give enough credit to top and mid-funnel channels for driving conversions, platform metrics can sway marketers in the opposite direction by over-amplifying results that take place within the platform.

With Rockerbox multi-touch attribution, they're able to see true performance, including view, clicks, digital, and offline, regardless of funnel position.
Justify Testing with
Actual Results
Kyle alludes to the frustration that many DTC marketers experience when trying to run new tests and gather results for reporting. "It's really hard to justify test spends of $50-100k and see absolutely nothing in return," he says.

Rockerbox provides a proven, accurate way to measure campaign testing and performance. With the ability to experiment and view accurate insights, gorjana has been able to transform into a highly optimized, diversified digital brand. This success means that the team knows which channels are workhorses, which ones have potential to grow, and how to avoid costly spend that won't produce results.

Because of Rockerbox data, gorjana has a new understanding of the value of channels, from paid to organic. For example, they found friend referrals drive 10% of new customers into the funnel, of which, 40% become repeat purchasers.
What Does the
Future

Look Like?

Digital brands like gorjana are now emerging from the pandemic with a keen awareness of how the economy is shifting. With talk of recessionary spending, Kyle reports that his team is watching the numbers closely and paying careful attention to optimization opportunities.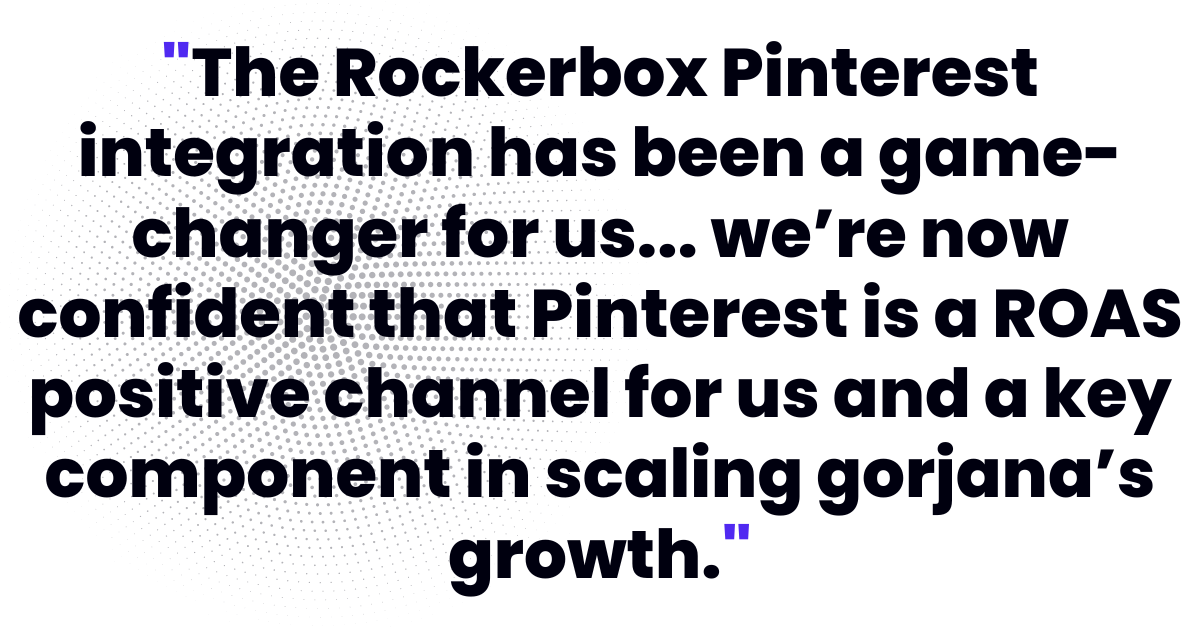 With the help of Rockerbox data, gorjana is scaling in major ways. Equipped with reliable attribution metrics from Rockerbox, Kyle says that gorjana can make bullish moves in new channels and still witness measurable growth—even in an uncertain economic environment.

gorjana's future involves knowing where their target customers are and being highly present in those channels, which includes Pinterest.

"The Rockerbox Pinterest integration has been a game-changer for us. By leveraging the integration we're now confident that Pinterest is a ROAS positive channel for us and a key component in scaling gorjana's growth moving forward."
Grow Your Brand

with Rockerbox

At Rockerbox, we want to help modern digital brands accomplish their growth goals through data-driven decisions. Regardless of which channel you want to scale, our unique attribution insights will give you the keys to unlock better testing, spending, and growth.