Coming off the launch of our brand new user interface just last month, we're excited to officially be announcing three new plan tiers for users at different stages in their marketing journey, plus an entirely redesigned website and a branding refresh for our platform.
We believe that brands at any stage in their development need tools to analyze marketing performance and understand what's truly driving conversions.
Below, learn more about the new plan options and the new look of Rockerbox.
Ready to jump right in and get a demo of our platform? We're ready to help.
Plans to Support You from Launch to Scale
Rockerbox gives brands the power to understand their marketing, their business, and their customers like never before, but we know that not every company is ready for the full platform right away.
For brand new companies just launching a product to large brands nearing IPO, we're the reliable, trusted platform for marketing attribution at any stage. Learn about our three plan options below.
Rockerbox Free
It's best to start exploring marketing analytics early as a DTC, ecommerce, or digital-first company, but researching and investing in a platform can seem daunting when there are so many options with drastically different methodologies and philosophies.
Rockerbox Free gives companies a way to explore the potential of a platform like Rockerbox before making an investment. The free platform shows what could be possible and provides helpful insights with basic data aggregation capabilities and industry spend data.
When you're ready to advance, we offer Starter and Scale plans that include Rockerbox's most valuable core functionality—deduplication and first-party data—in addition to a wide range of integrations and marketing analysis capabilities.
Free Highlights
Basic data aggregation for popular platforms (Facebook, Google (Search, Shopping, PMAX, Display, YouTube), Pinterest, Snapchat, TikTok, Bing)
Google Sheets reporting templates and data export
Live spend trends dashboard
Rockerbox Starter
Marketing measurement gets difficult when you add multiple channels or want to scale social platforms like Facebook. Additionally, individual platforms have their own unique gaps and differences in reporting that make seeing a full picture of marketing impact near-impossible.
Rockerbox Starter gives companies using Shopify a clear, realistic view of their marketing performance across all the digital channels they use. A basis in first-party data means it's a reliable platform that can grow with companies and weather any changes in privacy and tracking standards.
In addition to an expanded array of integrations, the starter plan gives you insight into where new visitors are coming from, which channels you may be overspending on, and much more.
Starter Highlights
Data centralization
First-party measurement and deduplicated conversions
Independent measurement of over a dozen popular channels, including Google, TikTok, Facebook, Pinterest, and Criteo
View-through impact for Facebook
Help center and chat support + two calls with a customer solutions lead to go through onboarding and training
Rockerbox Scale
As companies grow in their marketing journey, they often add channels that aren't straightforward to track, such as direct mail, linear TV, and podcasts. Without a centralized view of performance from all of these channels, companies lack a full view of what's really driving sales, and aren't able to make the most informed decisions about their marketing strategy and budget.
Rockerbox Scale is built for growing companies that need a comprehensive tracking and measurement platform to monitor all digital and offline channels and ensure the most efficient use of marketing budgets.
This plan features a full-suite of integrations to measure the impact of social platforms, search engines, display advertising platforms, affiliate marketing solutions, influencer marketing, and more, plus add-ons available for direct mail, linear TV, OTT, podcast advertising, and more.
With this plan, you can leverage our custom data-driven models, experiments, and more advanced analyses to see a full, cross-channel, cross-device path to conversion for your customers.
Scale Highlights
Data centralization, first-party measurement, deduplicated conversions, identity resolution across multiple browsers/devices
Comprehensive digital measurement
Multiple measurement methodologies (Rule based, modeled multi-touch, incremental reach, geo-lift, halo)
Data exports (Google Sheets, Ad-Hoc Downloads) + data warehousing integration add-ons
Training, dedicated CSM to guide through onboarding, email + chat support
All the measurement integrations on the Starter plan + add-on options
Much more
Explore these three plans in detail on our plans page.
A Brand New Look Across Rockerbox
Although our product has improved steadily over the past few years, our brand look was due for an update.
Across the updated website you'll notice a bold new color scheme, featuring a vivid indigo, classic black, and pops of unexpected color, and brand new visuals that better showcase the potential in our product.
It's a redesign we're proud to show to customers, prospects, and peers in the industry—and we hope you're as impressed with it as we are.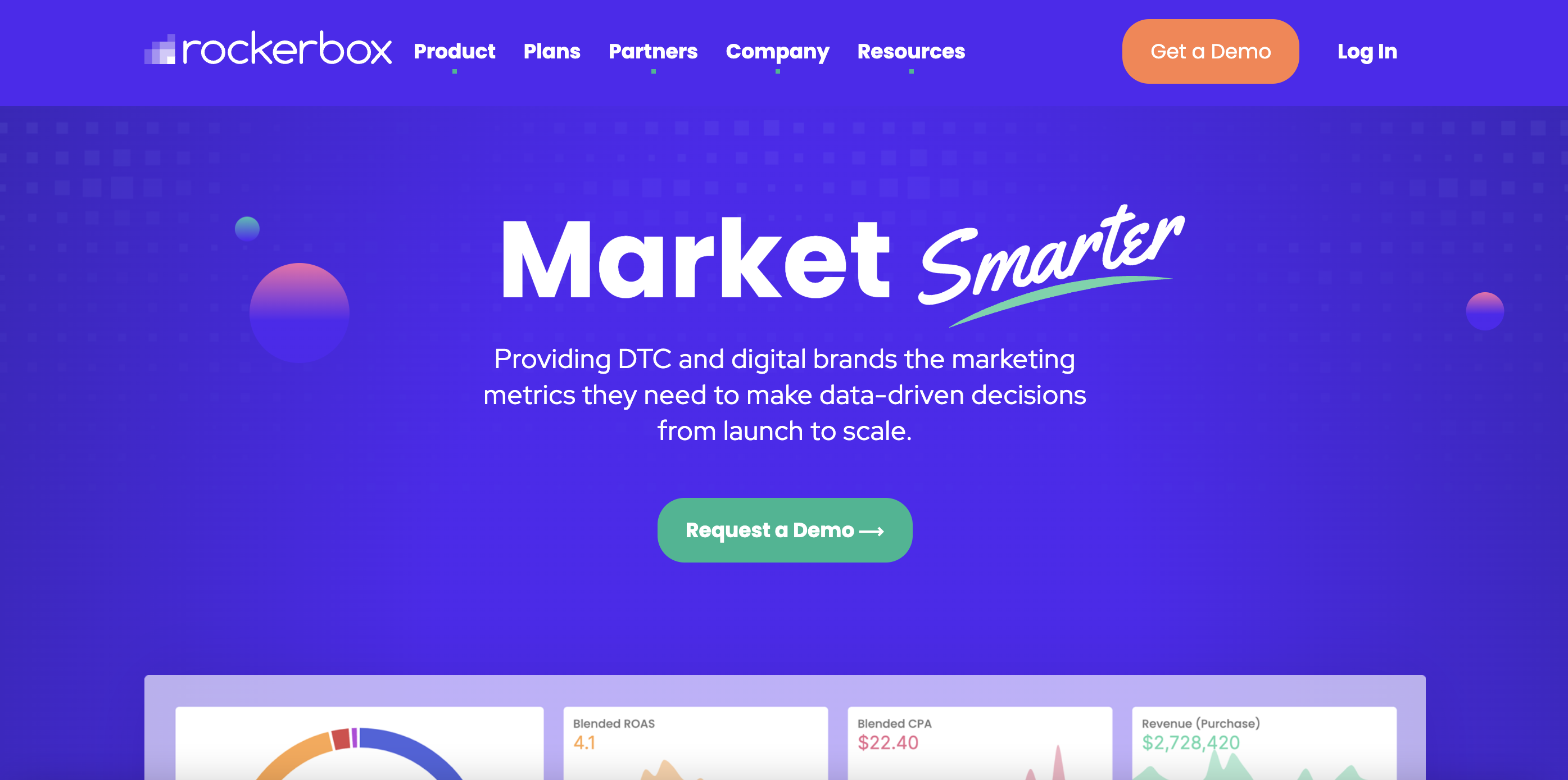 What's Next?
It's hard to say how we'll top a redesigned UI, new website, and new plan structure, all in one quarter—but you can be sure we will. Continual improvement is built into the DNA of Rockerbox, and if there's one thing that motivates us, it's constantly listening to and meeting the expectations of our customer base.
If you're not yet a Rockerbox user, explore the platform with us in a 1-1 demo.