As a marketer you need accurate marketing intel on the performance of your campaigns—it's a simple goal, so why does it seem so hard? So many platforms and software tools have too much, too little, or simply the wrong insights for making meaningful optimization decisions.
What if there was a customized solution to marketing measurement? One that met your needs, and yours alone, whether you're looking for a trustworthy dataset to export to other reporting platforms, a full view of the customer journey, a way to do Marketing Mix Modeling for your business, or something else.
Rockerbox has long been a leading provider of in-depth marketing insights for successful brands, but now with the introduction of our new Data and Analysis Product Lines, it's easier than ever for companies to match their marketing challenges to personalized solutions: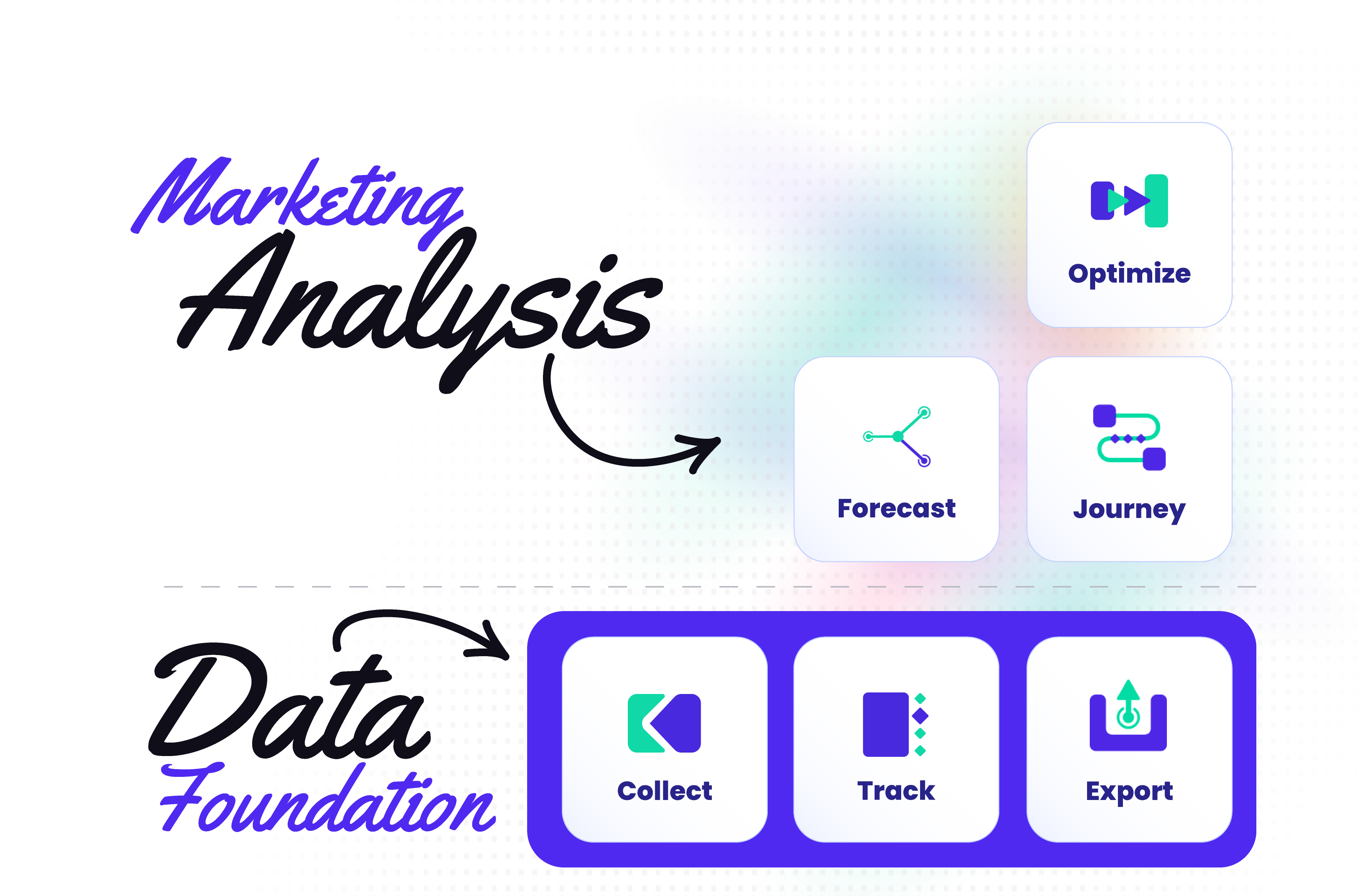 We designed these two product lines and six products to tackle specific marketer problems. Whether you need to solve one issue or many, we have the diversified measurement approach to help you.
Unpacking the Core Products
Rockerbox's new products make the vast capabilities of our platform easy to understand and make it easier for you to solve the challenges you face daily as a marketer.
We like to think of these products as sitting in two distinct product lines: Data (this applies to the Collect, Track, and Export products, which all have to do with getting you an accurate, complete data foundation to power additional reporting and examination of your data) and Analysis (this covers the Optimize, Forecast, and Journey products, which give you a variety of ways to answer the basic questions of "Which parts of my marketing are working?" and "Where do I allocate my budget for the best return?").
Below we'll walk through a quick overview of what each product is and how it helps marketers. From there, you can drill down into any of these products for more details or simply reach out for a demo so we can help you mix and match the best combination of products to meet your marketing measurement needs.
Data
Collect
Getting all of your spend and performance data in one place is easier said than done. Think of Collect as the reliable foundation to much of the marketing analysis you need to do on a regular basis. We handle the often time-consuming work of standardizing and normalizing all this data and make it easier for marketers to report off of a clean, accurate dataset.
Track
With the loss of third-party cookies, marketers need a first-party data based approach to tracking their marketing efforts. Track helps marketers stay privacy-conscious while still obtaining the granular dataset they need to power insights on the buyer journey and what's driving conversions.
Export
Rockerbox offers several different dashboards and tools for exploring the performance of your marketing within our platform, but we also let you take your data elsewhere to fulfill other reporting requirements. Export includes the ability to easily transfer data to your data warehouse, Google Sheets, or just download it for other purposes.
Analysis
Optimize
The process of deciding how to allocate budget across campaigns on a platform can be time-consuming and full of uncertainty. How do you know if a particular allocation is actually the optimal one for achieving your goals? With Optimize, marketers can set specific or dynamic ROAS goals and receive regularly updated recommendations on how to adjust spend to meet those goals.
Forecast
Marketing Mix Modeling (MMM) is a time-tested method of setting marketing budgets in the absence of user-level marketing data. With Forecast, we've modernized the application of this analysis and made it something marketers can use on an ongoing basis to make sure high-level budget amounts are optimized for the best possible return. Leveraging bayesian optimization and machine learning, we run thousands of models to provide more accurate and actionable predictions for customers.
Journey
Looking for a better understanding of your marketing paths and the role of each channel in the marketing mix? Rockerbox's Journey product line delivers the holistic view you need of the impact of all of your marketing touchpoints on the buyer's journey to purchase. Rather than last- or first-click methods, which can understate the impact of some channels, multi-touch attribution considers the contributions of every channel so you can decide whether your time, money, and energy should be spent.
Marketing Measurement That Scales with You
As your business progresses, your marketing strategy will only get more complex. Rockerbox product lines set you up for success because they'll grow with you. Need to move your data to a data warehouse to enable further reporting in a business intelligence tool? Add on Export. Want to explore how Marketing Mix Modeling (MMM) could help you make better high-level budget decisions? Try Forecast. With Rockerbox, you don't need to worry about switching from platform to platform because we grow as you do.
Ready to explore the marketing measurement platform that's tailored to your needs?