Since Rockerbox's founding, we've continually invested in ensuring that Rockerboxers have opportunities to hang out and develop relationships with each other. From monthly Spur Nights to Friday lunches to summer parties to new Rockerboxer coffees, we've always committed time and resources to this end. And it worked: Rockerboxers genuinely enjoy being around each other, and we always have had high turnout at company events.
Since Covid started, we've struggled to recreate this experience. Unsurprisingly, it turns out that exclusively interacting via Zoom isn't conducive to building great long-term relationships. Despite our best efforts (monthly Baffle Nights, Will's Wacky Wednesdays, trying software like Gather and Donut), it was clear that Rockerboxers weren't able to build, develop and maintain the level of relationships that are needed in a fast-scaling startup. This was amplified by the fact that Rockerbox is doubling in 2021 (we're hiring!) making it clear that we needed to find a way to bring Rockerboxers together in an ongoing manner.
And thus, Rockertreat—our Rockerbox retreat—was born.
Planning in a Pandemic: Rolling With The Punches at Rockertreat
We started by researching how other companies organized their retreats and we decided that our inaugural event would be two days in NYC. We made this decision as 1) This was our first time organizing a company-wide retreat and 2) about two-thirds of our team is based in NYC.
Of course, the elephant in the room that we had to address was Covid. When we originally polled for dates, there were ~15,000 cases per day, which increased to ~150,000 cases per day during Rockertreat. We spent a lot of time debating whether to move forward with Rockertreat despite the rise in cases and ultimately decided to move forward.
Why? Here is what we told the team:
"Rockerbox is a remote-first company. Having an opportunity to bring the team together from time to time is an important part of fostering a great remote-first company and culture. Humans are social creatures and there is demonstrated value to in-person interactions.
Given that it's been ~18 months since the majority of Rockerboxers were together, we feel it's important at a minimum to provide an opportunity for Rockerboxers to get together. If there was more certainty that Covid would be gone in the near future, we would be inclined to wait. But given the uncertainty of the future, combined with the upcoming winter, we're simply not sure what to expect down the line and believe in having a #BiasTowardsAction to facilitating Rockerboxers coming together."
In light of the uncertainty around Covid, we did make a handful of changes to ensure Rockertreat was as safe as possible:
We emphasized that Rockertreat is 100% optional and that we expect some Rockerboxers may choose not to attend. We were adamant that no justification was required not to attend and that any Rockerboxer could change their prior decision to attend.
We also emphasized that any Rockerboxer can opt out of any event within Rockertreat, whether they wanted to take extra precautions or just take a quick nap, no questions asked
We stipulated that any Rockerboxer attending Rockertreat would be required to provide either (1) proof of vaccination or (2) a negative PCR test within 48 to 72 hours of the event date. We also called out that any Rockerboxer attending Rockertreat would need to abide by NYC laws regarding masks and vaccinations.
Originally we had rented a large venue where we would all hang out indoors. We scrapped this plan and shifted to Rockertreat being primarily outdoors to limit exposure.
To say that planning a company retreat during a pandemic is logistically challenging would be a massive understatement, but the health and safety of our team is of the utmost importance, and I'm so grateful that most Rockerboxers were overwhelmingly enthusiastic about participating.
Rockertreat 2021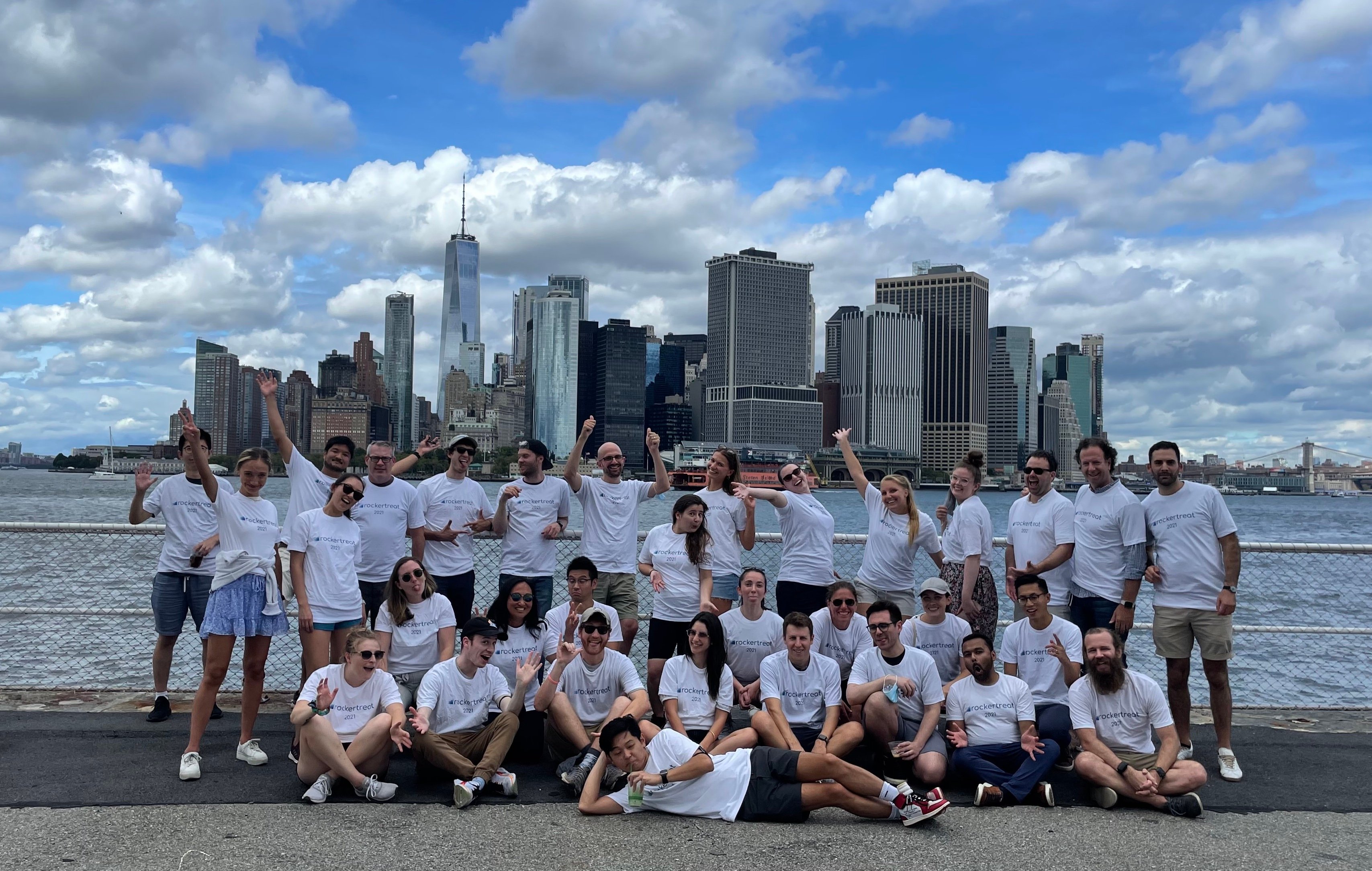 After all the planning, we had Rockertreat last week and it was a resounding success. Despite a chance of rain, we got super lucky with the weather and had two beautiful days with the team in NYC. There was a lot of walking, hanging out and laughing. It was a great experience.
Here was our itinerary for Rockertreat (no actual work required!):
Day 1
Spending the day on Governors Island
Scavenger Hunt (using

GooseChase

)
Lunch at Oyster Island
Mini Golf
Dinner back in NYC at Industry Kitchen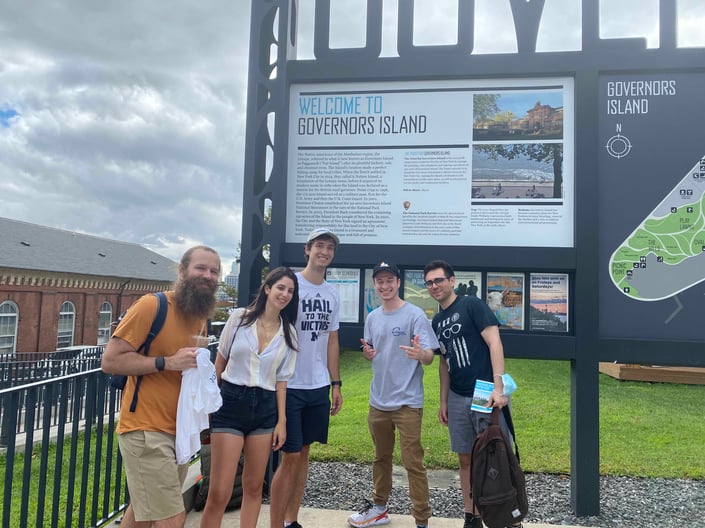 Scavenger Hunting on Governors Island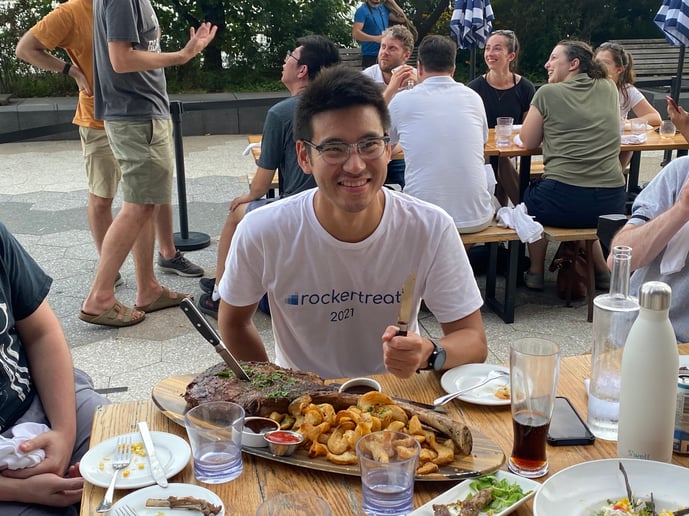 Dining at Industry Kitchen
Day 2
Choose-your-own-adventure in the morning:
Track #1: Central Park Zoo
Track #2: MOMA
Lunch at Shake Shack in Madison Square Park
Resting time or hanging outdoors at Society Billiards + Bar
Yankees Game
"We're all mad here" - Making friends with Alice in Wonderland at Central Park
Lunchtime at Shake Shack in Madison Square Park
Looking Forward To Future Rockertreats
I'm more confident than ever that getting Rockerboxers together on a recurring basis is critical as we continue to scale Rockerbox. This is especially true as we've gone remote-first since Covid and are bringing on new Rockerboxers across the country.
It's moments like these when I'm immensely proud of all that our team has accomplished. Those wins are worth taking the time to celebrate and I'm excited to be able to continue this tradition for years to come at future Rockertreats.
And if you're interested in joining the fun, we're hiring across all departments, so come aboard! We'd love to meet you at a future Rockertreat.