We're excited to announce the launch of Rockerbox Experiments, our newest solution that builds upon our platform's best-in-class attribution and provides additional measurement capabilities to help enable a more data-driven marketing organization.
You can watch our webinar on Rockerbox Experiments on-demand, and if you'd like to learn more about experimentation with Rockerbox, reach out today to schedule a demo.
With our expansive ecosystem of integration partners, marketers can now measure and compare experiments with their top platforms, all within Rockerbox to better understand the full scope of their marketing contributions and evaluate which tactics are driving the most effective results for their businesses.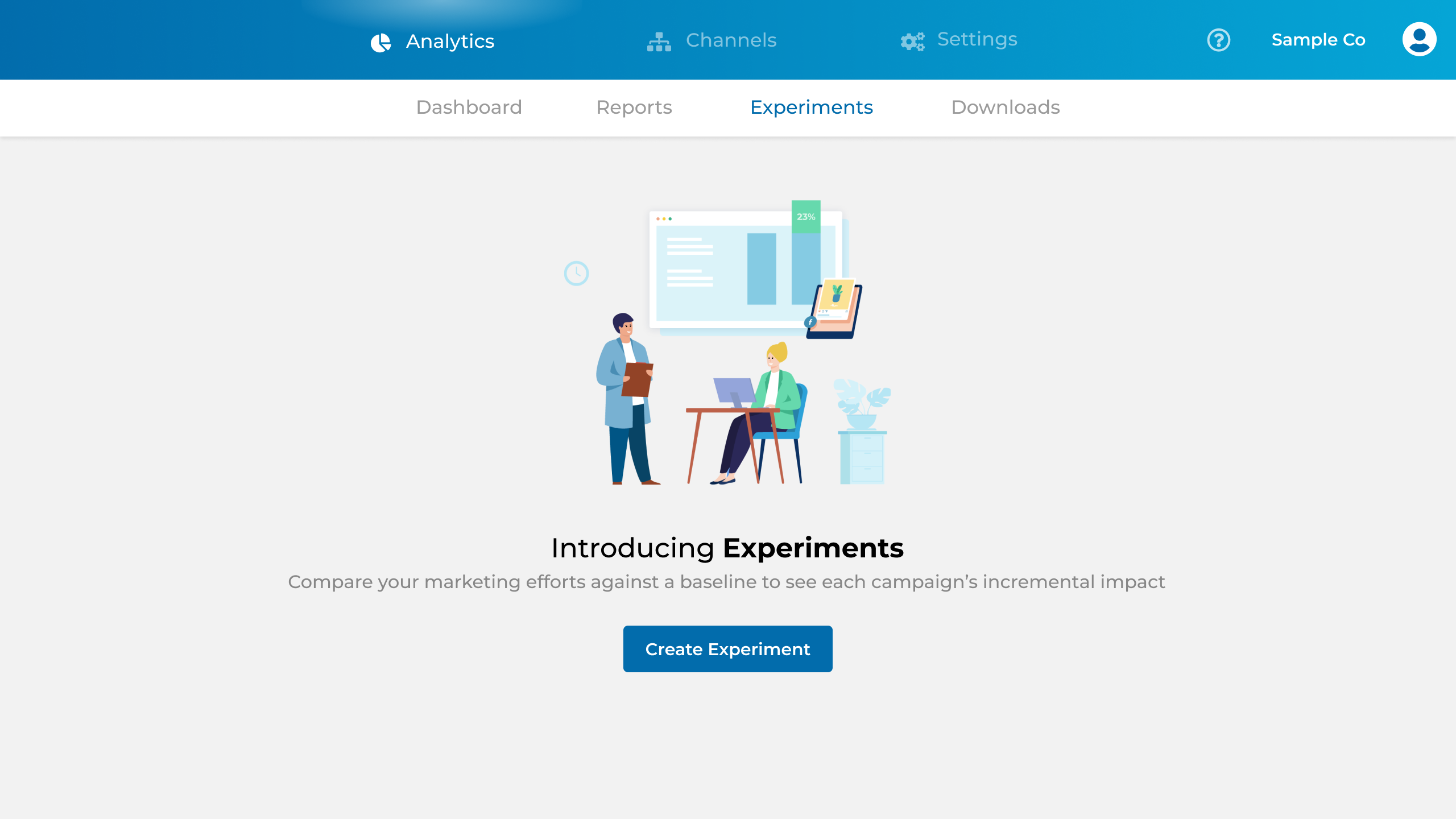 Create an Experiment in the Rockerbox platform to compare your marketing efforts against a baseline and see each campaign's incremental impact.
Background
While marketers run experiments within an individual channel, it can be difficult to determine the cross-channel lift of a test. And given that they're usually spending up to 10% of their marketing budget on testing, understanding incremental lift is critical to maximizing their ROI. Given that many Rockerbox customers are already running experiments, we felt that it's necessary to give them the right tools to determine cross-channel outcomes and effectiveness.
As I stated in today's product announcement:
"Brands that win today are those that recognize the benefit of having a strong marketing data foundation, upon which the true performance and lift of their marketing can be determined. By bringing together attribution and experiments into a single platform, Rockerbox ensures that brands have the full set of tools needed to scale their organizations."
Why did we build Rockerbox Experiments?
In addition to making it easier to analyze the cross-channel impact of the tests you're already running, we wanted to ultimately expand the scope of ways that Rockerbox can enable you to measure your marketing—from path to conversion insights with attribution to individual campaign and ad performance with experiments.
Marketers are often told that there is one right way to measure marketing performance. We don't believe that to be the case. In fact, we recognize that all measurement methodologies have their flaws. Because of this, Rockerbox continues to be agnostic—we will never force a client into any one measurement methodology and always ensure that our clients have all the tools they need all in one place.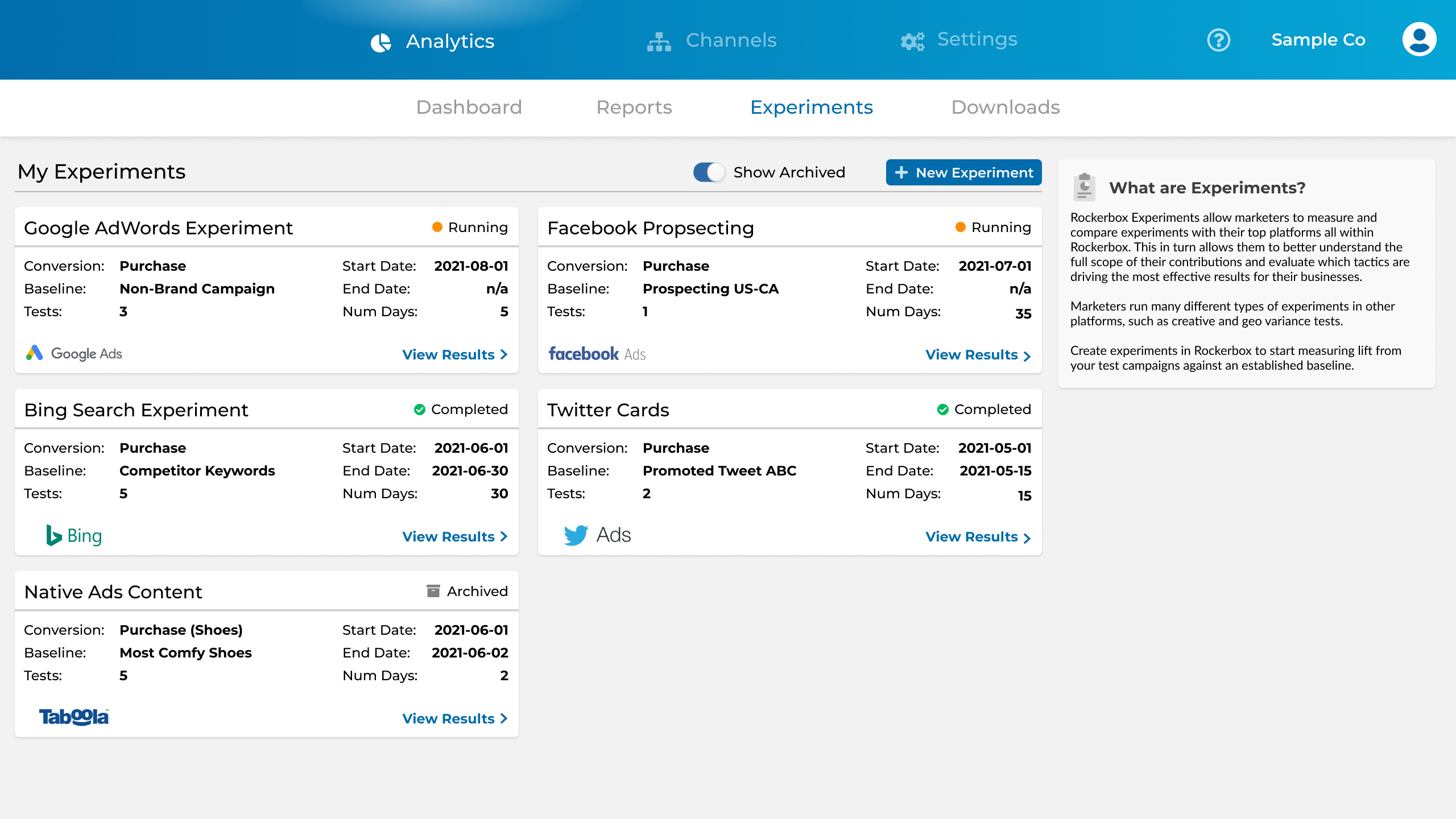 Bring together all of your Experiments with top platforms, like Google and Facebook, within Rockerbox for comprehensive measurement.
Solution
With Rockerbox Experiments, brands can now:
Compare marketing efforts from their test campaigns against a baseline
Uncover the incremental lift of A/B testing and geo-variance tests
Report on a campaign's impact on conversions, CPA and ROAS
Measure whether their test results are statistically significant
We make getting started simple: once you've designed your tests, all you need to do is identify a baseline campaign, add your test campaigns and review your results.
Rockerbox supports creating Experiments from top platforms, such as Google, Facebook, TikTok and more. For a full list of currently supported platforms and instructions on how to set up your first Experiment in Rockerbox, check out our help doc.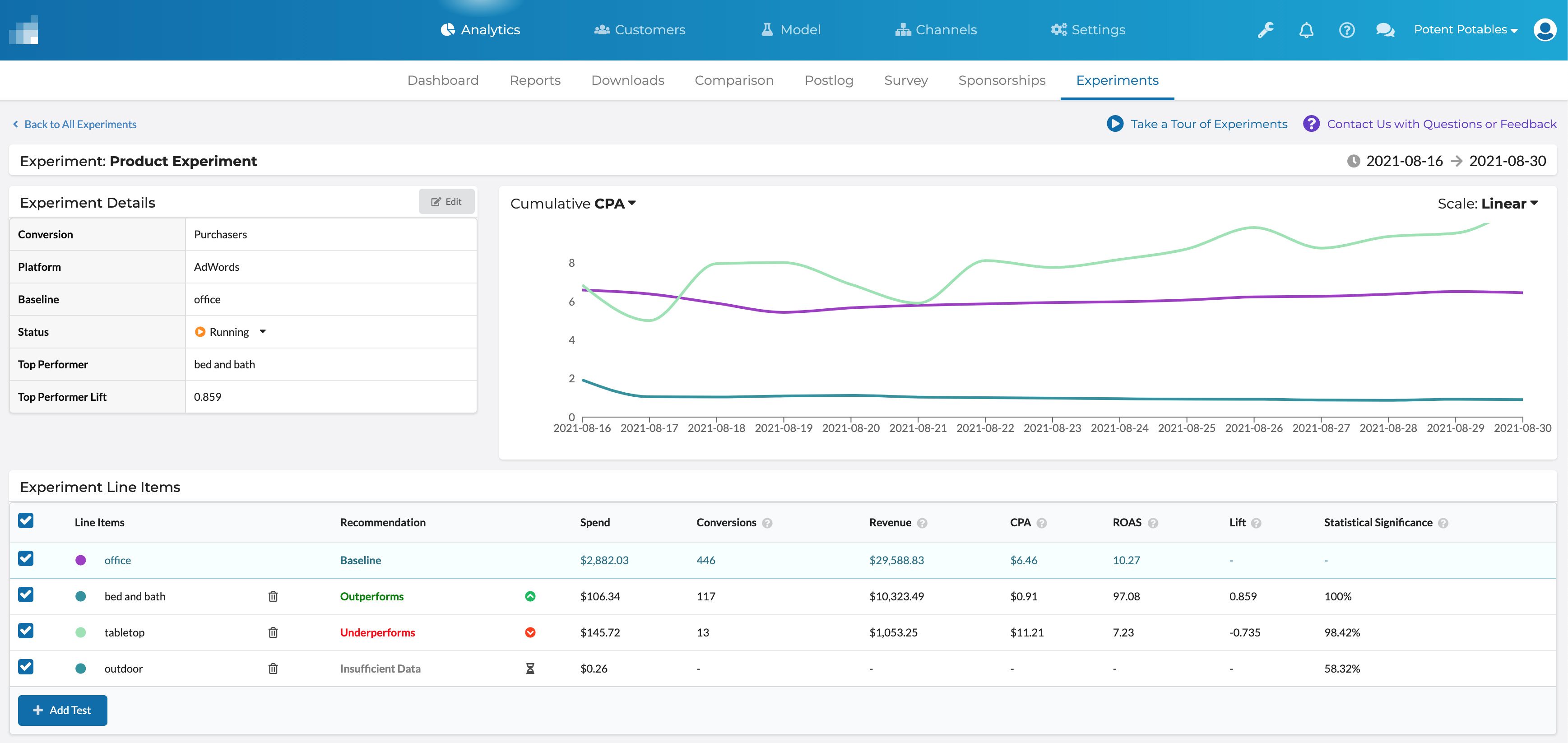 Identify top-performing campaigns and measure impact on conversions, revenue, CPA, ROAS, lift and more.
Get an Exclusive First Look
We've got you covered—simply sign up for a one-on-one demo to learn how Rockerbox Experiments can help your brand measure the true value of your marketing.