What happens when you gather 40 Rockerboxers in Miami for 48 hours? Rooftop happy hours, water-side dinners, mural tours, kayaking adventures among the manatees, and more – basically, a really good time.
As Rockerbox transitioned to being a remote-first company, it was critical that we not only maintain the camaraderie that Rockerboxers had previously experienced while working in person, but to see if we could make it even better. Beyond virtual events, lunches, and happy hours, we believe that success in a remote world means that we occasionally get together IRL. So, twice every year we host Rockertreat, our in-person company retreat.
Rockertreat 2022 - Miami
Coming off the heels of our best quarter ever, combined with growing the team by 50% since our last Rockertreat, we decided to bring everyone together for 3 days of fun in the Miami sun. It was a little different from our 1st Rockertreat in NYC, home to ~⅔ of Rockerboxers. This time we had to fly the entire team out to Miami. We overcame weather and other travel disruptions to get together and eat good food, have a lot of laughs, and enjoy each others' company.
With COVID continuing to be a consideration, we again emphasized Rockertreat as 100% optional, and asked no questions of folks who did not feel comfortable traveling.
In planning Rockertreat, we wanted to create an experience where Rockerboxers could interact with each other in a fun and interesting environment, without the pressures of day-to-day work. Given we're all based in the northern hemisphere, having a warm place to escape to after the winter was also an important factor, so we chose to meet in Miami Sunday through Wednesday at the beginning of April.
What we got up to:
Rockerboxers taking advantage of the warm-weather destination started to trickle in as early as Friday 4/1. Some folks arranged to play golf together on Sunday, and the winning team got to push their competitors into the pool - the fact that the losing team was made up of managers was an added bonus.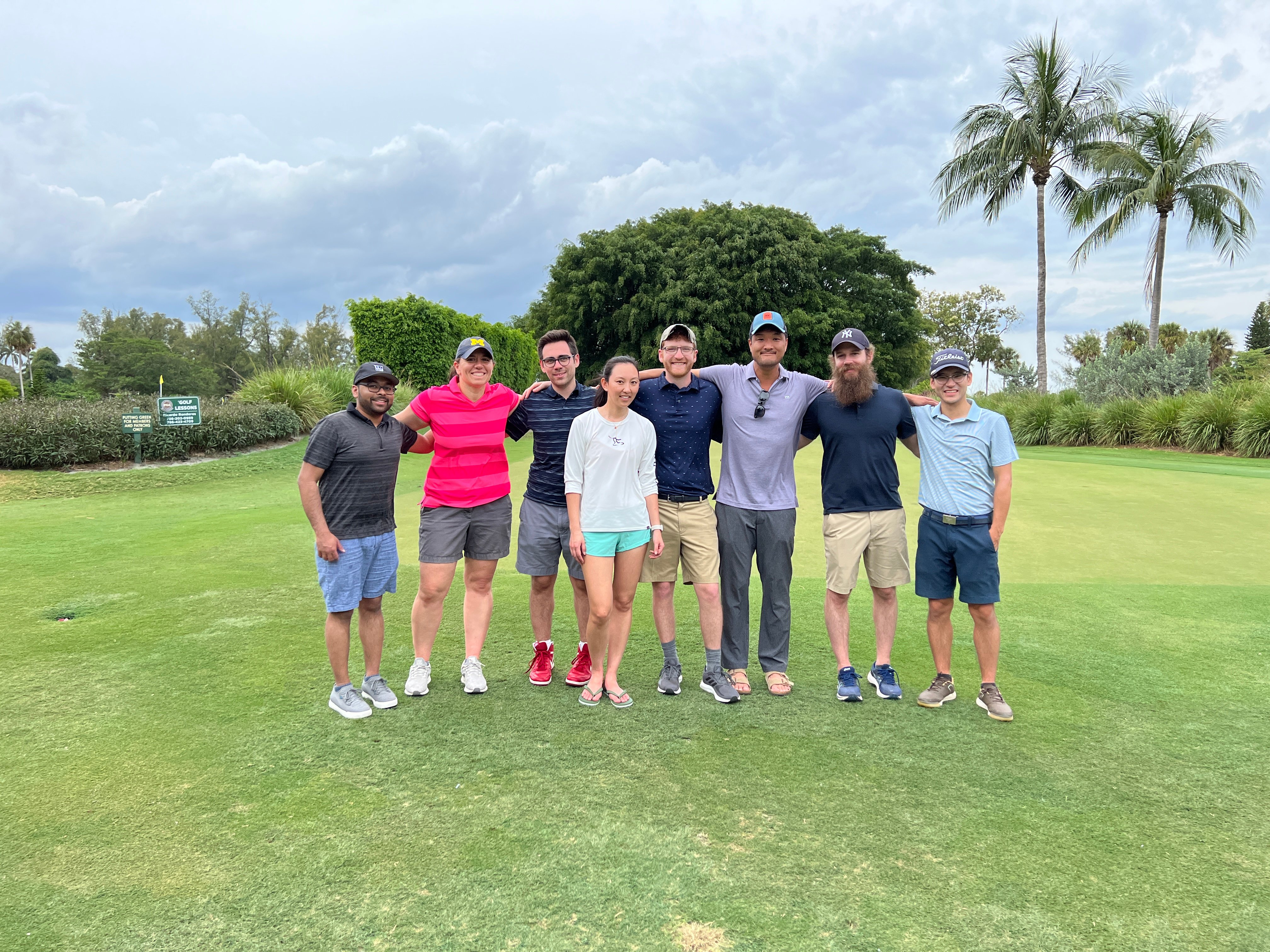 On Sunday, we hosted a welcome happy hour at a rooftop terrace which gave us a tasty start to the event with a great view.
The rest of our itinerary was as follows:
Monday
Ice breakers with "two truths and a lie" – as it happens, allergies are the "go-to" lie among Rockerboxers.
State of Rockerbox address by our CEO, Ron Jacobson (special shout-out to Will Percival, Software Engineer, who was clutch with AV support)

Team building exercise – the Marshmallow Tower Challenge winning team included, to no one's surprise, our CTO, Rick O'Toole, and our Head of Product, Sameen Karim.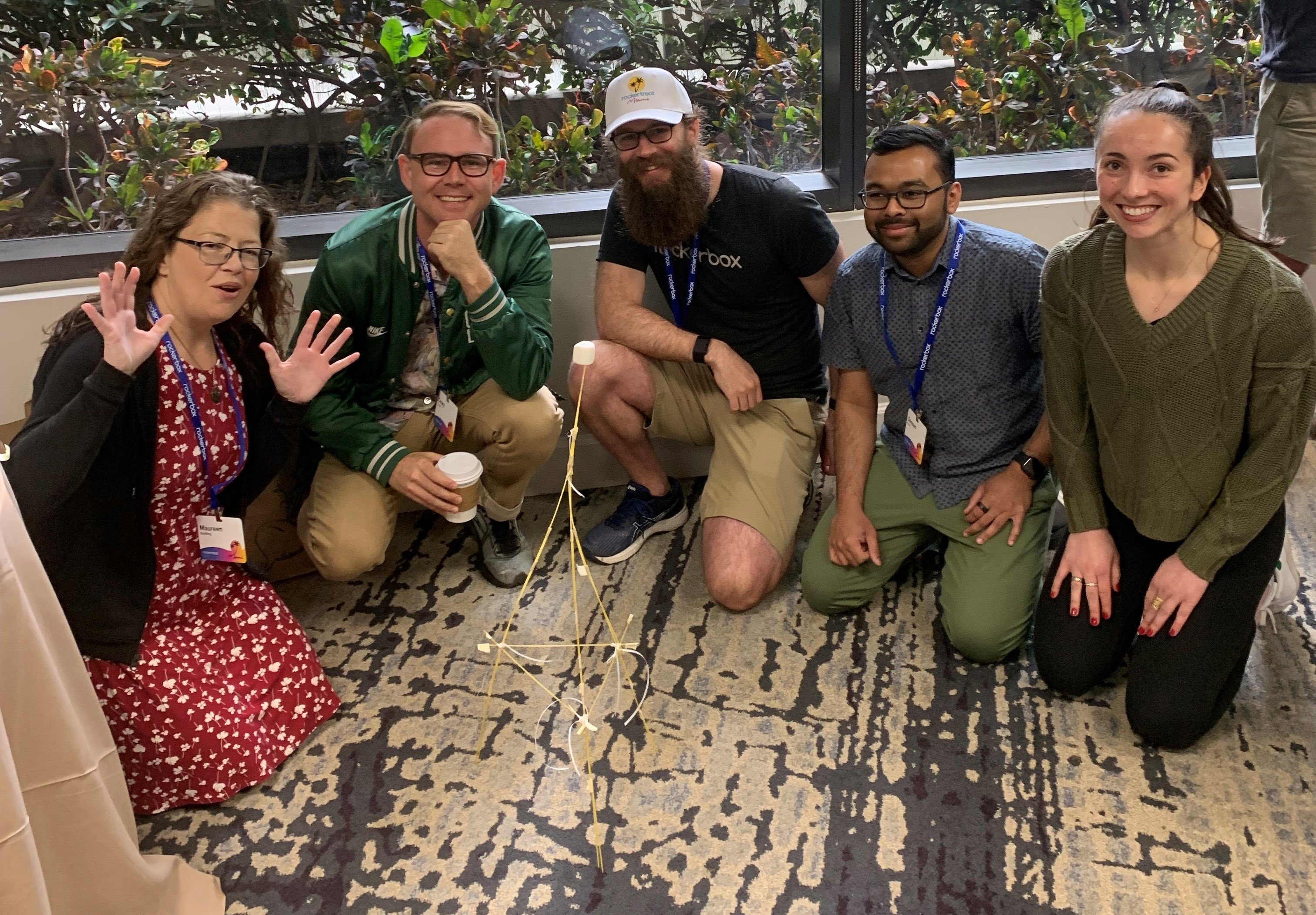 Rockerteers Scavenger Hunt – Rockerboxers enjoyed a (somewhat) competitive experience learning our new volunteerism platform, Bright Funds
Wynwood Walls tour – we learned about the local mural scene, and followed it up with a brew, or two, at the Wynwood Brewery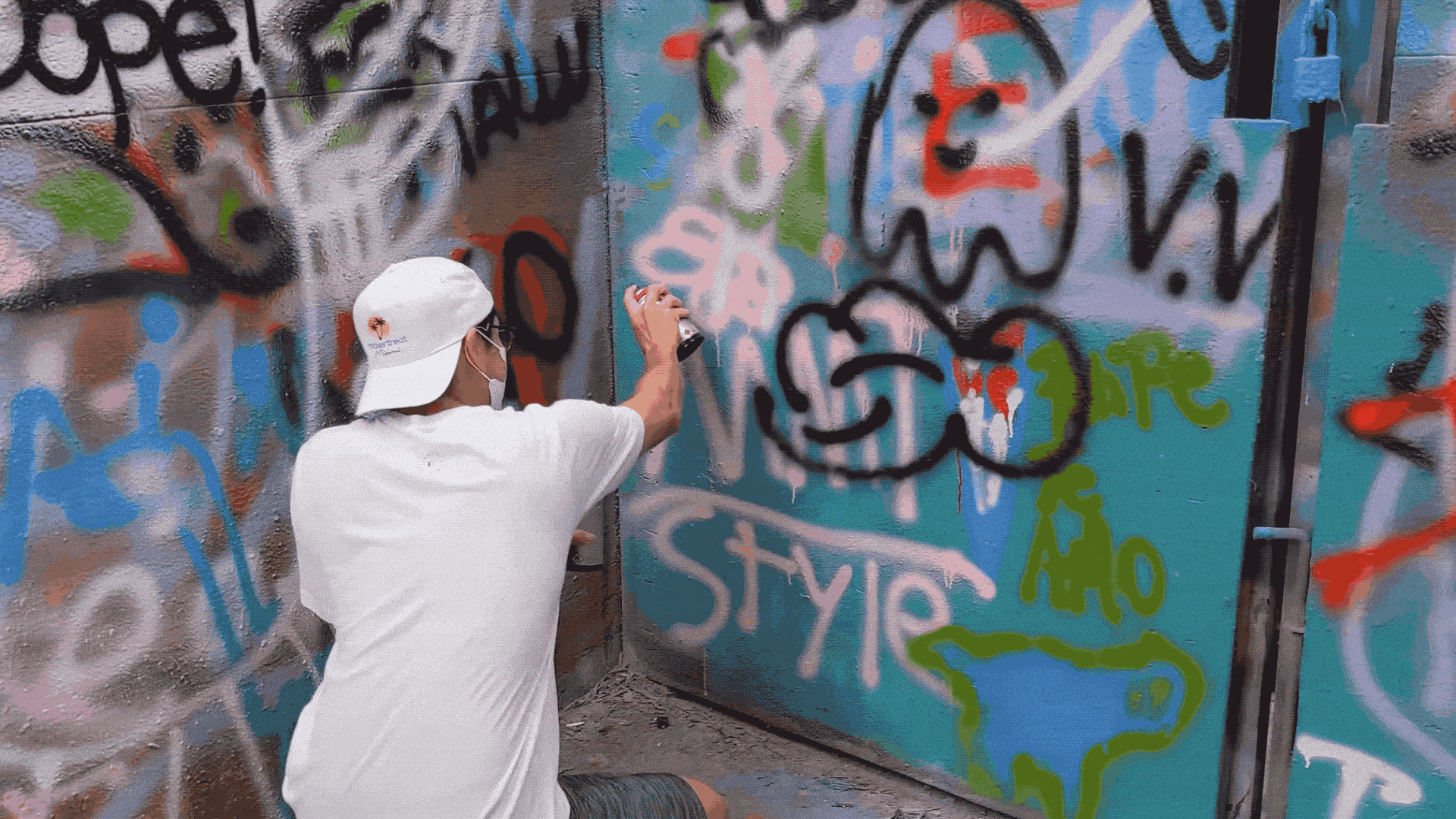 Dinner and drinks at the Riverview Terrace – in between fancy-looking yachts and floating bar cabanas, Rockerboxers got a kick out of seeing two tugboats guiding a container ship up the Miami River.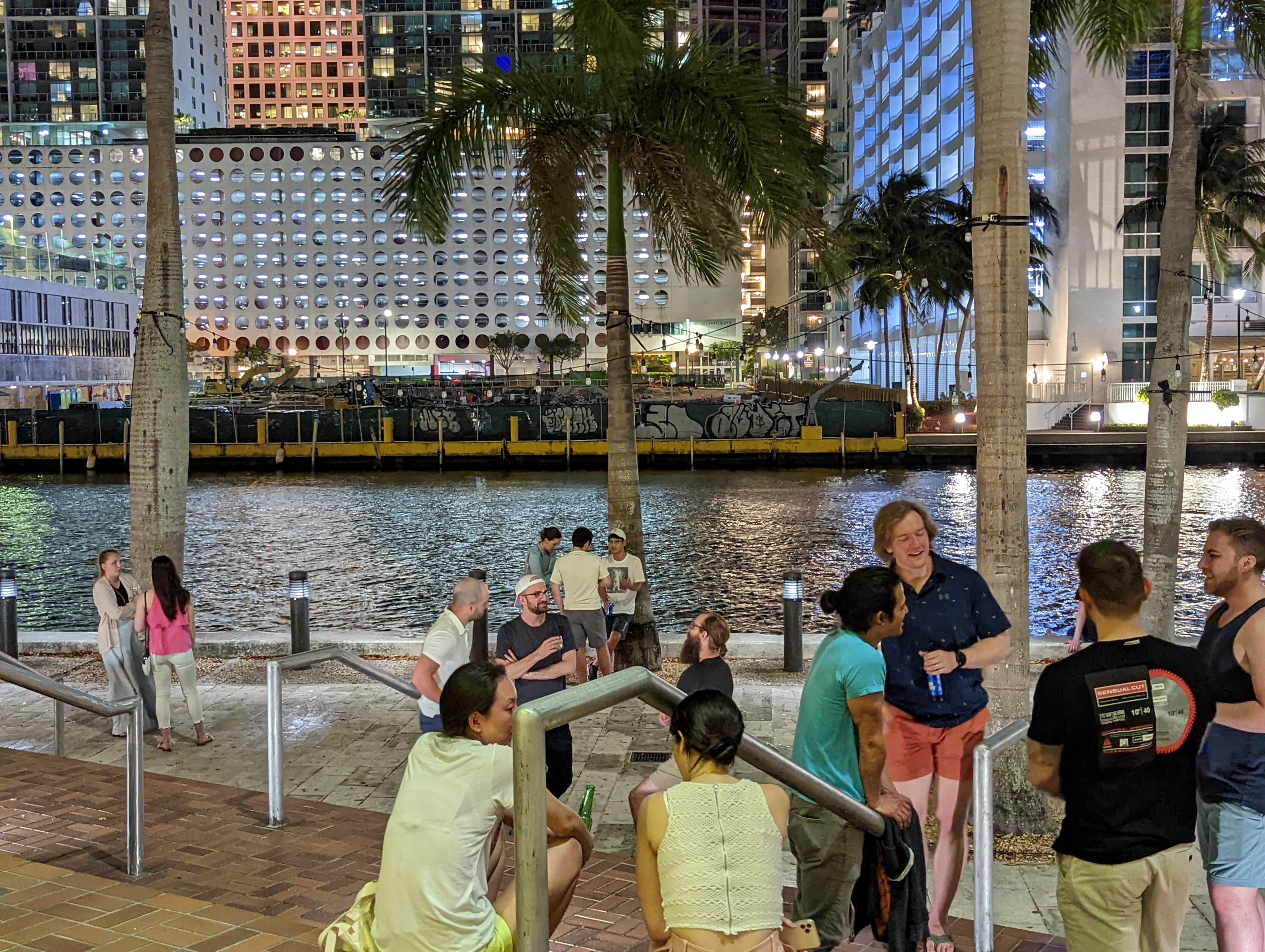 Tuesday
Ecotour and Kayaking – Rockerboxers learned about mangroves, Miami city development history, and manatees while maneuvering tandem kayaks. We rounded out the experience with a refreshing dip in the ocean.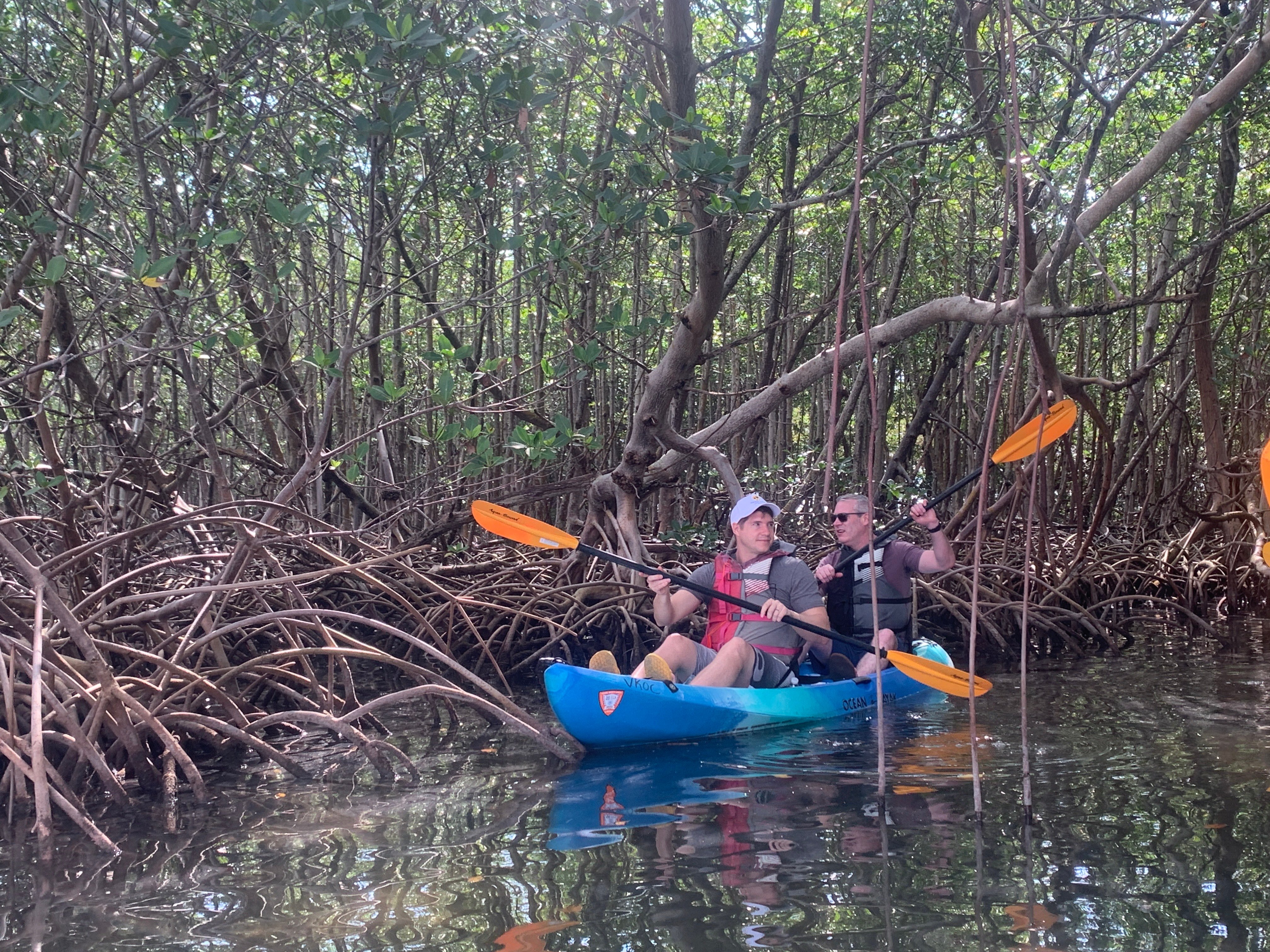 Free time – although a significant contingent decided to make a beach afternoon of it, other Rockerboxers explored Little Havana, snuck in some "real" work, or took naps.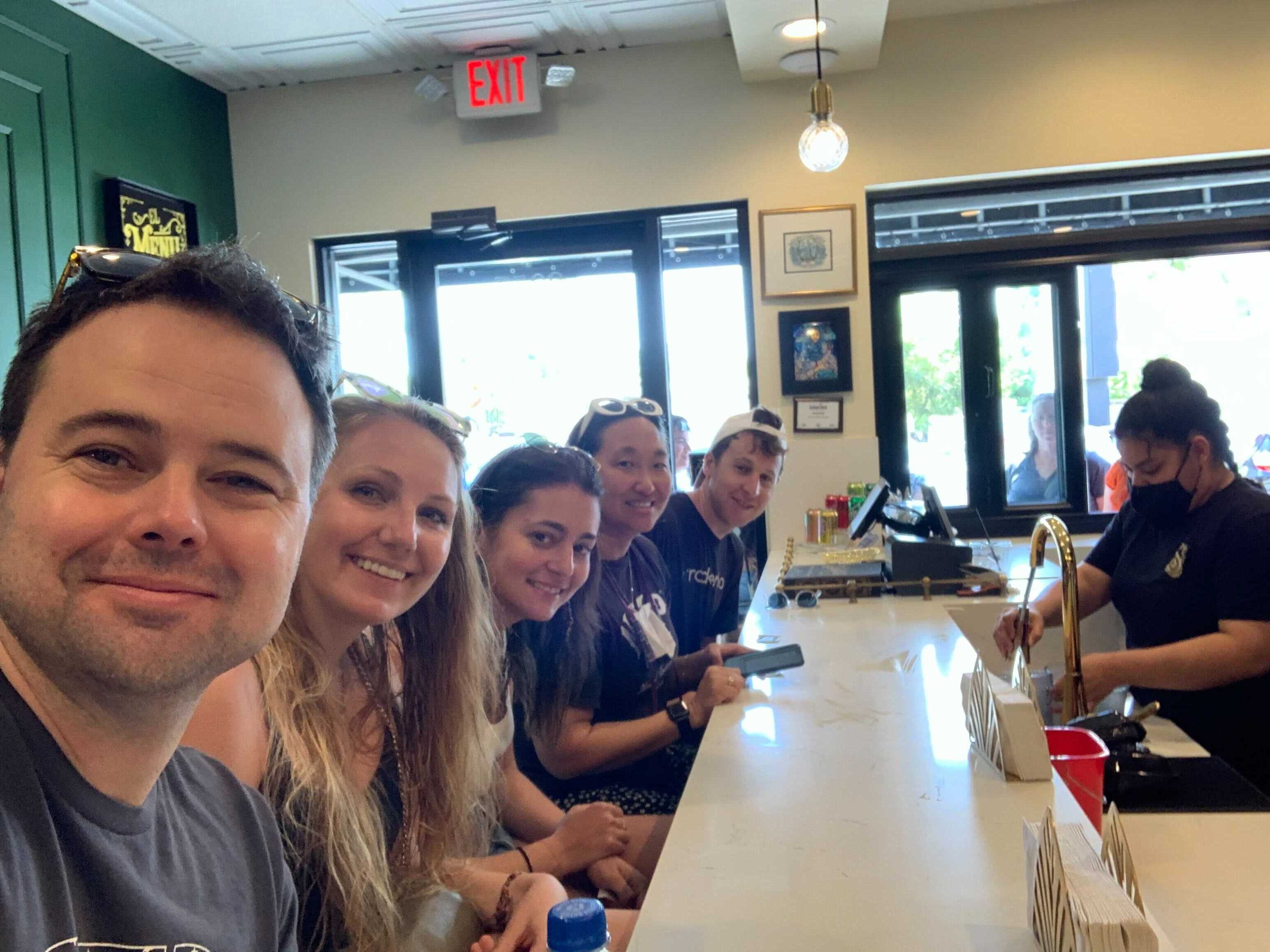 Catamaran tour – we rounded out the afternoon with a 2-hr boat cruise, while our hosts pointed out the winter homes of Ricky Martin, Jackie Chan, and other celebrities.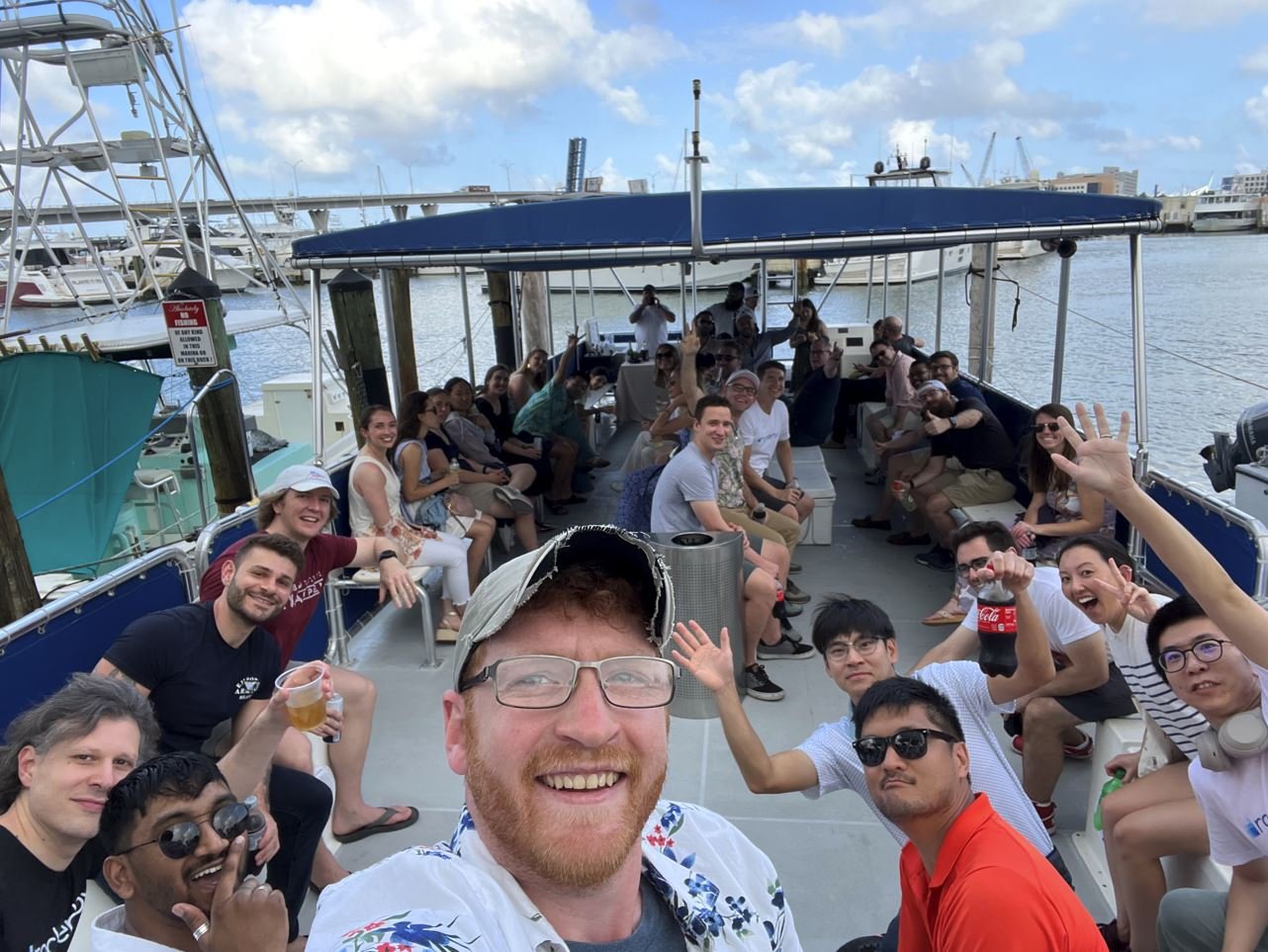 Bayside dinner – we closed out the event with a group waterside dinner, punctuated by the winning golfing team pushing their competitors (and managers) into the pool.
Relaxed sunset dinner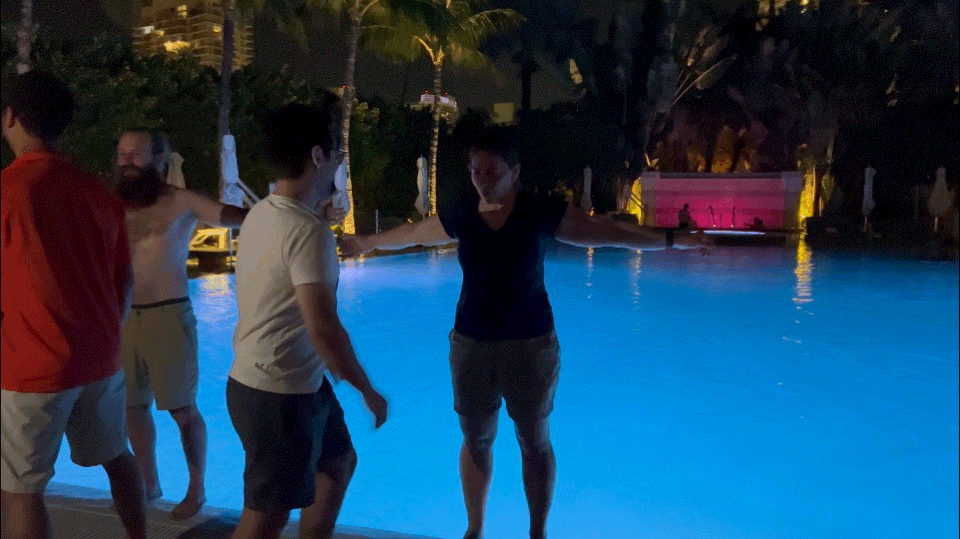 "Just seeing the video and how much joy there was after the push!" ~Sara Livingston
Looking forward
After 3 days in the sun, we all left Miami a little more sun burnt but a lot more excited about the team, company and culture that we're building at Rockerbox. It's very difficult to grow as fast as we are at Rockerbox, and it's also abundantly clear that in a remote first world, it's more important than ever to bring the team together to relax, build relationships and let off a little steam.
And now….off to planning the next Rockertreat!