Unveiling TikTok's Impact on Revenue & the Buyer Journey
Nearly 5 million businesses in the U.S. leverage TikTok to reach and engage with the platform's 1 billion global monthly active users who come to TikTok to be entertained as they learn, shop for, or discover something new. For these businesses, understanding exactly how their TikTok campaigns' ad views and visibility are impacting their bottom line — conversions and revenue — is integral for optimizing their marketing and sales strategy on the platform.
Many advertisers have an idea of their brand reach, but have historically missed the core conversion data needed to understand the fullness of the channel's impact. To address this challenge, Rockerbox is announcing an integration with TikTok to help brands better measure TikTok's uniquely effective role in their customers' path to purchase — and it's even more impactful than we expected.
More Visibility Reveals Positive Impact of TikTok
With Rockerbox's TikTok integration1, brands can get full visibility into TikTok's uniquely effective role in the customer path-to-purchase with the ability to see how much revenue and how many conversions TikTok is driving.
Rockerbox's measurement platform also now provides insight into conversions that were influenced by not only clicks, but also views on brands' TikTok advertising content.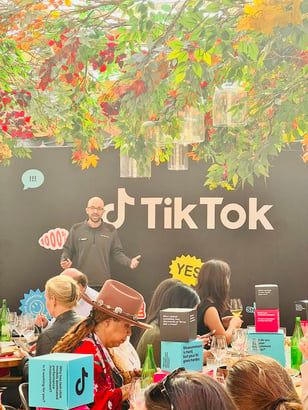 In Rockerbox's initial testing of this integration, the results were clear. Advertisers saw up to a 6x increase in conversions and 75% improvement in CPA with the TikTok integration (compared to relying solely on click-based metrics).2
"At TULA we are a digital native, social first brand. TikTok became a huge priority for us when it began to pick up traction, but we lacked visibility into the effectiveness of our campaigns. Now with the integration between Rockerbox and TikTok, our insight into the platform has improved so dramatically that our ROAS jumped up over 5x from what it was historically—which is huge," said TULA Director of Growth Marketing, Caroline Valenzano. "Rockerbox is our source of truth, and at the forefront of our media decisions. The integration with TikTok gives us so much more confidence and clarity. Before this integration, we were optimizing blindly and now we have eyes to see the path forward."
This visibility is a direct result of Rockerbox's unique ability to measure purchases and revenue that are directly tied back to TikTok advertising.
TikTok + Rockerbox Unlock the Buyer Marketing Journey
Beyond providing insight into TikTok's impact on revenue, Rockerbox's platform also gives brands an understanding of how TikTok fits into and drives results throughout the larger marketing funnel.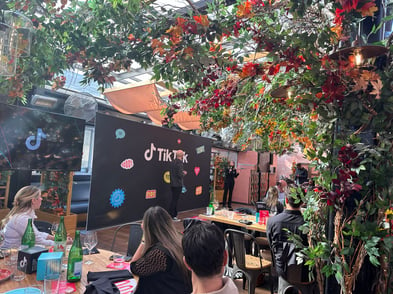 This includes giving insights into which tactics on TikTok work best as top, middle, or bottom-of-funnel tactics, analyzing its relative impact on conversion related to other channels in your strategy, assessing how new vs. returning users are interacting with TikTok ads, and more.
For example, based on customer data, we've found that nearly 60% of brands using Rockerbox to measure TikTok are seeing total new customer acquisition costs lower than other digital platforms3, meaning the revenue-impacting role of TikTok is actually much greater than originally assumed.
Rockerbox + TikTok: Better Together
TikTok's position as a leading entertainment platform and destination for short-form video content gives brands unique opportunities to drive results throughout the buying funnel:
Consideration
67% of users use TikTok for product reviews to narrow down shopping decisions.4
92% of users take action after seeing content on TikTok.5
Purchase
2 in 3 users are likely to buy something while using TikTok.6
Post Purchase
1 in 4 users posted showing off a product they bought - continuously fueling TikTok's discovery engine.7
With Rockerbox and TikTok's partnership, you can get full visibility into exactly how much TikTok is impacting your bottom line so you can confidently justify your investments and resources in the platform and optimize your performance marketing campaigns.
Stay tuned for more exclusive thought leadership and activation strategies with proven results to help you succeed with Rockerbox and TikTok.
Ready to explore the integration? Reach out for a 1-1 demo today.
---
1. U.S. launch only. Support for other markets to follow.
2. Rockerbox analysis of Rockerbox users leveraging TikTok click and view-through data vs. only click data, 2023
3. Rockerbox analysis across advertisers that have integrated TikTok into their Rockerbox measurement platform, 2023
4. Marketing Science EU Holiday Shopping Behavior Research, conducted by Walnut Unlimited, 2020
5. TikTok Marketing Science Global Time Well Spent Study, conducted by Kantar, March 2021
6. Marketing Science EU Holiday Shopping Behavior Research, conducted by Walnut Unlimited, 2020
7. TikTok Marketing Science Global Retail Path to Purchase Study, conducted by Material, 2021