Rockerbox is excited to announce a partnership with Tatari, the leading platform for measuring advertising across both linear and streaming TV.
Our new integration gives TV advertisers unprecedented insights on the total ROI and impact of TV ads as part of their overall marketing mix.
"We're extremely excited to integrate with Tatari as linear and streaming TV become increasingly important to the media mix of our D2C client base," said Ron Jacobson, Co-founder and CEO at Rockerbox. "Rockerbox's ability to show cross-channel performance in one unified location enables our customers to see not just the value of the channels themselves, but the impact they have on all other marketing channels."
What this means for TV advertisers
If you're a D2C brand that's thinking about or already running TV ads, you can now:
Better understand which of your customers came from TV, the full user journey of these customers, and their spend over time.

Understand the attribution and impact of TV advertising across all your marketing channels (both digital and offline)

Optimize marketing spend, allocating budget to channels that are performing the best
"Tatari's combination of both incremental and view-through measurement is highly unique in the TV industry. We are delighted to now make our view-through attribution available outside of the Tatari dashboard in a data pipeline, and allow our clients to further integrate TV data with Rockerbox," said Philip Inghelbrecht, CEO at Tatari.
How the integration works
Rockerbox can now identify the viewer of a TV ad with much greater accuracy, by syncing Tatari's session id with Rockerbox's anonymous user id.
When that viewer converts on your site, we ingest a TV marketing touchpoint into that viewer's conversion path — and then assign credit to each of their marketing touchpoints based on our MTA model.
Ultimately, better ID resolution from Tatari means much better attribution from Rockerbox.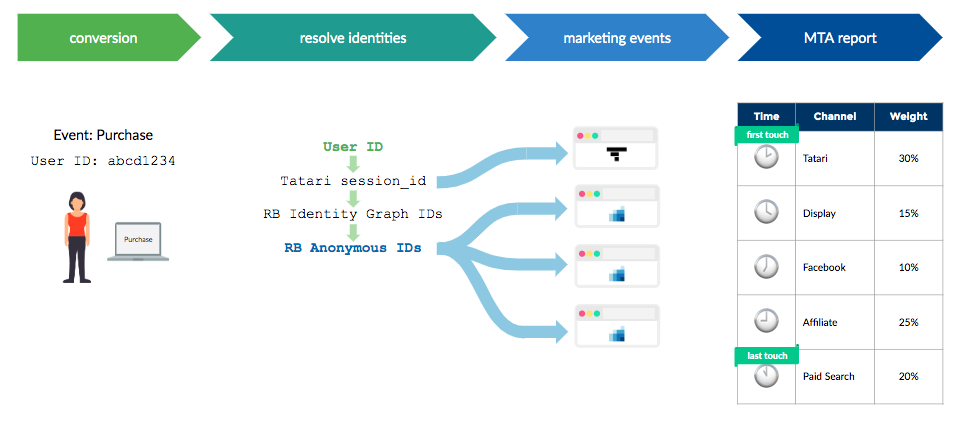 Watch the Rockerbox + Tatari webinar