How to Use Your Data + Rockerbox's Platform to
Make Smarter Marketing Budget Decisions
No one marketing measurement method is perfect. MTA, incrementality, lift tests—they all excel at answering specific questions, but they're not a catchall solution for every marketing need.
At Rockerbox, we understand this, and that's why we're expanding our measurement stack with new ways to analyze your data and answer questions that'll drive you toward profitable growth.
Today we're launching the beta version of Rockerbox MMM for Shopify, a new way to leverage Marketing Mix Modeling to understand the correlation between the money you spend on advertising and the money you bring in from Shopify sales.
MMM for Shopify Answers Your High-Level Budget Questions
You've probably heard of Marketing Mix Modeling before—you may have even used it at your organization. The idea at heart is simple: how can you leverage historical data you already have, specifically how much you spent on paid advertising and how much you gained in revenue, and accurately make assumptions about what worked, factoring out any external elements (the weather, seasonality, etc.).
For some organizations, MMM looks like a one-time, static analysis of data used to extrapolate next steps—and it may or may not be biased and influenced by whomever drove the creation of the report.
At Rockerbox, we're putting the focus on the data and providing a model that you can use to answer questions like:
What is the correlation between marketing spend and revenue?
What should my ad spend be if I want to go after a specific ROAS target?
What revenue and ROAS can I expect if I implement certain budget decisions?
All of these questions are things that MMM is uniquely suited to answer, and Rockerbox's MMM for Shopify beta gives you the interface you need to explore these finance topics for your business.
MMM for Shopify: What's Included
At launch, MMM for Shopify (beta) lets you look at the high-level correlation between ad spend and Shopify sales. The beta includes top digital channels to start: Google, Facebook, Bing, TikTok, Pinterest, Snapchat, and LinkedIn.

In the Rockerbox platform, this add-on feature includes several UI views to allow you to explore this relationship with your goals in mind.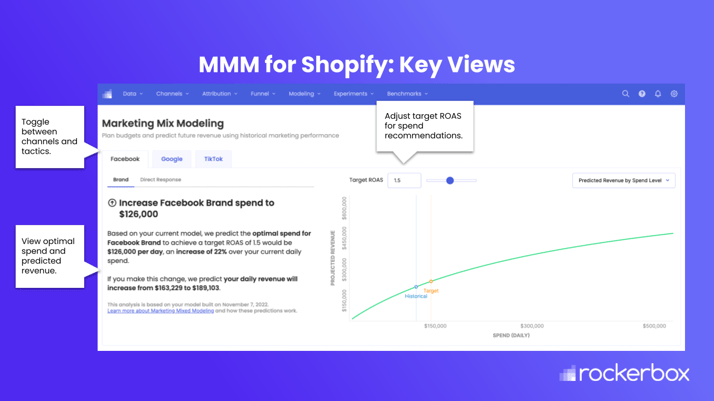 Use the spend recommendation tool to explore the relationship between spend and revenue optimized for various ROAS values.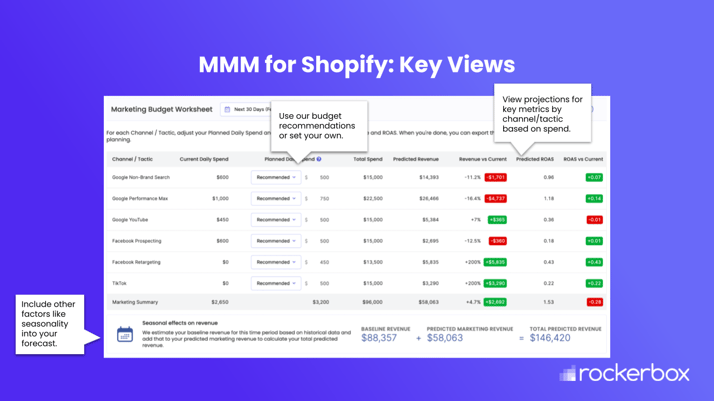 Get a roadmap for where to direct spend for the best return with the Marketing Budget Worksheet — Export the spreadsheet for further analysis.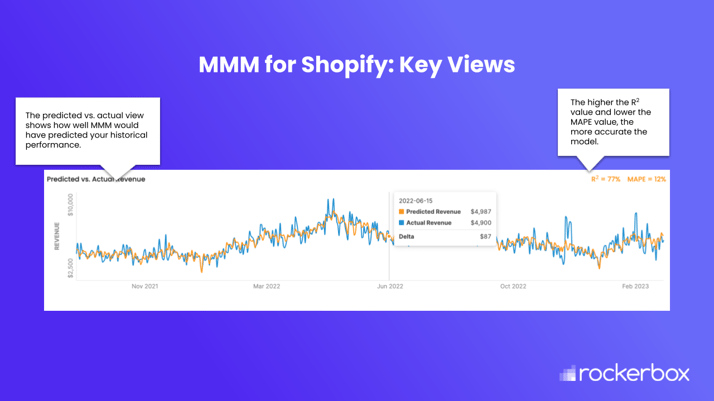 See the data behind the model. This graph shows how well predictions would have lined up with historical performance.
MMM vs. MTA? More Like, MMM and MTA
You might have heard the MTA is dead, but in reality, it was never meant to be the be-all, end-all solution.
Adding MMM to our measurement platform lets you use each measurement method as it was designed—the right tool for the right job.
MMM can help you make high-level decisions about where to spend your marketing budget across your available channels, then you can use MTA to optimize those channels on a daily basis. This diversified approach provides you with more realistic goals and ongoing support as you scale, and it meets the needs of all your stakeholders, from channel managers to CMOs.
Don't Limit Yourself with One Marketing Measurement Method
It's time to stop pretending that one marketing measurement methodology can answer all your questions.
It's time to start using each marketing measurement method as it was designed.
It's time to start seeing the real benefits of actionable MMM.
Talk with our team today about why you should add MMM to your measurement approach and how to get on the beta waitlist.