If you manage a marketing budget for a brand, you know how hard it is to be data-driven across all of your channels and strategies. Every buying platform has different nomenclatures, measurable events and nuances to their reporting.
The biggest challenge highlighted by marketing leaders when building a data-driven organization is the collection and organization of marketing data. Marketers spend a significant amount of time and effort just to get access to this data to make decisions — either building custom reports or dashboards within each buying platform, or downloading reports and consolidating on a weekly or monthly cadence.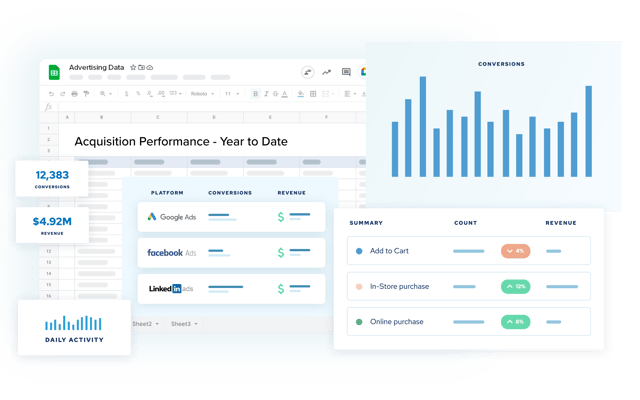 Ever since Rockerbox first launched our measurement product, our goal has been to help brands build data-driven marketing organizations that are powered by the information we collect. While we continue to believe that brands should control how they measure their marketing, we realize that this transition only happens after they first lay a strong culture of data-driven decision-making.
Prior to our customers working with Rockerbox, nearly every one developed their own solution to this consolidation problem. Some colorful names like "copy/paste hell", "wrestling with Facebook reporting" or "in the reporting bunker" were used to describe this process. In each description, a common theme emerged — a marketing manager would spend hours each quarter (or month) downloading and manipulating performance data to report on key metrics in order to make marketing and business decisions. Not only was this time-consuming, but it also limited how frequently they could make these decisions.
While the full Rockerbox platform solves this problem, our goal is to help every marketing organization become data-driven by providing them with the tools they need to efficiently collect, analyze and operationalize marketing data.
For us, this common challenge presented a huge opportunity — we could help brands solve the first operational challenge they face on their path to becoming a data-driven marketing organization.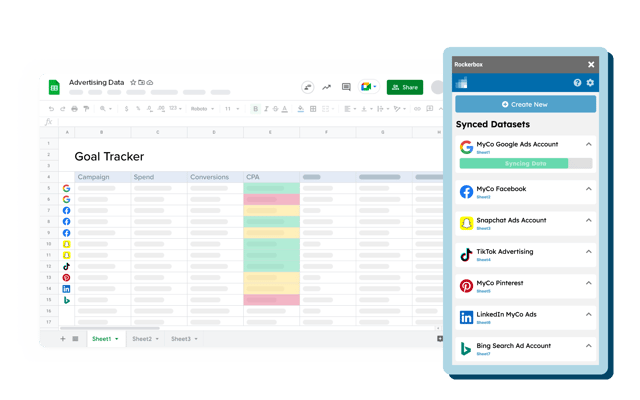 Enter the Marketing Data Starter Pack
The Marketing Data Starter Pack is the easiest, most cost-effective way to consolidate your search and social marketing performance data. The Starter Pack consists of three parts:
An automated, daily data retrieval from each marketing platform,
A Google Sheets integration that keeps the marketing data in your favorite sheet up to date, and
A pre-built template to jump straight into planning and optimizing based on platform data
If you are a marketing manager or analyst who has solved (or tried to solve) this problem yourself, you already understand a lot of the challenges the starter pack solves and how it works. But perhaps we can still save you time.
Let's take a look at how it works…
With the Marketing Data Starter Pack, we simplified the path to becoming a data-driven marketing organization and removed the tedious, manual work from the process. Every brand, from large to small, can make use of this tool to help automate some of the challenges of being a data-driven marketer.
Get started for free today!