Marketing and advertising spending is often in flux due to evolving privacy standards, product developments, and new platforms. That's why it's important to stay up-to-date on where spend is going across social media and other channels—the best practices of 2021 are no longer the same in 2022.
At Rockerbox, we've helped top DTC brands get a centralized view of their marketing performance and optimize their marketing spend. We're now leveraging some of the data we've accumulated in our "State of Marketing Spend Trends" infographic to give you a peek into the latest trends and developments in marketing/advertising spend.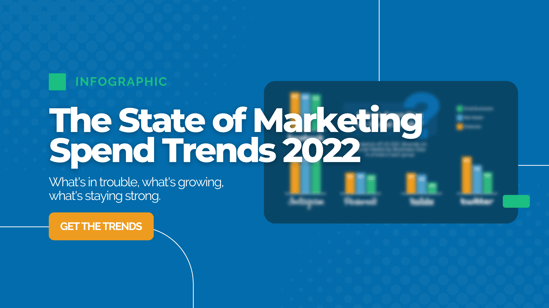 In this infographic, you'll learn:
Where small, medium, and large brands are using their social media budgets
How Facebook's instability due to recent privacy changes affected social media spending (it might not be exactly what you'd expect)
What the future looks like for established advertising channels and newer players alike
What recent events have affected these trends?
You're likely aware of the effects of iOS 14.5 and the removal of IDFA on digital advertising, but changes as far back as the late 2010's have made it harder for platforms to provide the targeting capabilities that brands need.
Here's a summary of the changes that have had the biggest impact:
(2017) iOS 11: Apple releases ITP (Intelligent Tracking Prevention)
(2020) Safari introduces default 3rd-party cookie blocking
(2020) iOS 14: Introduction of ATT (App Tracking Transparency) for user tracking consent
(2021) iOS 14.5: ATT enforcement and removal of IDFA (Identifier for Advertisers) without user consent
Facebook was one of the most affected platforms and suffered limited tracking ability after the 2021 changes. Due to this, brands lost access to the same level of targeting and optimization capabilities they'd enjoyed previously in Facebook and Instagram—and when brands started to see their numbers drop, they exited Facebook for other platforms.
How else can I research marketing/advertising spending?
One resource you should consider bookmarking is our State of Spend dashboard. This dashboard is created based on data from the activities of our 150+ customers who collectively manage over $1.5 billion in annual ad spend. With this dashboard, you'll get to dive into where big names like Tula, Rothy's, and Burton are allocating their spending across Facebook, Google, OTT, Direct Mail, and other sources.
Be a more informed marketer
Download our infographic today for advertising insights you can use to inform your own channel strategy.