Goals and Recommendations Gives Marketers
Campaign-Level Optimization Insights
As a B2C channel manager, you have the high-pressure job of keeping tabs on the health of all your campaigns and channels and also optimizing them to drive growth and maintain efficient performance.
Without the right marketing tools, it can be easy to feel overwhelmed. Where should you spend your money for the best return? Which campaigns should you scale up and which should you pull back on? How well are you performing against your goals?
With Rockerbox's new Goals and Recommendations functionality, available in our Platform Reported Performance view, we're giving channel managers access to goal-setting tools and data-backed recommendations to help them make campaign-level optimizations with confidence.
Now you can not only track all of your marketing performance, but get guidance on what to do next so you can succeed and grow in today's competitive marketplace.
This functionality is available to Starter and Scale customers (with limited functionality for Free customers) as part of our new product line—Rockerbox Optimize—built to help channel managers move toward ROAS and CPA goals with clear, data-backed guidelines.
Optimize Toward Your Goals
Whether you have set goals in mind or you simply want to continually improve performance, Rockerbox has goal-setting functionality that you can leverage to guide your marketing efforts.
With Goals, you can set targets for CPA and ROAS either based on a fixed number that you decide or based on a dynamic moving average that helps you understand both how your campaigns are performing overall and where there are optimization opportunities.
Filters let you evaluate the subchannels or specific campaigns for targeted optimization recommendations, and an optional budget field lets you personalize the suggestions even more.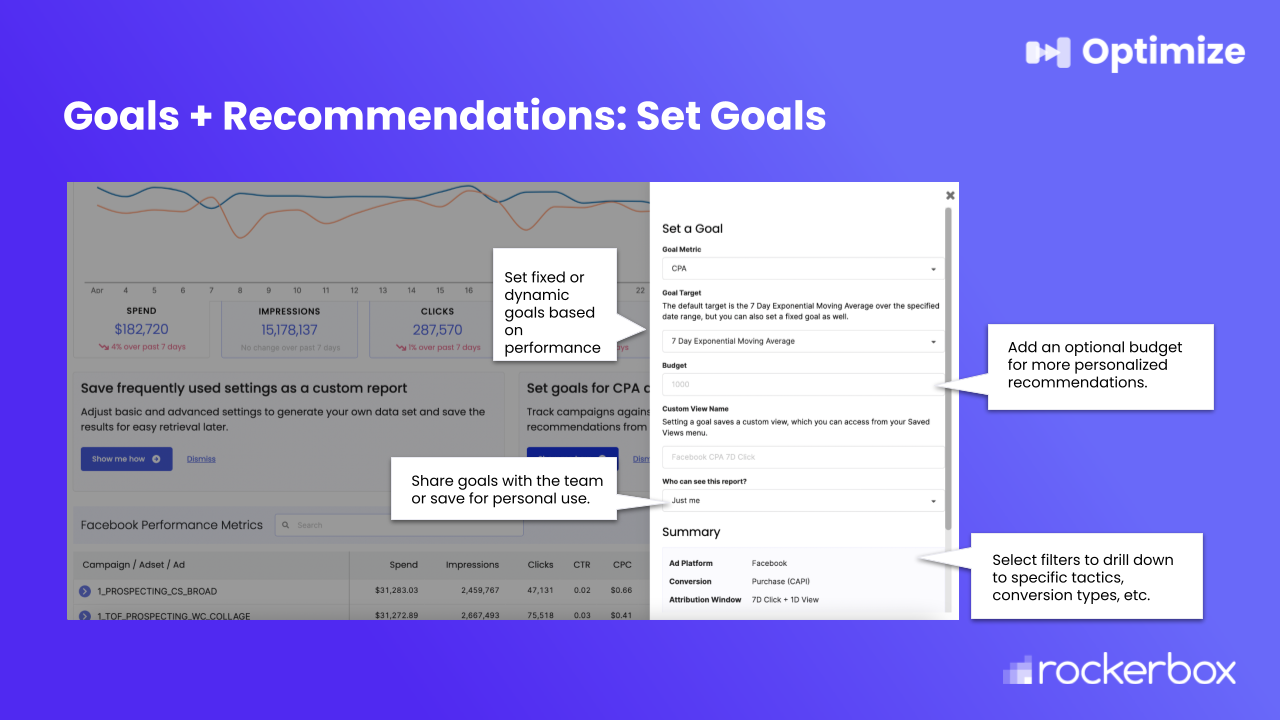 Marketing Recommendations, Backed by Data
There's no shortage of marketing data at your disposal, but the difficulty comes in determining how to take action on that data and making optimizations that will actually move the needle. Rockerbox's Recommendations functionality does just this. After you set goals, you'll be able to see recommendations per campaign for where you should be spending more or scaling back—or where you're right on track.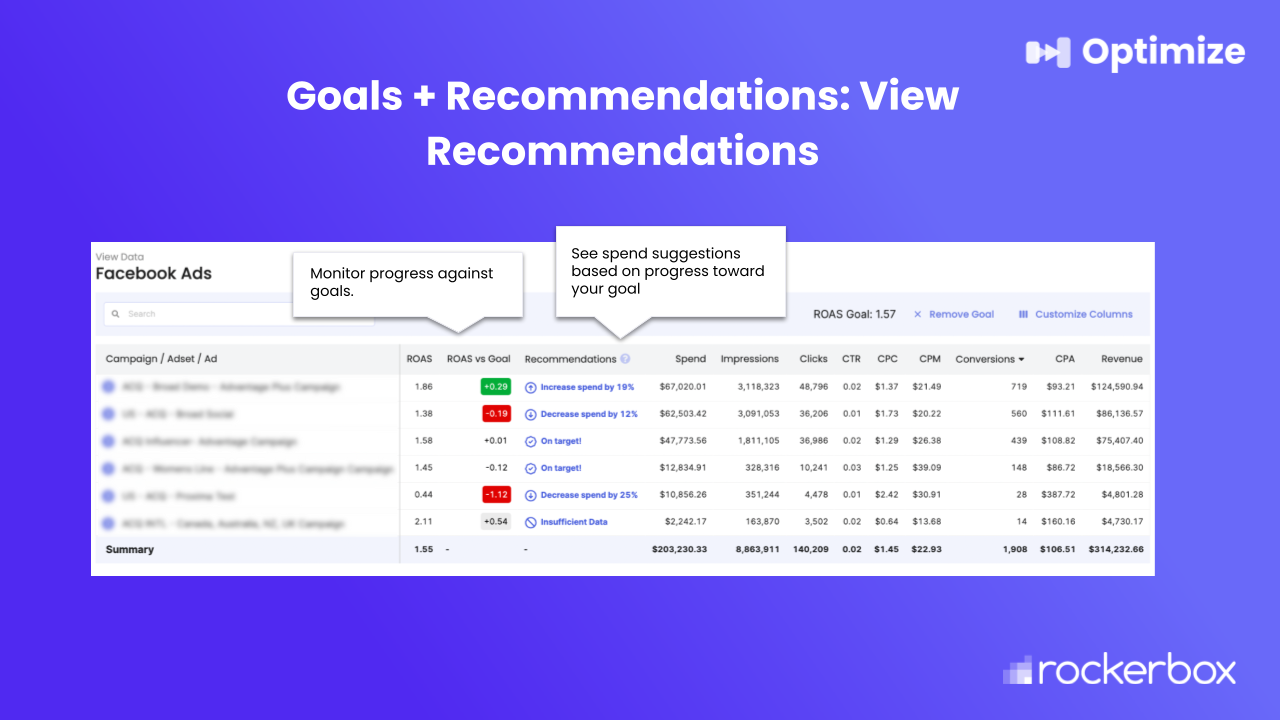 Rockerbox: Insights for Your Entire Team
While Goals and Recommendations is built for channel managers who need insights for tactical, daily optimizations, Rockerbox as a whole meets the needs of your entire marketing team (and even beyond).
Our marketing data foundation powers a holistic understanding of the performance of all your marketing across all of your channels, online, offline, organic, paid, hard-to-measure, walled gardens, and beyond. With the release of Goals and Recommendations, channel managers now have access to the next steps on top of that data—a feature we'll only be expanding in the future.
For marketing leadership (and the exec team at large), we offer high-level budgeting functionality in the form of Rockerbox MMM for Shopify—a tool built to help leaders make the best overall decisions about where to allocate spend. MMM for Shopify works together seamlessly with Goals and Recommendations too—simply take the ideal budget generated by MMM and apply it to the goals you define.
From the 30,000 foot view to the most granular of day-to-day decisions, Rockerbox is the platform B2C companies choose when they want to scale the smart way. And it's all backed by high-quality, first-party data that gives you the most accurate view of all your marketing touchpoints.
Ready to explore the platform that helps your entire marketing org get access to the right tool for the right job? Reach out to schedule a 1-1 conversation with our team.