After February's launch of MMM for Shopify, we kept the momentum going in March with several key updates that make Rockerbox more user-friendly and offer more visibility into our roadmap going forward. Read March 2023 updates below and learn more about product news from earlier in the year in our blog on February 2023 updates.
Onboarding UI for Scale Clients
Just after releasing a streamlined, self-service onboarding experience for Starter, we did the same for our Scale clients. The new onboarding UI for clients starting off on the Scale plan makes it easier to get started with Rockerbox, with steps including:
Configure your account details
Connect ad platforms
Set up tracking parameters
Set up your first-party tracking pixel
Invite additional team members
Tracking Parameter Email Notifications
Managing tracking parameters on all of your ads can be time-consuming and it's easy for some to slip through the cracks. With the release of new tracking parameter email notifications, we're giving you a new way to see when your ads on any platform are missing Rockerbox tracking parameters.
These notifications not only identify the affected ads but also provide step-by-step instructions to resolve the issue. With this feature, we aim to empower you with accurate data, ensuring your marketing performance is tracked seamlessly and effectively.
Roadmap Portal
We post every month on recently released product updates, but if you've ever been curious about what's coming down the pike on our roadmap, we now have a way to get that visibility.
Our new product roadmap portal will make our development process more transparent and allow you to feel like a part of the new features we release. Not only can Rockerbox customers view the portal, but we also enable upvoting and feedback so you can weigh in on features that are the most important to you.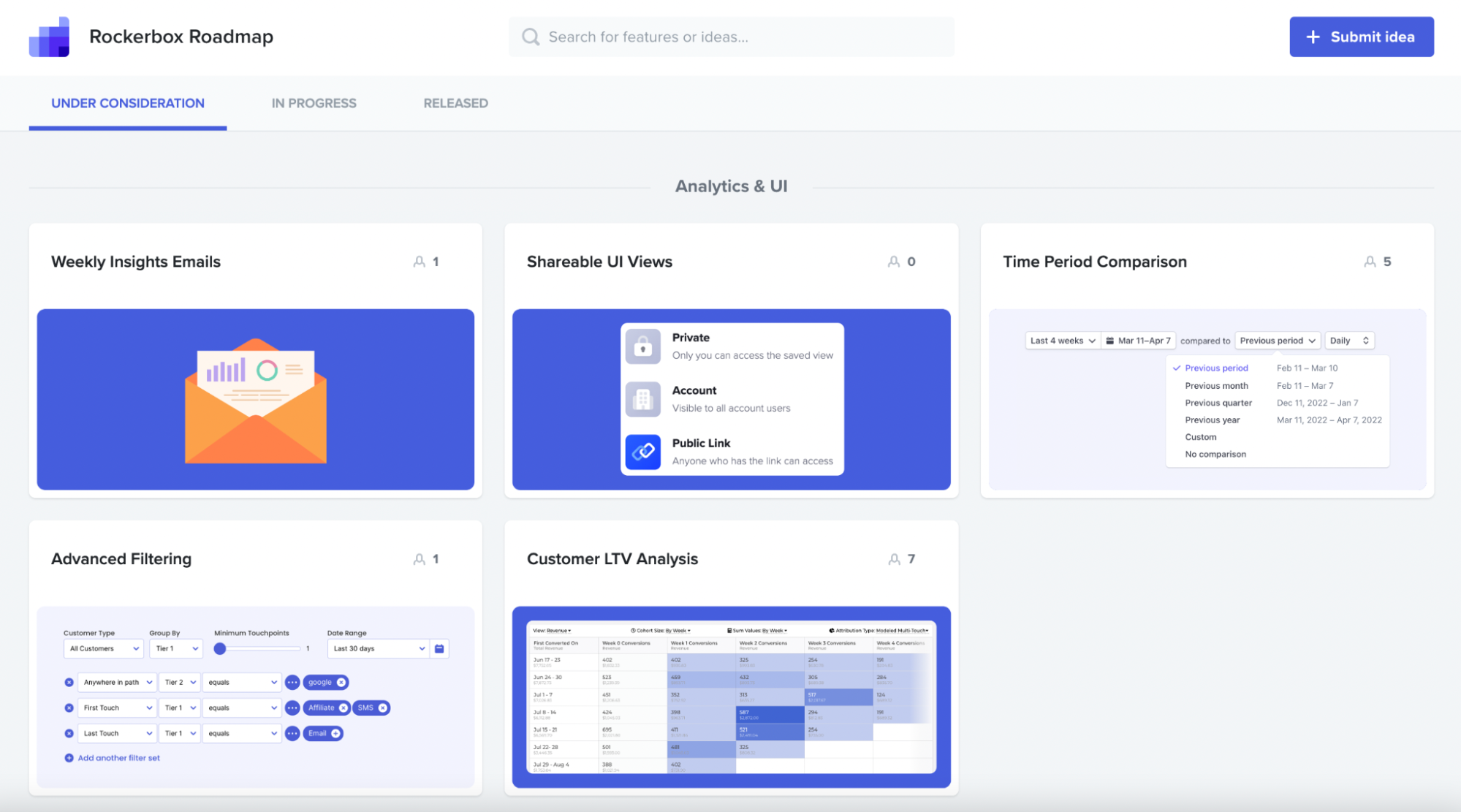 Better Data for Better Marketing Decisions
When you have full visibility into which channels are performing best and the health of your ad campaigns on a daily basis, you're empowered to make spend and creative decisions that impact your bottom line. With Rockerbox, you have that visibility. Talk to our team today about how other high-performing B2C marketing teams are seeing huge results with our platform.