At Rockerbox, we are overjoyed and deeply grateful to announce that we have been honored with several summer awards from G2. These accolades recognize our dedication to providing exceptional marketing measurement and analytics solutions for B2C brands.
We couldn't have achieved this recognition without the support and trust of our amazing customers and supporters. Today, we want to express our heartfelt gratitude, share our excitement about scaling new heights, and emphasize how your feedback has played a pivotal role in shaping our journey.
Rockerbox has been recognized with the following awards:
High Performer in Mid-Market Attribution
High Performer in Mid-Market Marketing Analytics
High Performer in Attribution
High Performer in Marketing Analytics
Easiest to Do Business With
Users Love Us
First and foremost, we want to extend a heartfelt thank you to each and every one of our customers and supporters. Your belief in Rockerbox has been instrumental in our success. We are truly humbled by the trust you've placed in us, and we remain committed to exceeding your expectations every step of the way. Your unwavering support and confidence in our platform have enabled us to continually evolve and deliver exceptional marketing attribution and analytics services.
Scaling New Heights Together
Our journey has been nothing short of remarkable, and it is all thanks to you. By choosing Rockerbox as your preferred marketing attribution and measurement partner, you've helped us expand our horizons and reach new heights. We are thrilled to be scaling our operations and serving a growing number of B2C brands. This expansion allows us to bring the power of advanced marketing attribution and analytics to mid-market businesses like never before.
Your feedback has been vital in shaping our roadmap, allowing us to address your unique challenges and deliver tailored solutions. We are committed to continually enhancing our platform, staying ahead of industry trends, and providing you with the tools and insights you need to thrive in today's dynamic digital landscape.
The Power of Your Feedback
We cannot overstate the importance of your feedback. It forms the bedrock of our development process and helps us create a product that meets your evolving needs. Winning the "Easiest to do Business With" award from G2 is a direct result of your feedback, and it serves as a testament to our commitment to delivering an exceptional user experience.
The awards we have received for attribution and marketing analytics validate the effectiveness and value of our platform. These achievements are a direct reflection of your successes and the positive experiences you've shared with us. We are inspired by your accomplishments, and your stories fuel our drive to continually push the boundaries and provide even greater service and value.
Our Journey of Innovation and Improvement
Innovation is at the heart of Rockerbox. We understand that the marketing landscape is constantly evolving, and we are dedicated to staying at the forefront of industry advancements. Our agile development approach ensures that we anticipate emerging trends and incorporate cutting-edge technologies into our platform. By doing so, we equip you with the tools and strategies needed to stand out in an increasingly competitive marketplace.
This is a huge part of our decision to continue to develop our product lines with a renewed dedication to offering a diversified approach to marketing measurement and attribution.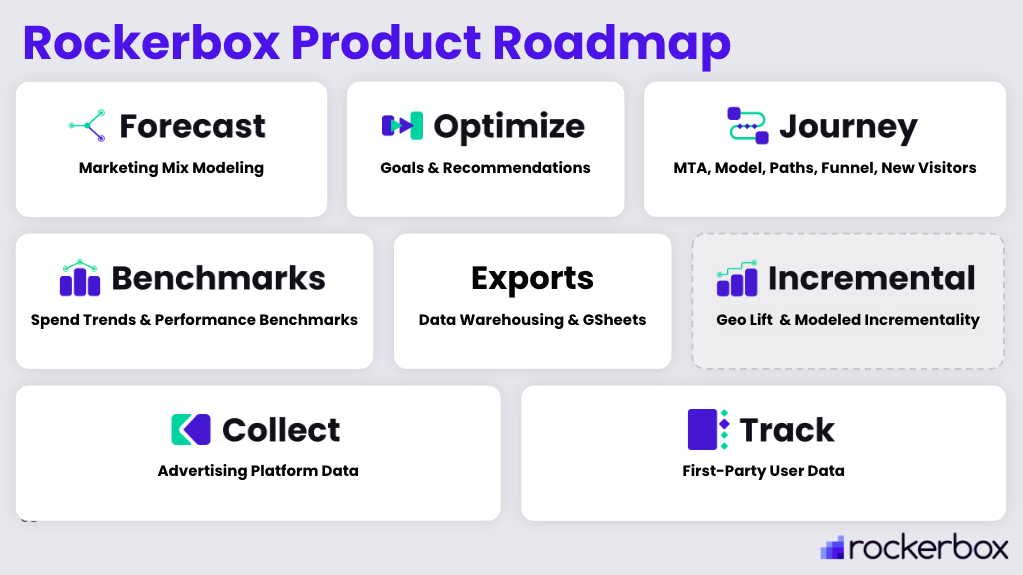 From Us to You, Thank You
On behalf of the entire Rockerbox team, we want to express our deepest gratitude for your support, trust, and feedback. We are honored to have received these awards from G2, and we owe it all to you—our incredible customers and supporters. Together, we will continue scaling new heights and shaping the future of marketing attribution and analytics for B2C brands.
We remain steadfast in our commitment to delivering unparalleled value, fostering innovation, and building lasting partnerships with you. The success we achieve is a reflection of your success, and we are privileged to be a part of your journey.
Thank you once again for being the driving force behind our achievements. We are excited about the road ahead, and we look forward to serving you with even greater dedication and passion.
With heartfelt gratitude,
The Rockerbox Team