We've all been there before — you get a message from your boss the evening before a board meeting, and they need a report on each channel's quarterly marketing performance first thing in the morning. Cue the panic! You spend the next few hours downloading reports, copy/pasting spreadsheets, making pivot tables, and writing formulas to get the data you need.
At Rockerbox, we're constantly looking for ways to improve how marketers can use data to make faster decisions, and this is a story we've heard from almost every team. You shouldn't need to be a spreadsheet wizard or have a dedicated data analytics team to get quick, actionable insights on your marketing.
Whether it's a late night assignment or something you do every week, getting a consolidated view of all your marketing performance is much more complicated than it may seem at the surface. Marketers don't have time to waste wrangling with their data — their data must work for them.
That's why we're excited to announce the launch of Rockerbox Data Sync, a Google Sheets plugin that enables marketers to sync all the data they need — Rockerbox-attributed and ad platform-reported performance — directly to a spreadsheet. And to help marketers get started right away, we're releasing a series of pre-built templates to help identify trends, surface optimizations, and make smarter decisions.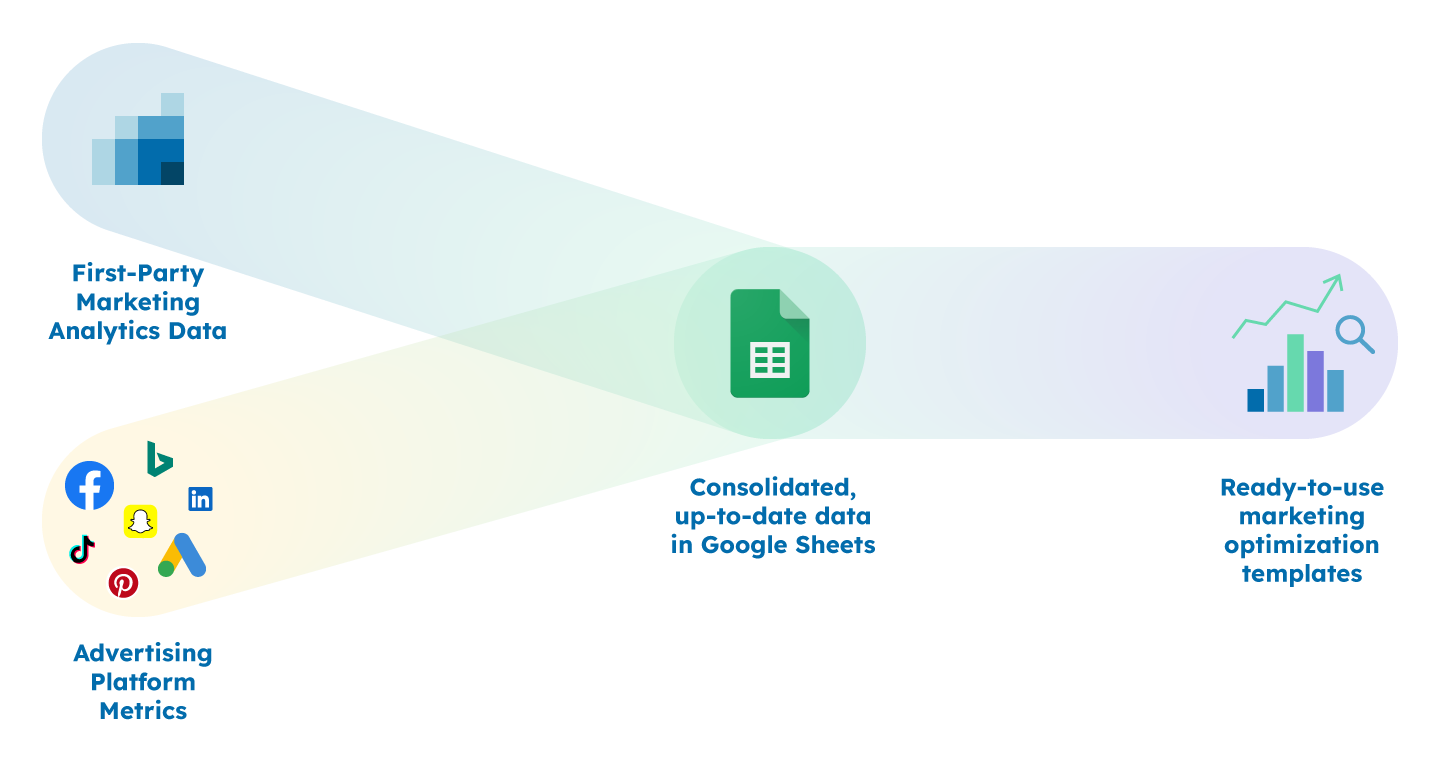 Rockerbox: Helping DTC Marketers Build a Strong Data Foundation
As John Wanamaker once (in)famously said, "Half my advertising spend is wasted; the trouble is, I don't know which half."
Successful marketers know that in order to grow their business, they need to have a solid set of tools to measure and analyze their efforts. And that all starts with a strong marketing data foundation.
Rockerbox establishes a strong data foundation for hundreds of DTC brands by independently collecting first-party data to measure performance across digital platforms and offline channels. We also recognize that first-party data isn't always enough — marketers need to factor in the metrics reported by the advertising platforms themselves to make smarter decisions about their marketing.
That's why we're excited to announce that customers can now use Rockerbox to view performance data, as reported directly by each advertising platform. Put together with first-party data, our customers can access all of the data they need to be a data driven marketer, available just a few clicks away with the Rockerbox Data Sync.
Get your Data in Google Sheets
Gone are the days of scheduling reports, downloading CSV files from disparate systems and emails, and copy/pasting huge datasets from different files into one master worksheet. The Rockerbox Data Sync syncs your Buckets Breakdown and Platform Performance data directly to one Google Sheet workbook without having to switch tabs or press Command+V.

To minimize time spent manually refreshing and re-downloading reports, the Rockerbox Data Sync will automatically pull the latest data into your spreadsheet on a daily basis. So now, your most recent data will be ready and waiting for you by the time you finish your morning cup of coffee — no late night data wrangling required.
This feature greatly reduces time to insight, as it reduces the lift of manually exporting reporting and creating pivot tables, allowing us to spend less time on manual report manipulation and more time on analysis and resulting insights.

~ Director of eCommerce at XCVI
Rapid Insights & Analytics
So you've aggregated your granular marketing data into one workbook and now comes the next challenge — how to make sense of it all. Your job is to run a marketing budget and you've already bothered your data analyst colleagues enough this week. How do you find the time or resources to gather actionable insights so that you can make the right marketing decisions?
Enter Rockerbox's Google Sheet Template Gallery.
With our templates, you will be evaluating marketing performance in minutes — no spreadsheet wizardry required!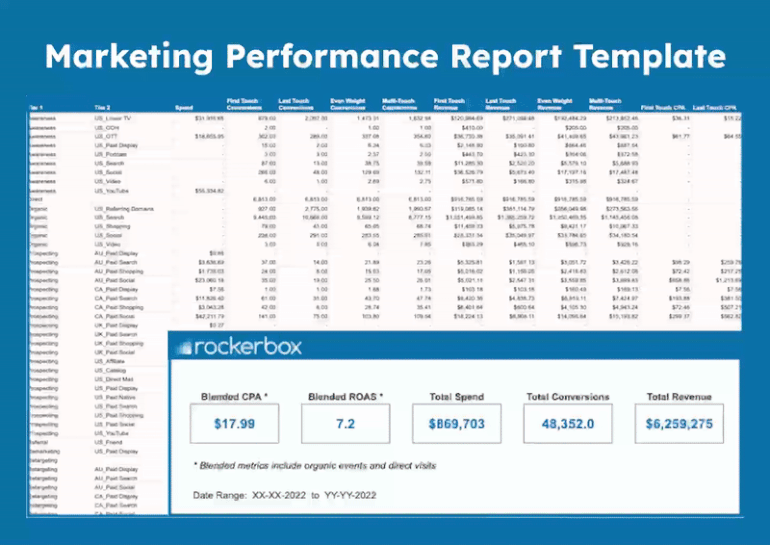 Having Rockerbox data directly synced into Google sheets with pre-built performance analysis templates enables our team to quickly identify which placements we have been over or under investing in, when comparing last touch to multi-touch ROAS.

~ Nick Sanetra, Director of Marketing at Clove
Get the Rockerbox Data Sync Today
Existing Rockerbox customers can install the Google Sheets plugin for free and start syncing their Buckets Breakdown and Platform Performance data immediately!
Not yet a Rockerbox customer? You can get started with a free account to consolidate performance data for your advertising platforms!