"Innovation: a new idea, method, or device; novelty: the introduction of something new."
At Rockerbox, innovation is the name of the game. From large quarterly releases, to smaller improvements and fixes. We are always pushing ourselves to improve our customer experience.

Sometimes we're so busy building our platform and releasing new features, that the updates we push don't get the spotlight they deserve. We're changing that.

When you sign on with Rockerbox, you're signing on to work with a company that's never going to be stagnant in our product development. Our team releases sizable changes every quarter plus dozens of smaller improvements in between, all to make our platform easier to use and better suited to help you measure all your marketing and uncover insights that help you spend smarter.

In this blog, we're highlighting 37 improvements we made to our platform, from small to large, in the past six months. Keep reading to see what you may have missed.
What's New(est)?
Each quarter, we release large-scale improvements that make Rockerbox easier and faster to use and help our customers be more effective at their jobs. In Q4 2022, two of our biggest updates have been to revamp the way customers can export data for reporting and update the filters used in views across the platform so customers can more easily get to the data they need. Below we'll cover these two brand new features.
1. Improved Exporting for Expedited Reporting
Inspired by customer feedback, we released a new, faster way to export data that satisfies brands' need to easily access marketing insights to identify trends, justify their marketing spend, and plan for the future.

The updates to exporting functionality gives brands the ability to:
See CPA and ROAS at the right level of granularity
Isolate performance data for new vs. repeat customers
Dictate the time period for reporting, from one-off check-ins to weekly, monthly, quarterly, or annual reporting
Brands can now quickly export up to multiple years of granular, ad-level performance data in seconds.
2. Revamped Report Filters
This quarter, we made several design and functionality improvements to our filters so it's easier for customers to understand and focus on the information they need. Our new, streamlined filter bar across all our reports helps you zero in on the right data for the right timeframe with unprecedented speed and granularity.
3. Revamped Self-Service Starter Onboarding
With our revamped onboarding flow for Starter clients, we're making it easier than ever for brands to get up and running with our platform and start seeing value. Moving away from a time-consuming, manual process, we've instituted a self-service flow that lets users complete all the necessary onboarding tasks, from ad platform setup to billing information, on their own time.
Brand New UI
In September of this year, we released a complete revamp of our UI that touched nearly every area of our product.
4. Revamped Home Page
When you first log into Rockerbox, you'll now be met with a high-level overview of some of the top metrics in your account, including blended ROAS and CPA over time, total revenue, your spend levels across various channels, and more.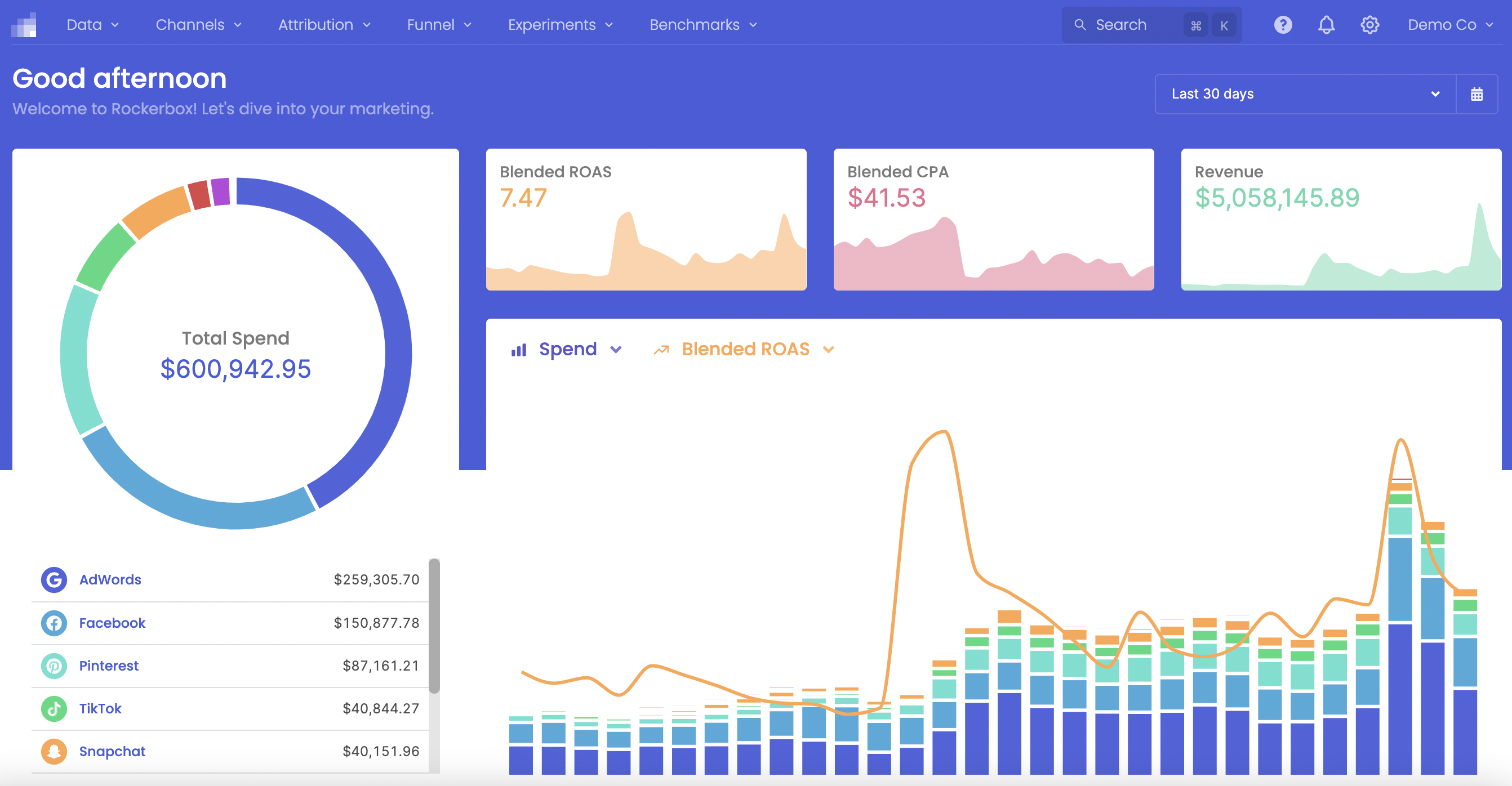 5. Platform-Reported Performance
This new view in the updated UI displays platform performance data directly from various social channels. Instead of looking at slow and sometimes misleading in-platform reports, this lets you centralize all your platform performance data in one place where you can more easily make sense of the data.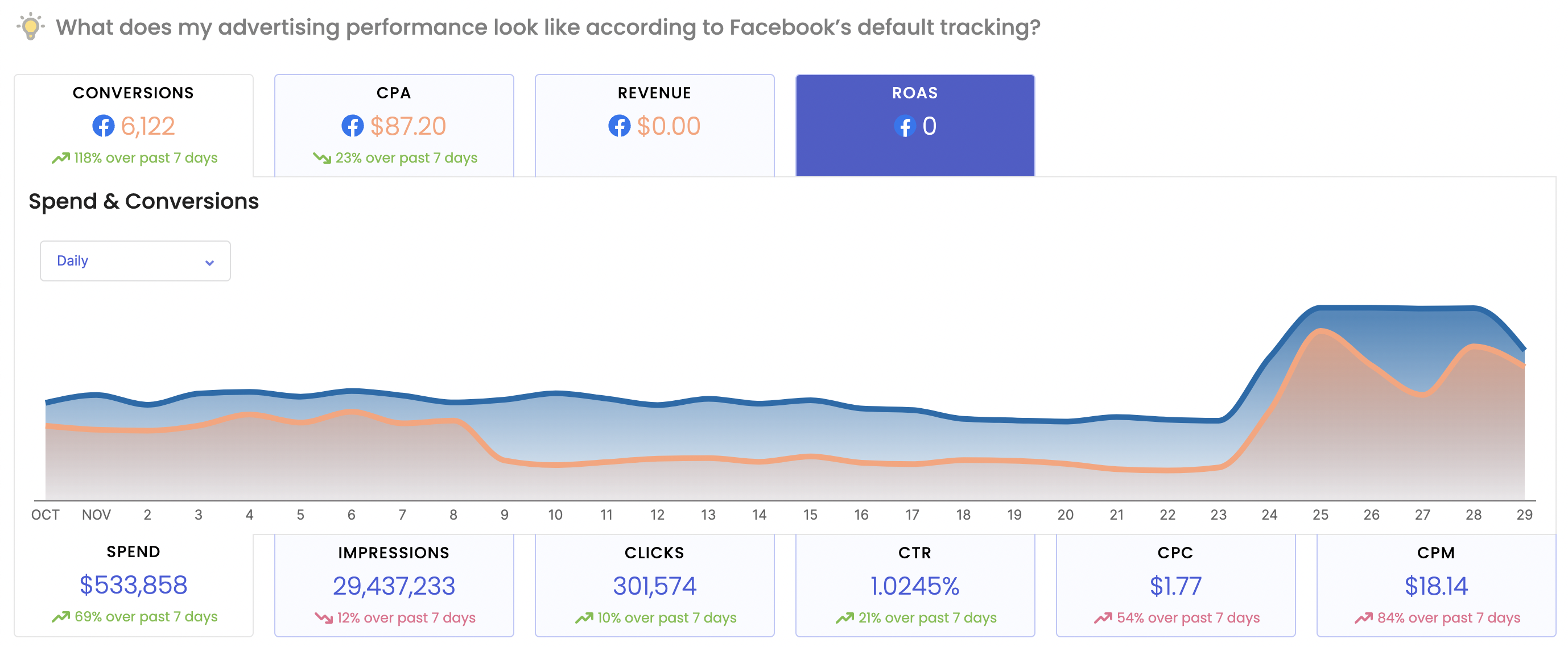 6. Platform vs. Rockerbox Comparison
One of the main value propositions of Rockerbox is our first-party data foundation, and in this new view, you can see the difference between the way Rockerbox measures performance and the way individual platforms do. This view also highlights the benefit of Rockerbox's 200-day attribution windows, which helps you track conversions that were influenced by clicks outside of Facebook's maximum 7-day window.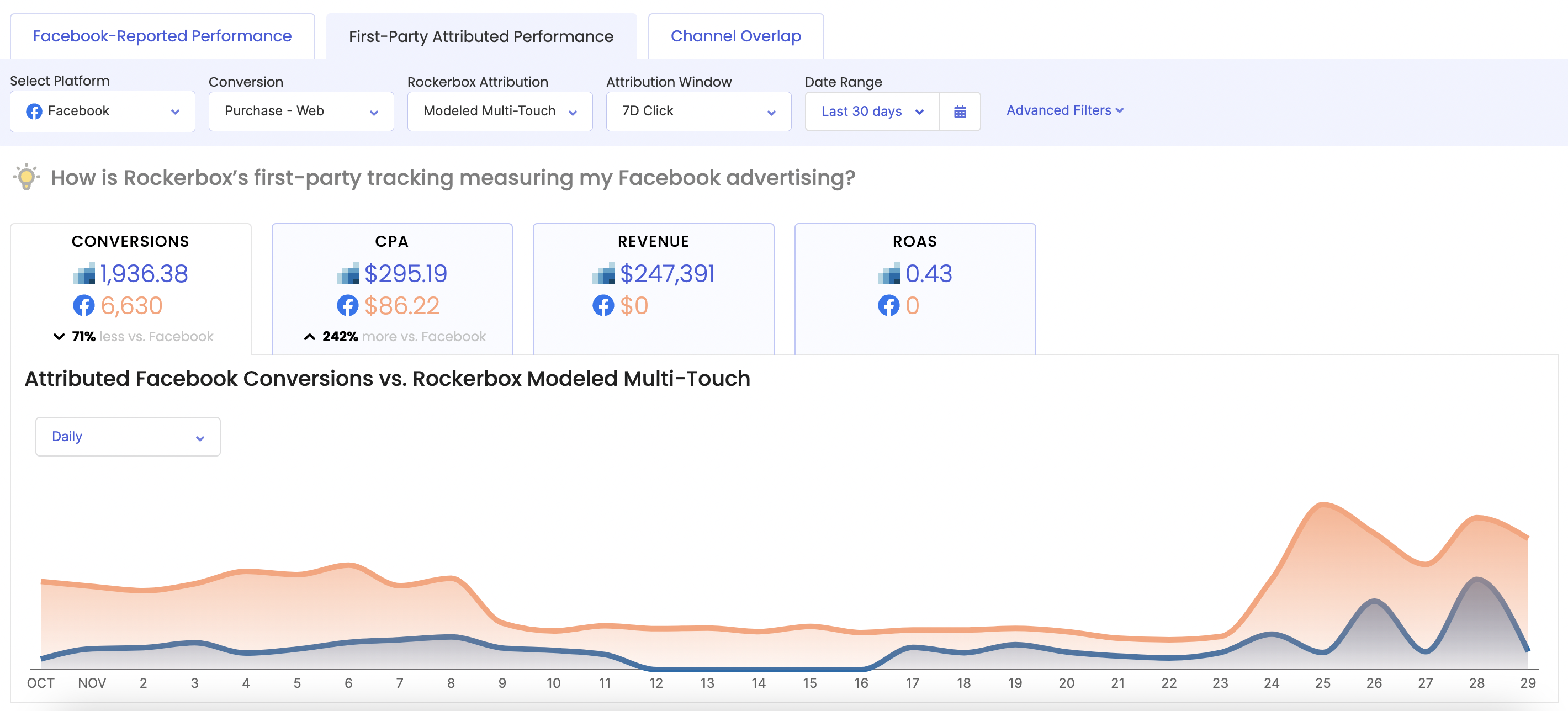 7. Channel Overlap
The overlap between your audiences on different platforms could be helping or hurting you, and the new Channel Overlap view we added helps you understand your situation and answer questions such as:
Where am I overpaying on users that would have converted without additional touchpoints?
What does my channel overlap look like and where are channels taking credit for the same conversions?
How do my channels compliment and work with each other, and what are the actual revenue changes when multiple channels are leveraged vs. one?

8. Redesigned Attribution Report
In addition to new views in the UI, we also released several redesigned views, including our attribution report. The attribution view delivers a full view of marketing performance, showing spend and conversions per marketing placement over time.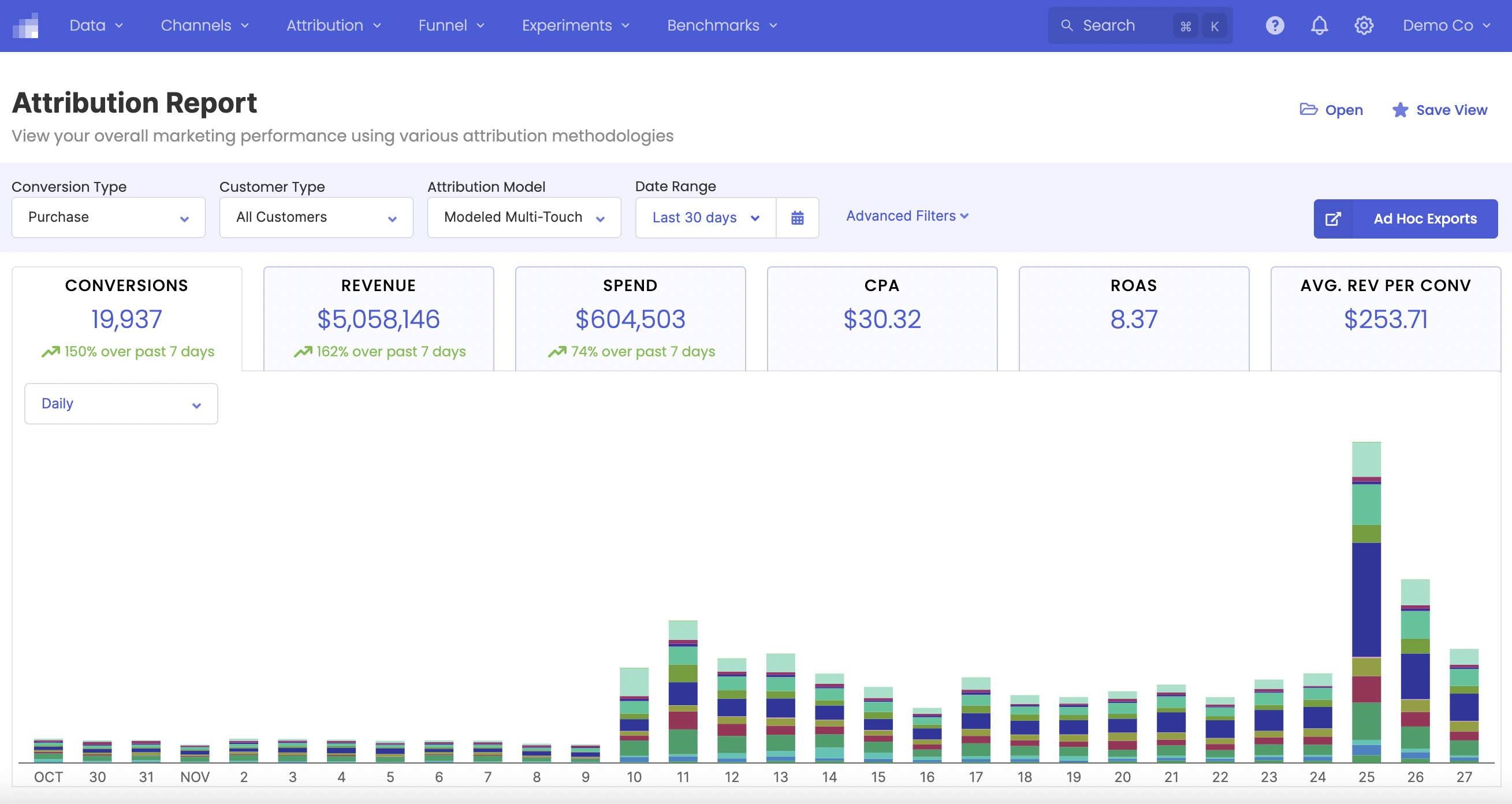 9. Redesigned Marketing Paths
We also redesigned our marketing paths report, which shows Rockerbox users the touchpoints their users interact with leading up to an action. Users can select a specific conversion, such as purchase or add to cart, and uncover the most profitable paths containing that conversion and also dig into marketing paths on a per-customer basis.

10. Redesigned Orders & Conversions Views
Rockerbox not only displays marketing data, but also granular information on purchases and conversions on platforms you've connected to Rockerbox, including Shopify and elsewhere. As part of the revamped UI, we redesigned this view to show detailed information about the customer and their their order, a granular path to conversion with marketing touchpoints and the credit assigned to each touch, a view of all the on-site activity, and identity graph that gives users a visual of how we reconcile user identity.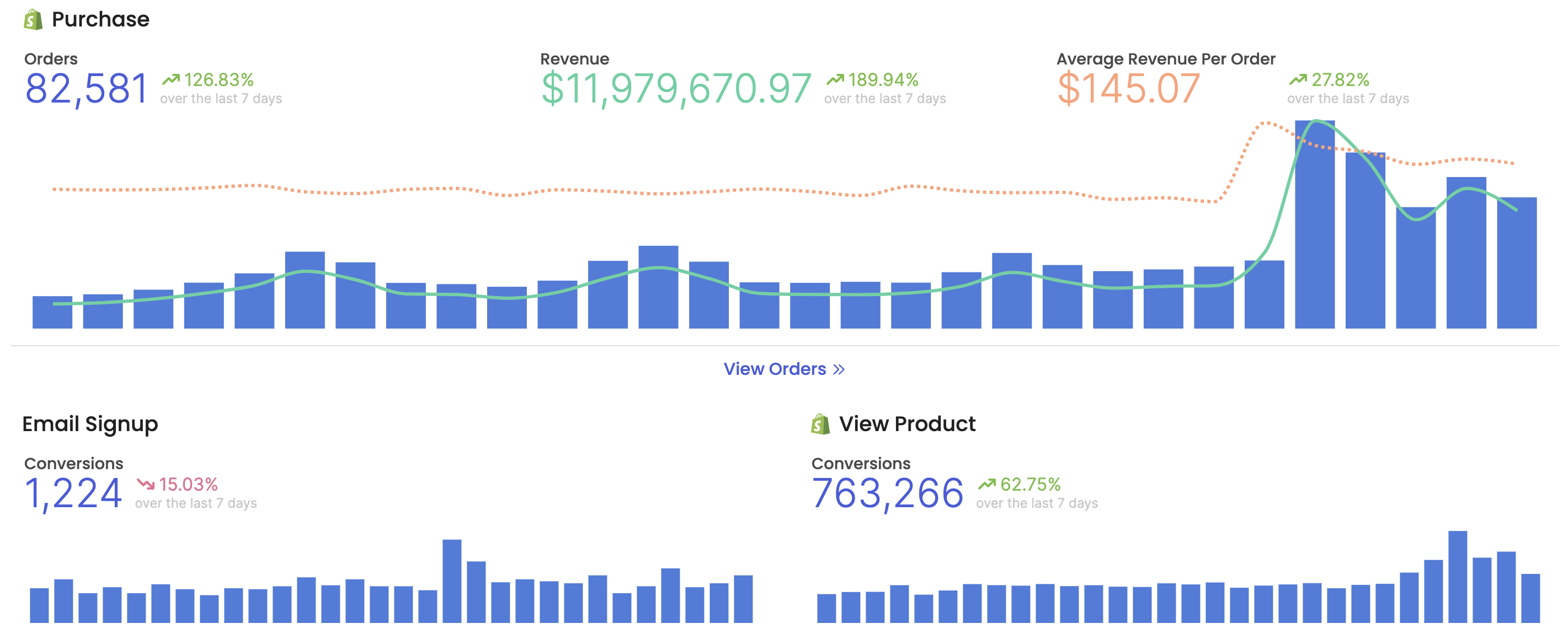 11. Saved Views
Your time is valuable as a marketer, and anything that helps you work and deliver value faster is key. Our saved views feature, a new addition with our larger UI update, lets you create charts and tables with the KPIs that are most important to you. You can then share those views with other team members to enable more streamlined collaboration on your data.
12. Global Search Functionality
To make Rockerbox even easier to use, we added global search functionality to help you quickly find the right report or view. Add in keyboard shortcuts, and making your way around Rockerbox is easier than ever.
New Integrations
Rockerbox integrates with hundreds of platforms, including ecommerce software, social and search, OTT, direct mail, and much more. We're also constantly adding new integrations to meet the needs of our customers' diverse marketing strategies.
13. Data Warehousing Integrations
Rockerbox's platform alone is a great place to find insights on everything from what your fastest converting marketing paths are to which of your channels have the most overlap. However, when it's time for more complex analyses and reporting, many clients choose to move data into a data warehouse platform. This year we added support for three major data warehouse platforms—Snowflake, AWS Redshift, and Google BigQuery—allowing analytically advanced companies to use Rockerbox data in other platforms they already use.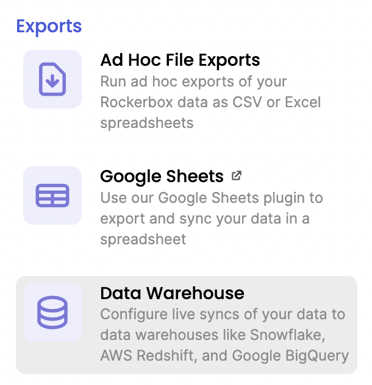 14. LiveIntent

LiveIntent is a programmatic advertising platform that helps its customers target a 200 million-strong audience of engaged professionals with email advertising. In August, we updated our integration with LiveIntent to log marketing touchpoints and views from the platform's ads.
15. Podsights

Podcast advertising can be incredibly important for introducing your brand to new audiences, but it's also notoriously hard to track. Our addition of a Podsights integration helps you not only track the impact of your podcast advertising, but also see those insights alongside all of your other marketing efforts to get a holistic view of how your marketing paths are impacted.
Beyond these, we also added integrations with several other services to get marketing touchpoint and/or spend data into Rockerbox:
What is it? Display and OTT/CTV advertising
What data do we integrate? Standard spend integrations for OTT through batch log level files and display through a pixel tracking and batch spend integration.
What is it? Programmatic advertising
What data do we integrate? Pixel tracking and batch spend
What is it? Programmatic advertising
What data do we integrate? Pixel tracking (click and impression) and spend data by standard batch
What is it? Mobile advertising
What data do we integrate? Impression and click tracking as well as standard batch spend
What is it? Native advertising
What data do we integrate? Pixel tracking and standard spend integration
What is it? Search advertising
What data do we integrate? Spend reports
What is it? Affiliate advertising
What data do we integrate? Spend reports
What is it? Digital advertising (native, display, video advertising)
What data do we integrate? Impression tracking and spend reports
What is it? Data-marketing platform
What data do we integrate? Impression and click tracking as well as spend reporting
What is it? CTV advertising
What data do we integrate? Impression tracking pixel and spend reporting (NBC run media)
What is it? Contextual intelligence company
What data do we integrate? Display tracking (impression and click) and spend reporting
What is it? Affiliate advertising
What data do we integrate? Click tracking and spend data
What is it? Social networking platform with a Q&A format
What data do we integrate?Click tracking and spend data
What is it? Programmatic advertising
What data do we integrate? Impression and click tracking, and spend data
What is it? Linear TV, streaming video, digital media advertising
What data do we integrate? Impression tracking for display and OTT and spend data
What is it? Performance marketing agency
What data do we integrate? Impression tracking and spend reporting
What is it? Performance marketing agency
What data do we integrate? Click tracking and spend reporting
Updated Plans
One big change we made in 2022 was to open up Rockerbox to new groups with customized offerings that allow people to start seeing the value of Rockerbox at lower price points.
33. Starter
Our new Starter plan is created specifically for Shopify users and features an accurate view of your customers and marketing through our first-party data foundation, granular performance tracking across the platforms you're already using, and monthly pricing based on spend. New this month, we've added a self-service onboarding flow so you can jumpstart your Rockerbox experience even faster.
34. Free
Also this year, we released Rockerbox Free, which offers just that—a free peek at what Rockerbox could do for your organization. Though it doesn't offer the same full functionality as our higher plans, Rockerbox Free does give you basic data centralization from your social and search channels, industry spend trends insights, and the ability to explore Rockerbox before making an investment.
Other Updates
35. Google Sheets integration/templates
For customers that do initial analysis and reporting in spreadsheets, our Google Sheets integration made it so much easier to quickly report on performance and share results with colleagues. We also released pre-built templates to take away even more manual work from marketers.
36. Google Tag Manager template
This year our Google Tag Manager template was officially approved by Google and added to the GTM gallery. This means that our customers who use Google Tag Manager can more easily track their on-site activity and fire Rockerbox pixels without writing javascript or copying/pasting code.
37. Cross-domain identity syncs
This feature addition allows companies with multiple domains to link up customer identities across those multiple sites, building a more complete picture of customer activity before a purchase.

The best part about this list? It's not even all-inclusive. Over the past six months, we've made many other small improvements and bug fixes to improve all areas of the customer experience. It's safe to say that we don't slack off when it comes to customer satisfaction.