Meet Matt at Everlywell
Matt Carroll is the VP of Marketing at Everlywell, an at-home lab testing company. He oversees customer acquisition and retention, as well as the e-commerce team.
Everlywell has built a suite of over 35 at-home lab tests, including thyroid, metabolism and STD testing. Everlywell is disrupting the traditional lab testing experience, which historically has been all in-person. After completing the sample collection portion at home, users receive the results digitally within five days.

Challenge
Matt and the marketing team are constantly making decisions about how to optimize their investments across their marketing mix. They wanted to understand their marketing investments at a deeper level and their overall impact on the business.
Matt was looking to understand their marketing's "halo effect" on social media and other channels. Everlywell views their "halo effect" as a way to optimize marketing spend by using previous momentum to better promote products and reach more of their target audience.
"In a more scientific way, understanding that if we increase our Facebook investment by 25%, we want to have confidence in what the overall implication on the business will be in a long-tail view as opposed to just looking at what we'd achieve from Facebook in a dollar-in, dollar-out view."
Everlywell's acquisition and marketing strategy has largely been direct response—from social media, SEM, OTT streaming to referral, affiliate, influencers, podcast and now direct mail.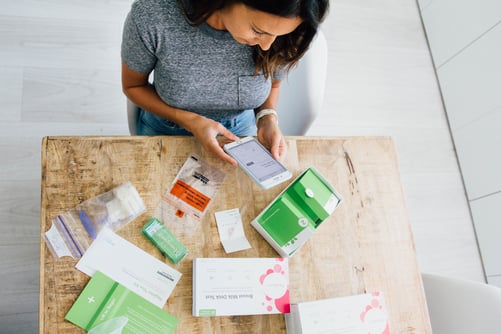 "Given that our product is relatively new, we needed to understand the typical customer paths from discovery to purchase in order to better understand our cross-channel investments. We knew this was happening but needed to understand what they were to help us understand our own marketing strategy."
Realizing he needed more than Google Analytics, Matt began to evaluate potential attribution solutions to address these gaps.
How has Rockerbox made a difference?
Rockerbox helped Matt and Everlywell understand the true "halo effect" of different channels, like Facebook and OTT. Everlywell can now see unique groups of customers that originated from particular ad sets and can therefore create targeted lookalike audiences.
"It has been incredible to understand how streaming cross-channel behavior differs from social cross-channel behavior. And it is materially different—the touchpoints for social are so much lower. Now we understand the true incrementality of these networks."
Rockerbox was able to help the Everlywell marketing team rethink their marketing spend. The insights from the platform painted a clear picture of the customer journeys from different channels like social media and streaming.
"We've definitely done some pressure testing around investing more in streaming and OTT to see if that same "halo effect" comes to life in other buckets (organic search, SEM, social, etc). Rockerbox has made us smarter and more confident with investing in streaming since we've been able to see that come to life."
How has your experience been working with Rockerbox?
The Rockerbox team has supported Everlywell's success beyond the initial "getting started" period by having an open dialogue with Matt and the marketing team, receiving and implementing feedback.
"One of the things I've been impressed most by is the proactive nature of the platform and the ability, and in a nimble way, to support diverse needs from clients. The Rockerbox team uses the voice of the customer in terms of the advancement and development of the platform. I felt heard and represented in the product roadmap."

If you're interested in learning more about how you can also utilize Rockerbox Attribution Platform, sign up for a demo here!