You've heard it before. Re-engaging existing customers is cheaper than bringing in brand-new ones. That's not the only benefit of marketing to people who have already purchased from you. Repeat customers are also more likely to buy again from your and more likely to have higher order values.
And the longer customers patronize your brand, the more likely they are to become brand ambassadors who will evangelize about your company to others, bringing in even more new customers.
All that said, bringing in repeat customers isn't effortless. You need to implement specific strategies to re-engage customers and strengthen their relationship with your brand.
Below, find three tested tactics (plus examples from Rockerbox customers) that'll help you bring buyers back again and again even in the face of competing alternatives.
1. Loyalty/VIP Programs
When you reward the people that buy from you with discounts and other perks, they're more likely to continue coming back again and again. Just think about the discount programs from stores like Big Lots and Sephora or the points you gain from shopping at grocery stores that then translate into fuel savings. When users get something in return for shopping with you, they'll feel an alliance to your company.
Take a look at Kuru Footwear's cash rewards program for example: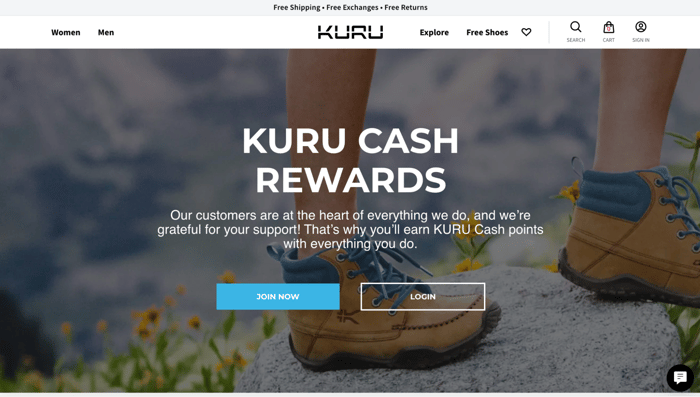 Customers can sign up to earn rewards for buying Kuru products and performing other brand-boosting tasks like following social channels and subscribing to their social channels.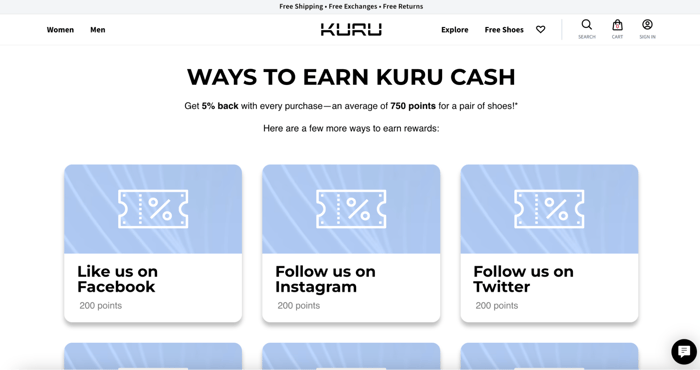 This example from Kuru works because the rewards are attainable. VIP programs can't offer benefits that feel too out of reach or people won't feel motivated to go after them.
2. Personalized Product Recommendations
If you sell shoes, for example, you might also sell related products like socks and laces that are natural complements to your main offering. Suggesting these related products to customers when they're ready to make a purchase is a great way to increase order value. Sending customers emails with related product suggestions after purchase is a great way to bring customers back to your site to purchase again. Either of these options can help impact your bottom line and they're easy to implement with the right software.
One great example of a brand that does product suggestions well is gorjana. In line with the trend of layering necklaces, their website suggests complementary products to layer with a particular necklace you're viewing.

These suggestions and other similar ones could also be sent via email post-purchase to drive more repeat orders.
3. Subscription Options
Coffee, tea, skincare, haircare—these are just a few examples of products that make sense to add a subscription option for. Customers will need to reorder these products anyways from some source, so allowing them to schedule a re-order helps them make their lives easier while ensuring repeat income for your business.
To make the subscription option even more attractive, consider adding a discount on the product or shipping if customers choose scheduled deliveries.
MAËLYS Cosmetics offers free shipping and a discount with auto-refills of their body-enhancing products, which is especially fitting since results take multiple weeks to start to show.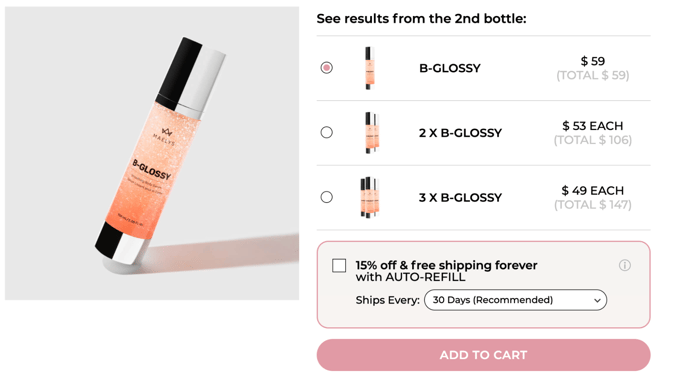 Encourage Repeat Purchases, Measure the Impact
While these strategies cover some of the basics, there are plenty of other ideas to try once you've mastered these, from using content to engage and nurture repeat customers to well-timed discounts.
Whatever tactics you use and channels you leverage to reach existing customers, remember to have measurement in place to gauge the impact of your efforts.
Rockerbox shows you a cross-channel view of your marketing impact and lets you filter by new or repeat customers.
Connect with our team to see a demo today.