Marketing effectiveness has become a top focus for brands as record inflation and tight budgets emphasize the importance of making informed decisions when allocating spend. The key to proving ROI as a marketer is having the level of understanding about campaign performance that attribution delivers.
On January 19th, Rockerbox Co-founder and CEO Ron Jacobson spoke with Dan McGaw, Founder & CEO of UTM.io about how advanced UTM setups can be used to manage marketing attribution. Keep reading for the top takeaways from this webinar.
How can UTMs go bad?
UTMs are a great tool for measuring marketing effectiveness, but when used incorrectly, they can slow your team down. However, putting simple best practices into place turns UTMs into an advantage rather than a detriment.
The two main ways UTMs can go bad are when there is no consistency and no granularity.


Lack of consistency: UTM structures that lack taxonomy lead to disorganization and make finding and deciphering the information you're searching for arduous and time-consuming. For example, say you're running a campaign on both Google and Facebook. If the UTMs for these two platforms lack the same nomenclatures, attributing those results to the same campaign will be extremely difficult.

Lack of granularity: Often times there are thousands of campaigns running within a single strategy, which means sorting information at a campaign level alone can prevent you from having a clear understanding of what's driving results. The greater the granularity, the deeper the level of detail you can report on.




Getting Started with Advanced UTMs
Building a more advanced UTM structure starts with thinking about the campaign. You're likely planning to advertise across more than one channel, whether it be search, social, email, tv, etc. Starting at the campaign level and ensuring that parameters are spread out properly across all sources is how you begin to add consistency to your UTMs.
Next, you can start breaking things down beyond the channel level. For example, if you want to pull a metric like CPA from a paid social ad, you will need to dive deeper than campaign or ad group down to the individual ad ID.
"You might not think it's relevant [to get this granular], but it's better to have that on the click and not [be in a position] five months later wishing you had that info."

- Ron Jacobson | Co-founder and CEO, Rockerbox
It's also important to make sure that every single click has a marketing tactic associated with it, which is something that is commonly overlooked. Whether it's prospecting, retargeting, etc., assigning a specific goal to each click is crucial.
Rockerbox customers have used UTMs to:
Log different CTAs

Denote different categories of marketing promotion

Separate different kinds of activities and their impact on organic social (LinkedIn bio vs. LinkedIn posts)

Designate different audiences for marketing campaigns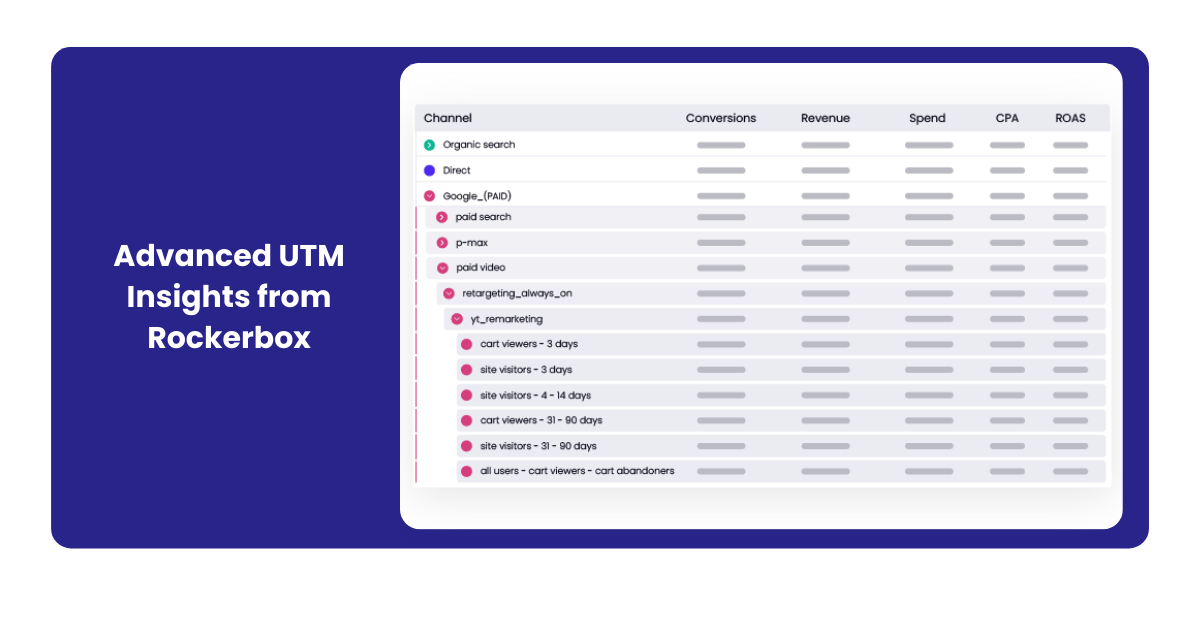 How UTMs bring clarity to a marketing budget


Especially at a time when budgets are tight, being consistent and tracking things at a granular level can help you get an edge on your competition.
When you put forth the effort to use advanced UTMs properly, you'll be able to attribute every single ad ID back to dollars spent and revenue generated. Having this level of insight means you'll know where to spend more and where to scale back.
When tied back to revenue, Rockerbox clients have used UTMs to justify investment in a specific channel and compare growth in a channel or tactic with increased spending.
Implementing advanced UTMs
So how do you actually get your team to stick with this level of tracking? Consistency and discipline are key.
Taxonomy is a critical part of keeping UTMs uniform. You need to have a cohesive naming structure and consistent formatting that's the same across your creative, social, and search teams.
"If you mess up that taxonomy, you don't even have a taxonomy. You're not gonna be able to know what works. You're not gonna be able to know what's not [working]. And in times like this where ad budgets are getting cut, marketing budgets are getting cut, you need to know what 50% of your ad spend is working, right?"
Advanced UTM quick tips & tricks


Start simple. Since we've emphasized the importance of having granularity down to the ad ID level, this may sound like a contradiction. But having no structure or discipline is worse than taking small steps to better your UTM practices. On the flip side, trying to be too complex too quickly can be overwhelming and make adoption difficult. It's better to start slow and gradually build discipline–you can always get more and more advanced.
Don't use UTMs on internal links. While this one might seem obvious, it's a common mistake. UTMs are meant to help track the external media that's driving traffic, so avoid using them on your own website.
Avoid caps and spaces. As a general rule, you should keep letters lowercase across all your UTMs and use dashes instead of spaces. Spaces are what cause those ugly percentage signs in your URL, so sticking to dashes makes everything nicer and more visually appealing, which actually does make a difference.
Follow these initial tips to start seeing cleaner data, and explore how UTM.io and Rockerbox can help you make informed decisions about your marketing and spend with confidence.