3 Game-Changing Features Rockerbox Released This Month
This month, we have not one, but THREE new features for marketers to use regularly to customize reporting and uncover more opportunities for marketing improvement. Keep reading to learn about Custom Credit Allocation, Time Period Comparison, and the Conversion Funnel view.
Custom Credit Allocation
If you've ever wanted more customizable control over how credit is distributed across your marketing channels, you now have that ability with Custom Credit Allocation. Rockerbox already offers first-click, last-click, even-weight, and data-driven attribution models, but now marketers can more flexibly add or remove credit for certain channels to align to key business goals.
As a marketer, you might use Custom Credit Allocation to:
Credit only paid channels or remove credit from non-paid channels.
Remove credit from Direct and re-allocate it across other channels.
Increase credit given to specific hard-to-track channels. For example, you may know a channel should have more attributed credit based on the outcome of lift studies, or a click:view based conversion ratio, but the existing attribution model may not show that.
Remove credit from certain bottom of funnel channels (Email, Brand Search) that convert users at a high rate but are not driving new users into the funnel.
To set up Custom Credit Allocation, visit the Cross-Channel Attribution report and follow the steps in our help documentation.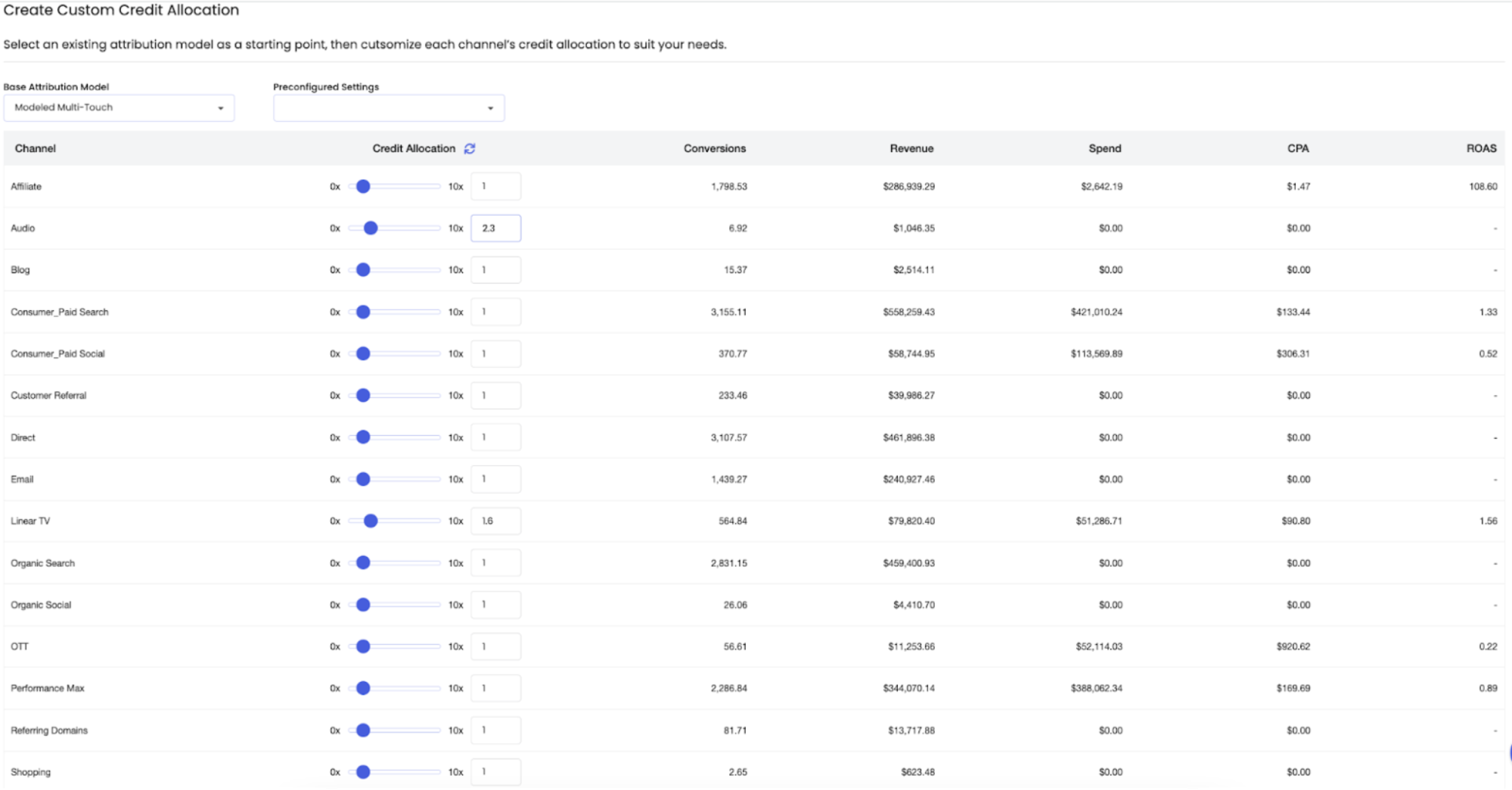 Time Period Comparison
With the holidays approaching it's more important than ever to understand trending performance over time and compare performance this year to previous years. With Time Period Comparison, you now have the ability to do this in Rockerbox.
Time Period Comparison allows you to:
Compare your performance across different time periods
Identify trends and allocate your budget for optimal results
We know that marketers like you rely on our platform daily, and this foundational update is designed to make your job easier and more effective, especially in the high-pressure holiday season.
To get started with a Time Period Comparison, simply go to the Cross-Channel Report and select your desired range to start analyzing.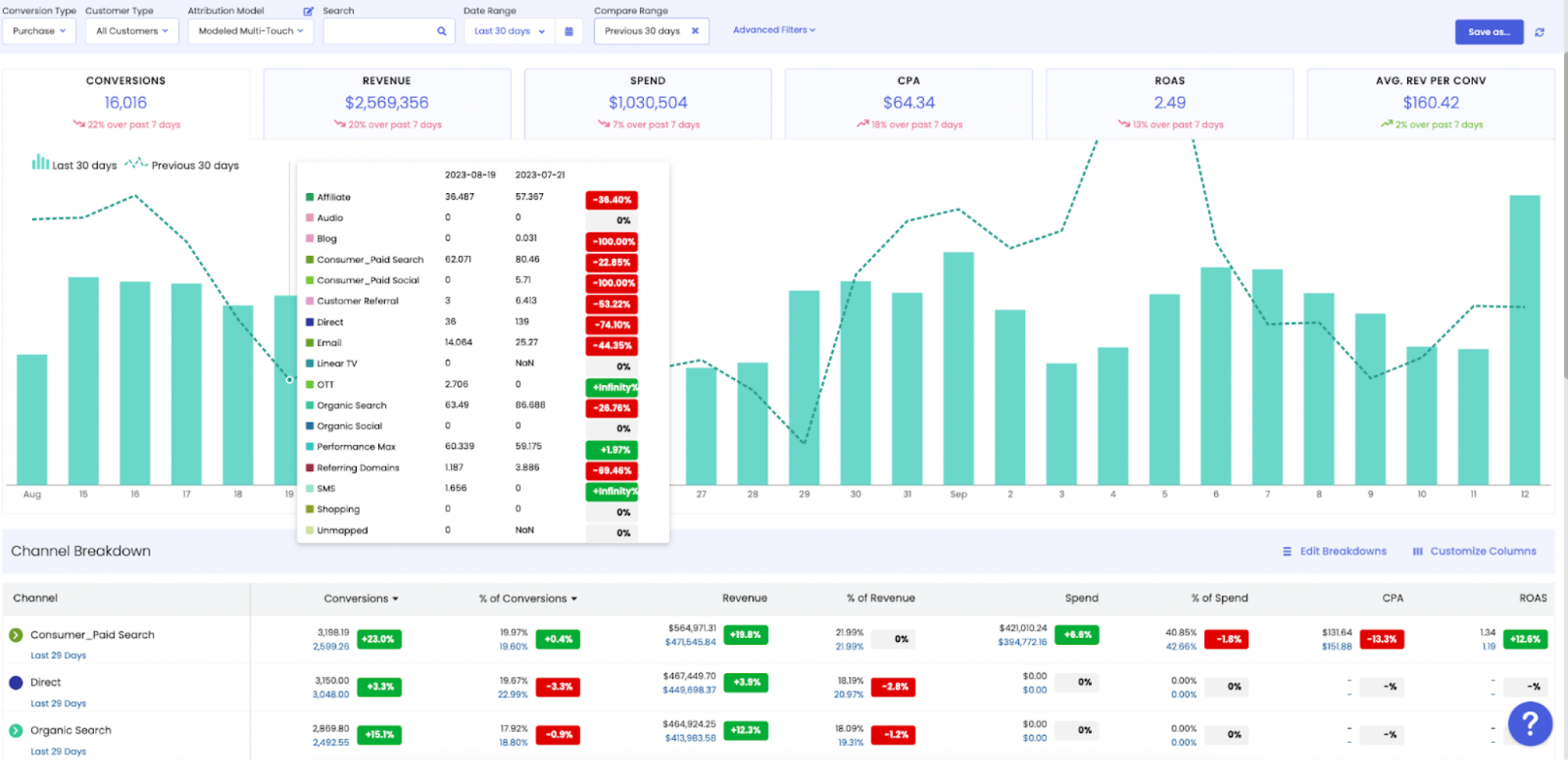 Conversion Funnel
With the release of our new Conversion Funnel view, it's easy for marketers to get a high-level view of channel performance and conversion rates throughout the buyer journey. Whether the need is for granular campaign optimization to meet certain conversion goals or to get a high-level understanding of funnel health, the Conversion Funnel helps marketers drill into the details and uncover inefficiencies and room for improvement.
For channel managers: The Conversion Funnel view offers a way to see granular performance for multiple conversion events all in one place. This centralization makes it easier to analyze conversion rates, identify outliers, and find ways to optimize campaigns across multiple objectives
For marketing leadership: The Conversion Funnel view is the high-level solution to finding and fixing the source of "leaky funnels." If certain channels are to blame for a dropoff in the funnel, marketing leadership can easily look at the funnel at large and identify them before any more money is wasted on underperforming channels or campaigns.
To set up the Conversion Funnel view, access the view under the "Journey" tab and follow the instructions in our help documentation.