When it comes to ecommerce, Shopify is one of the top names in the business. Whether you realize it or not, Shopify provides the selling platform for millions of global users ranging from small sellers doing ecommerce through social media to multi-million dollar, international brands and top logos like Brooklinen, Allbirds, Rothy's, Crate & Barrel, Huel, and many more.
With plans that range from a budget friendly social selling-only option to a "Plus" plan for high-volume brands, Shopify provides the tools and features needed to help businesses sell products of nearly any kind.
If you're selling on Shopify or exploring the platform, you should also be researching how you plan to attribute conversions in your store. In other words, you need the right tracking technology to tell you what drove a sale–whether that was Facebook, a Google display ad, or a piece of direct mail.
In this blog, we cover the basics of getting started on Shopify, how it compares to other selling platforms, and an overview of your attribution options, from in-platform metrics to external solutions.
Table of Contents
What is Shopify?
As of 2022, the U.S. ecommerce market alone was worth over 900 billion dollars, and is projected to nearly double by 2027. For digital sellers looking to make their mark in the expanding ecommerce industry, Shopify provides a full-service platform for online selling, plus tools for in-person sales (which still account for the majority of all commerce).
Shopify's ecommerce platform offers everything businesses need to sell their products on the internet, from a website builder to shipping solutions, plus integrations with a wide range of apps and additional features like manual orders, discount codes, SSL, cart abandonment emails, gift cards, store performance reports, tax support, and more.
Shopify also has plans for businesses at nearly any stage in their growth, from small brands selling only through social media to internationally known brands.
How to sell on Shopify — for beginners
Getting started on Shopify is relatively simple. For most plans—the Plus plan being an exception—users start a free trial without a credit card to test out the platform before buying. But before you start your free trial, you need to select the right plan for your business. The options you have to choose from are Starter, Basic, Shopify, Advanced, and Plus.
How to choose your Shopify plan
Because the differences are subtle between some of the plans, it's important to understand some of the key differences before you dive in.
Starter — Starter is the least-expensive and simplest offering from Shopify. This plan only offers social selling, perfect for situations such as influencers who want to sell branded products through their social accounts or businesses that want to validate the demand for a product before moving on to more complex ecommerce setups.
Basic — Moving up from Starter, the Basic plan is suited to smaller businesses. With two staff accounts and all the core features you need as an ecommerce business (online store, POS system, multiple sales channels, reporting, support), basic is a great, if no-frills option for selling online. For many small businesses, this account may be sufficient.
Shopify — As plans increase in price, the credit card rates on sales decrease and the shipping discounts increase. This is one difference you'll notice on the Shopify plan as opposed to the Basic plan. The Shopify plan also includes 5 user accounts, more advanced reporting, and automation to simplify some repetitive tasks.
Advanced — In Shopify's Advanced plan, as you'd expect, you receive advanced reports, 15 users, and additional features that benefit larger businesses and international sellers, such as the ability to handle duties and import taxes in your online checkout experience.
Plus — For customers who require even more complex and advanced setups, Shopify's Plus plan is the top-level offering. According to Shopify, Plus can be used not just for DTC, but also for the B2B industry. Some of the most notable Plus customers include names like Kylie Skin, Rebecca Minkoff, and Death Wish Coffee, to name a few.
First Steps to Setting Up Your Shopify Account
Once you've picked your plan, you'll go through the setup process for that option. While many businesses come to Shopify with an existing product to sell, you can also launch Shopify before you've solidified your offering. Shopify offers the ability to set up a dropshipping business and then source products through a range of connected apps once you've created your account.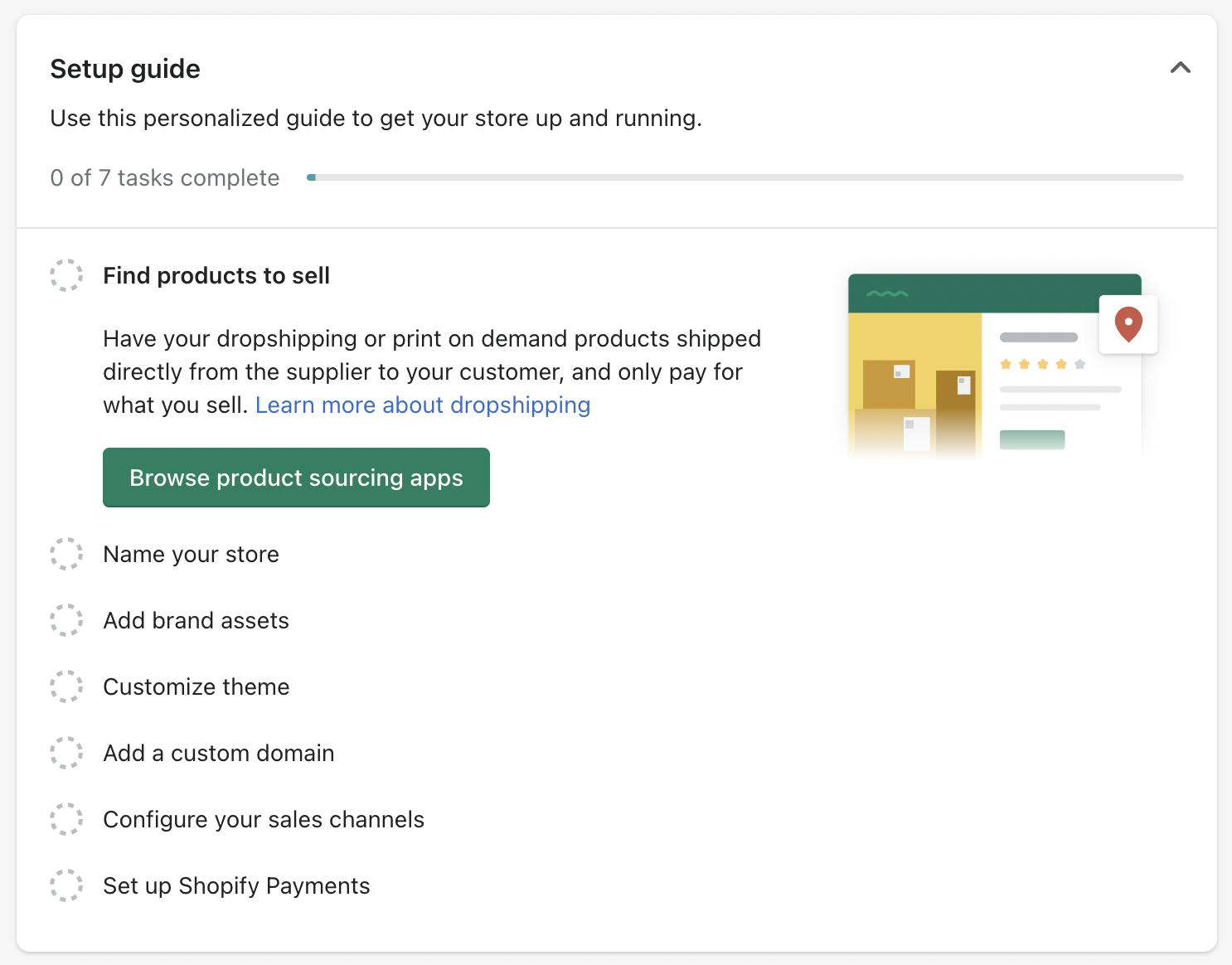 Whether you choose the dropshipping/print on-demand option or sell your own products, you'll go through other similar steps during the set-up process, including naming and customizing your store, setting up payments, and choosing sales channels.
What Are Shopify Sales Channels?
In addition to your online store, you can also use Shopify to sell in a host of other places that you'll integrate with your Shopify account. These can include social channels, the Shop app, wholesale platforms, and more.
How do different ecommerce platforms stack up?
Shopify is one of the leading ecommerce options for businesses, but it's not the only one. Some top Shopify competitors include BigCommerce, WooCommerce, and Commerce Cloud. We'll explore the pros and cons of these platforms below.
BigCommerce vs Shopify
BigCommerce is an ecommerce platform built for businesses of all sizes in multiple industries. Like Shopify, BigCommerce lets sellers create online stores and integrate with various sales channels. Other top BigCommerce features include single-page checkout, cart abandonment support, and social sharing tools.
Shopify's Advantage
6,000+ apps (compared to <1,000 for BigCommerce)
Native payment options
Faster load times
Source: Shopify + BigCommerce
BigCommerce's Advantage
More cost-effective after add-ons
Scalable product options — 600 SKUs/product vs. Shopify's 100 SKUs/product
Better SEO support
WooCommerce vs Shopify
WooCommerce is an ecommerce platform created for WordPress users. Initially free, the cost for WooCommerce comes from hosting/SSL fees and other plugins that are necessary for a functioning ecommerce site.
Shopify's Advantage
Hosting, SSL, plugins included vs. add-ons
24/7 support: Email, chat, phone
No limits on file storage
Source:

Shopify + WooCommerce
WooCommerce's Advantage
More freedom to customize site
A la carte add-ons as needed vs. features tied to specific plans
Simple Shopify to WooCommerce export
Salesforce Commerce Cloud vs Shopify
Commerce Cloud is Salesforce's solution for B2B and B2C ecommerce. The platform helps businesses create a unified customer experience that ties together all consumer touchpoints from purchase to return and enables omnichannel marketing.
Third-Party Marketplaces
Beyond these ecommerce platforms, businesses can also go-to-market on a host of other third-party marketplaces like Etsy, Amazon, and others. These marketplaces remove some of the control and customization that Shopify offers, but also open your business up to a potentially huge additional buyer pool.
Often, the question is not whether you should pick Shopify or a third-party marketplace but whether you should invest in one in addition to Shopify. Amazon, for example, is the second-most popular U.S. shopping ad (Walmart, with 120 million monthly users, is first) and many people choose to buy even brand name products from Amazon rather than the brand's site. With that, it makes sense to have a presence on Amazon even if you have your own Shopify store as well.
For businesses with a smaller following, Etsy can be a great addition to Shopify (or an alternative in some places). It's less expensive, there are fewer decisions to make before beginning to sell on Etsy, and as it's already a popular platform for sourcing unique goods, businesses may be able to do less promotion.
Measuring marketing success for Shopify stores
Any ecommerce business, regardless of their maturity or what they're selling, needs insight into their key success metrics. Very simply put, you need to know where you stand in terms of revenue and which of your marketing activities are having the biggest impact on business. Below we'll talk about the analytics options available to you in Shopify and beyond.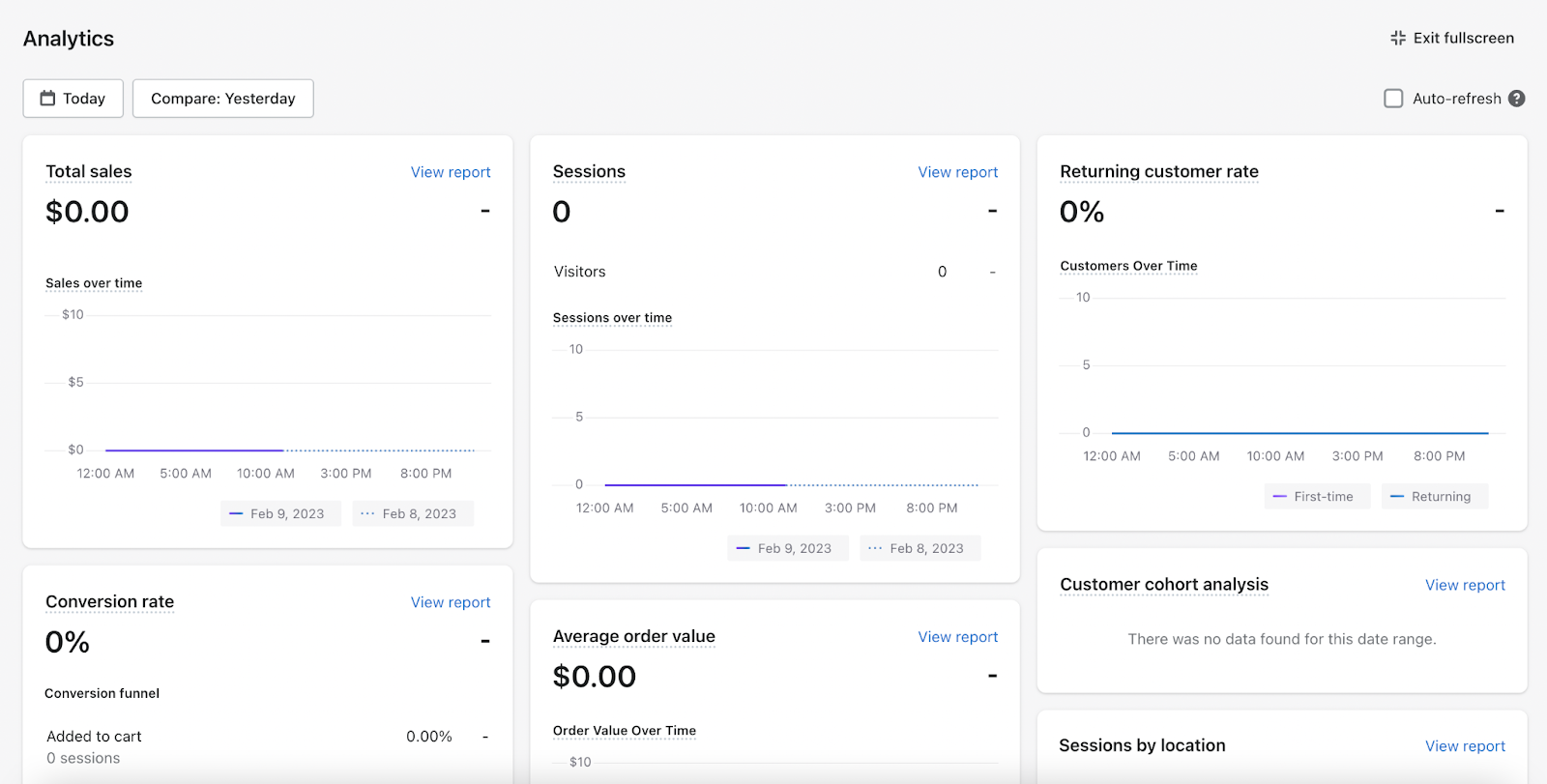 Does Shopify provide data analytics?
Shopify provides some native options for data analytics to help you dive into the success of your store and your marketing. Some of the built-in reports and KPIs include things like total sales, information about users sessions and customers, and order value. Shopify reports also give some basic information about sales and orders that can be attributed to marketing.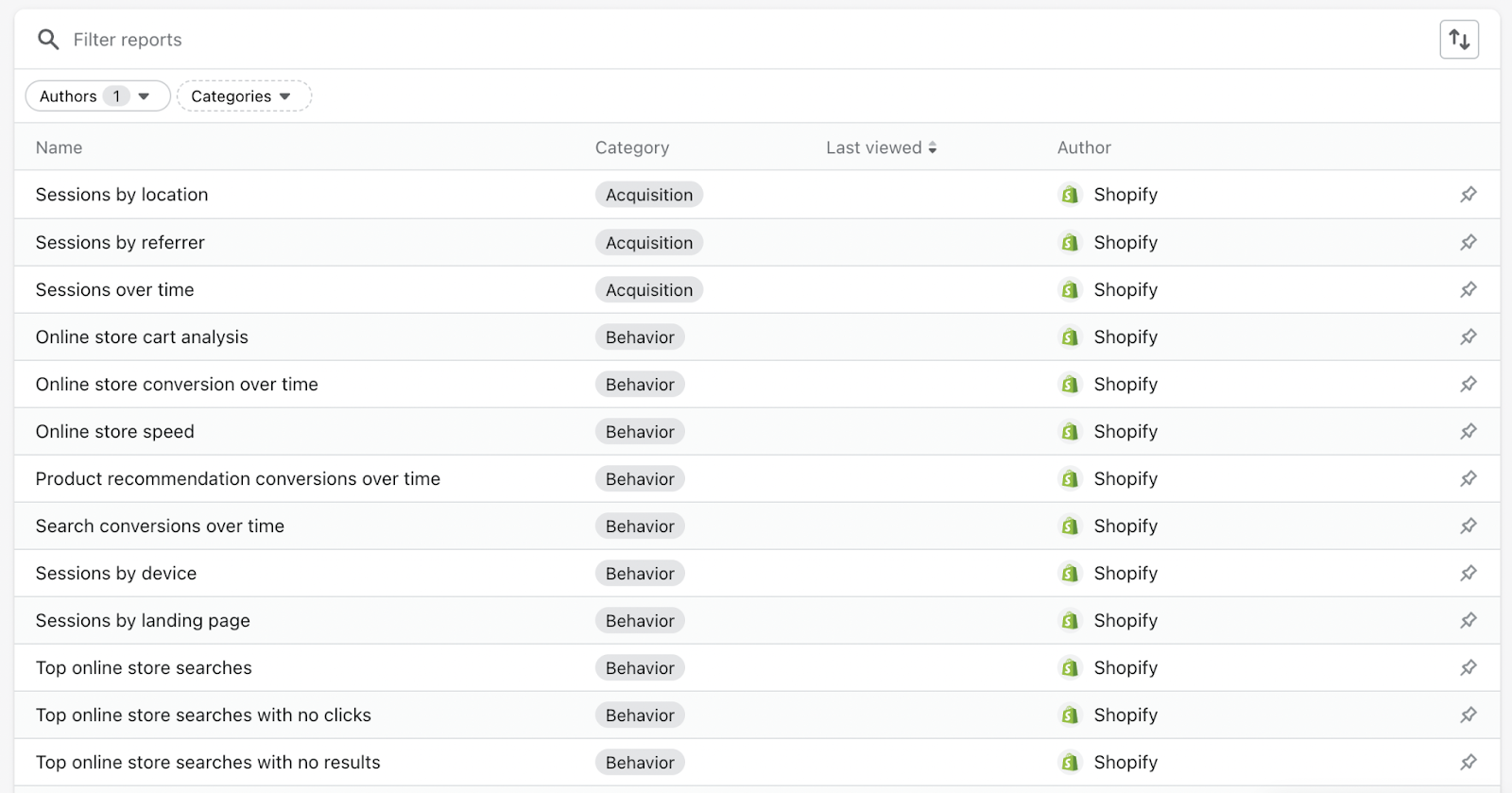 While you can dig further into the exact traffic sources that drove sales, Shopify's version of attribution can't get so granular as to tell you exactly which of your campaigns on which channels are driving success. You are also unable to get a full picture of the customer journey with the basic information in Shopify. This is where third-party platforms can help you get full visibility.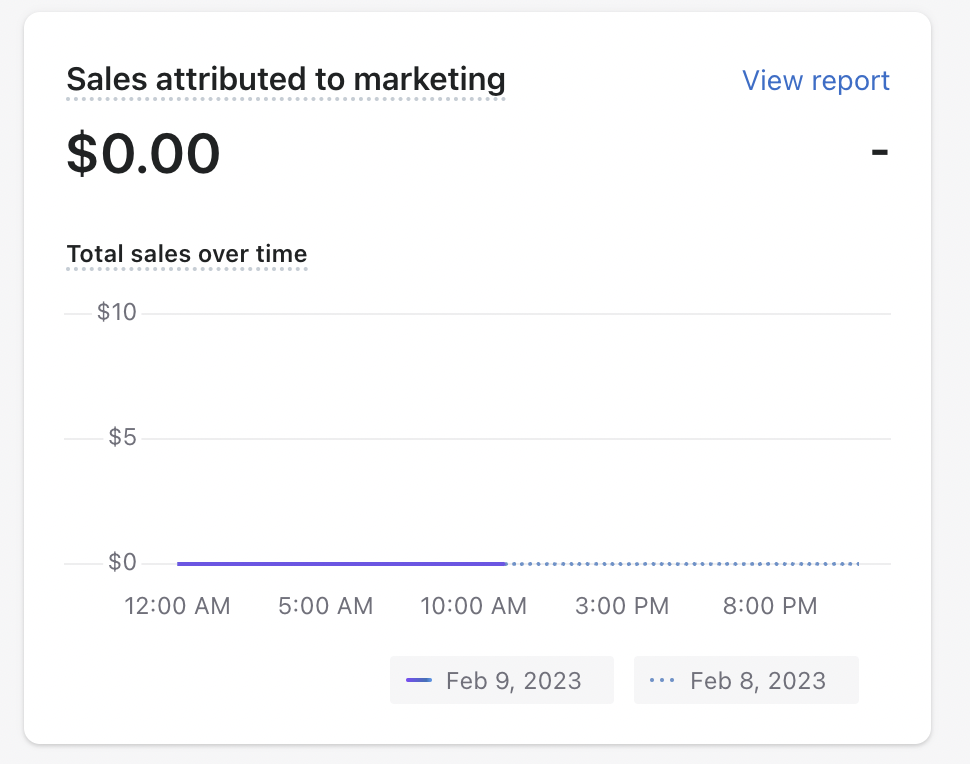 How do you find out what's driving sales on Shopify?
There are multiple ways to track the impact of your marketing, including built-in Shopify reports, individual social platform metrics, and Google Analytics—but none of these options can give you a full picture of your more effective marketing, and how customers are moving through your funnel to convert.
For a clear view of how your Shopify store is performing and what's driving sales across all of the marketing you do, platforms like Rockerbox can come in handy. Rockerbox integrates directly with Shopify, ingesting all orders and tracking web traffic, and providing you with detailed attribution for all of your marketing activities.
Shopify Attribution on a Granular Level
Shopify can show you high-level details on the top marketing channels driving sales and marketing's overall impact on revenue, but it's simply not sufficient to understand your marketing enough to optimize it. Rockerbox gives you attribution details, including spend and ROAS, down to the ad level.
Insights on Your Entire Shopify Marketing Strategy
Rockerbox can help you keep tabs on the impact of all your marketing—digital and offline, paid and unpaid—for a full view of how your time and effort is affecting your bottom line.
Smarter Budgeting with MMM built for Shopify
Interested in exploring Marketing Mix Modeling? Rockerbox's MMM for Shopify beta add-on helps you analyze your own data to uncover the most high-value channels and estimate optimal spend for increasing your revenue.
Marketing Measurement for Shopify
If you've taken the time to zero in on the right product, set up a Shopify store, and craft marketing campaigns to support your sales, you need to have marketing measurement that delivers the insights you need into what's really working.

Talk with our team today to explore Rockerbox's Shopify-integrated marketing measurement platform.