How to Win More Customers with Pinterest + Rockerbox
Rockerbox and Pinterest teamed up to bring you a cornerstone guide to advertising and marketing on Pinterest, the what, the why, and the how. Pinterest is a powerful tool for DTC brands looking to expand their reach and customer base, and we share top tips for succeeding on the platform. We'll also share how to use Rockerbox to gain unparalleled insight into the impact of Pinterest on your bottom line.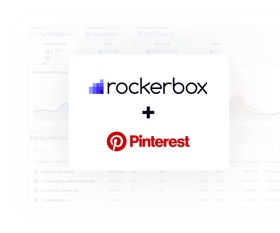 Download the Playbook Today
Join us as we cover:
Chapter 1


Pinterest basics:


Who's on Pinterest, how and when they're using Pinterest, how Pinterest stands out from other platforms, and more.

Chapter 2


Who Does Pinterest Work For?:


What industries and types of companies should invest in Pinterest + success stories.

Chapter 3


Advantages and Challenges:


Where Pinterest excels and where you might have difficulties.

Chapter 4


Pinterest Content Types Deep Dive:


What different content types do you have at your disposal for marketing?

Chapter 5


Measurement, Testing, and Budgeting:


How to measure success, what to measure, and best practices for testing and budgeting.
"The Rockerbox Pinterest integration has been a game-changer for us. By leveraging the integration we're now confident that Pinterest is a ROAS positive channel for us and a key component in scaling gorjana's growth moving forward."
— Kyle Brucculeri, VP of E-commerce
gorjana
About Rockerbox
Rockerbox is a measurement and attribution that empowers marketers from launch to scale, helping them easily see and evaluate channel effectiveness. We've built our platform for smart marketers to help them spend, analyze, scale, test, and market smarter.

Rockerbox helps you to execute better in-channel optimizations and stop wasting money on channels that aren't performing. We take the frustration out of constructing clean, actionable data, empowering you to accomplish your goals without the need for additional technical resources.
Intro to Pinterest Organic
While Pinterest offers powerful advertising options that can drive users to make purchase decisions, there are also a lot of reasons to leverage the organic side as well. While it might take longer to gain traffic from organic pins, it's essentially a free way to get in front of Pinterest users that you already know have a high propensity to purchase.
Intro to Pinterest Ads
Pinterest ads are uniquely well-suited for helping DTC and ecommerce brands sell more products because they're not detracting from the customer experience. In many cases, ads are delivering the very value that audiences came to Pinterest for. It's no surprise then, that Pinterest ads result in double the ROAS of other social media platforms for retail businesses.
No more confusion. Just real marketing insights.
Talk to our team about how Rockerbox can change the way you spend—for the better.