Guest post by Blaire McClure, Product Marketing Manager, Impact
Partnerships perform well, even during harsh economic climates. During The Great Recession in 2008, brands partnered with coupon and deal sites to offer shoppers special promotions. Subsequently, US consumers flocked to these sites, cashing in 3.3 billion coupons in 2009 (27% more than 2008). Additionally, brands that invested in partnerships early in the 2020 pandemic saw revenue grow by 41 percent in 2021.
Dave Yovanno, CEO of impact.com, explains how partnerships continue to drive revenue during stormy financial times.
"The partnership channel is evergreen, offering brands a direct line to revenue. In the face of a potential recession, the partnership economy helps narrow costs to the most effective marketing methods. This puts companies in a better position to survive recessions and come out better off than competitors."
Building an effective partnerships program can drive revenue, heighten brand awareness, and improve customer retention for your business.
But first: why people use the internet
Source: Data reportal
In 2022, the top 5 reasons people went online were:
Finding information (61%)
Connecting with family and friends (55.2%)
Keeping up-to-date with news and events (53.1%)
Watching videos, tv shows, and movies (51.5%)
And researching how to do things (51.3)
Almost half of all consumers research products online, correlating with the high percentage of people searching for information.
On top of this, people want control over their online search behavior. Consumers don't want to be bothered during their time online or see ads take over their screens. A reported 96% of consumers don't trust ads, and 225 million people worldwide filter ads.
The path to conversion looks different today
Today's buyer's journey is complex. For instance, someone purchasing an expensive eye cream doesn't click an ad and immediately purchase. They do one or more things:
Check review sites and social media
Hunt for deals
Ask family and friends for advice
Research shows that 9 out of 10 consumers read online reviews before buying, and nearly 55% read at least four reviews before buying a product.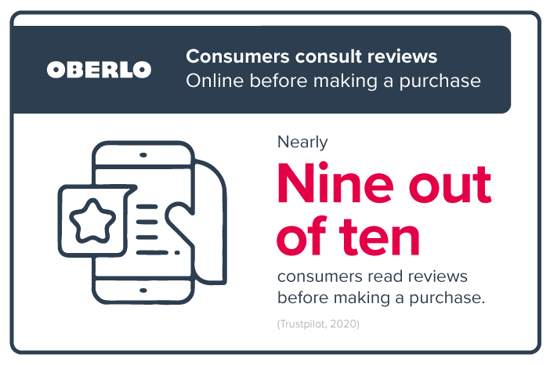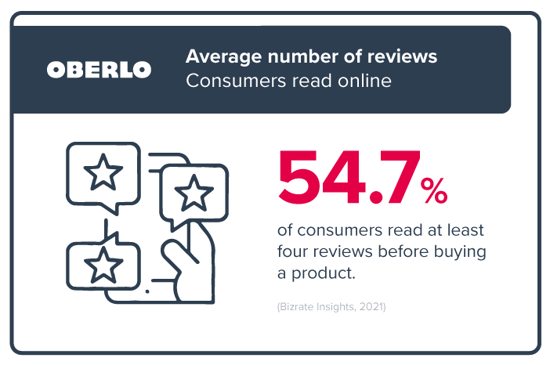 Source: Oberlo
Marketing, modern consumer behavior, and technology have changed. There are many players in the ecommerce space. Everyone competing for consumers' attention makes it hard to get your business noticed.
Ads alone simply aren't enough, and can feel intrusive and frustrating for consumers Additionally, digital advertising doesn't always create trust. You need to rethink how you reach and engage consumers on the web.
As a brand leader, you want to authentically showcase your products. Here's where partnerships come in. It's a low-risk, innovative channel that expands your reach and let's trusted sources introduce products to warmed-up consumers.
Partnerships offer an advantage to ecommerce businesses with any budget
The definition of partnerships
Partnerships happen when a brand collaborates with another entity (whether that's another brand, a creator, affiliate, etc.) to refer business.
In exchange for a commission, partners promote brands to reach mutually beneficial marketing goals in creative ways. By posting entertaining content, valuable shopping deals, and impeccable customer experiences to their channels, partners introduce brands to audiences they previously couldn't reach.
The advantages of adding partnerships to your ecommerce marketing strategy
More revenue.

In 2019, the average business generated 28% of revenue from mature partnership programs, while paid search only brought in 18% of revenue.
Greater brand awareness. Partnerships with influential individuals and brands expand product and brand visibility.
Improved customer retention. Brands can retain customers more easily and boost repeat purchases.
Increased conversion rates. Partnerships often drive visitors who are more likely to convert than other channels, such as display ads.
Budget-friendly. Partnerships are an affordable way to expand reach, engage new leads, and make sales.
Low-risk. Collaborating with successful partners minimizes risks and helps avoid the pitfalls associated with new ventures.
Partnership types that perform well for ecommerce businesses
Creator partnerships: bigger isn't always better
You can work with various partner types. Influencer marketing is among the most popular types since it helps drive brand awareness, create high-quality website traffic, and impact purchasing decisions. Influencer partnerships happen when a brand collaborates with influencers or creators to market its products across social media platforms like Instagram, YouTube, TikTok, etc.
Influencers by follower size
Here is the breakdown of creator types by follower size:
Nano-influencers (10k or less followers)
Micro-influencers (10k-100k followers)
Mid-influencers (100k-250k followers)
Macro-influencers (250k–1m followers)
Celebrity influencers (1m+ followers)
How to compensate creators
Influencers with smaller followings are more cost-effective than big-scale influencers. For example, the average Instagram post from a micro-influencer costs $200–$1000, while celebrities charge $12,000+.
You don't need expensive creators to build successful and engaging campaigns. Small-scale influencers drive revenue, conversions, and clicks.
Ecommerce businesses can also choose payment methods that suit their budgets. For instance, brands can start compensating creators on a performance basis—creators only get paid for specific actions, such as sales, subscriptions, newsletter sign-ups, app downloads, and free trials. Another affordable payment model is gifting—brands gift products to influencers in exchange for content creation. As campaigns show successful results, brands can offer payment methods that offer commissions, bonuses, and fixed rates.
Other popular payment methods include:
Flat fee. Brands pay creators a fixed rate per post or campaign.
Participation bonuses. Partners receive compensation for upper-funnel contributions such as brand awareness.
Hybrid model. Influencers are paid a flat fee plus performance and/or participation bonuses for driving specific user actions.
Tiered fee. A performance-based reward strategy that motivates influencers to drive sales, traffic, or leads to move between compensation tiers.
Monthly payouts. Creators are paid a fixed monthly fee for the length of the contract.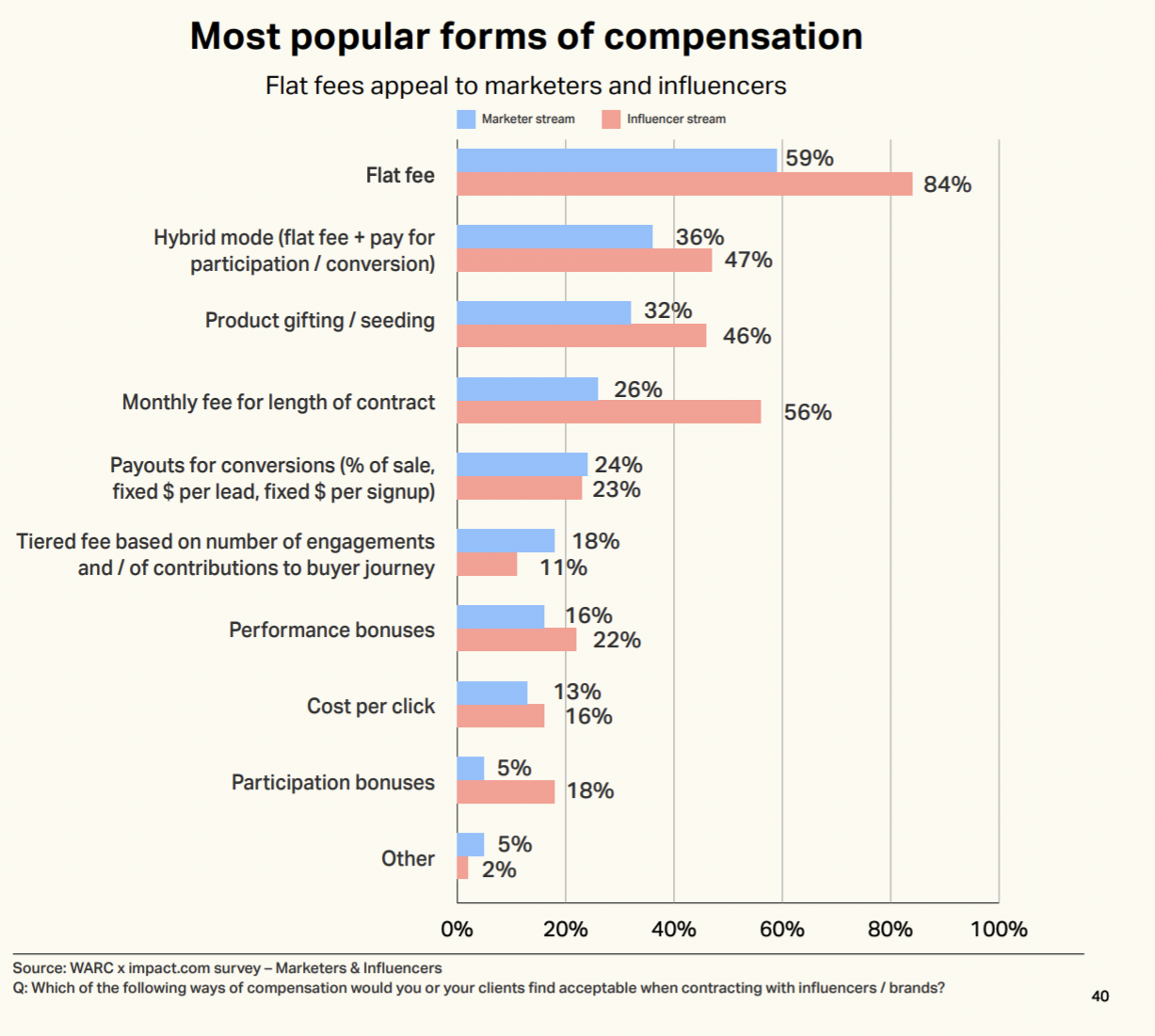 Source: impact.com
Small-scale influencers equal higher engagement
Small-scale influencers tend to have more engagement with followers. Micro-influencers drive 60% higher campaign engagement rates than macro-influencers.
These higher engagement rates help drives brand awareness. For instance, Vivino, a wine marketplace app, worked with micro- and mid-tier influencers to achieve the following brand awareness results:
1.36m impressions
50.3k engagements
11k clicks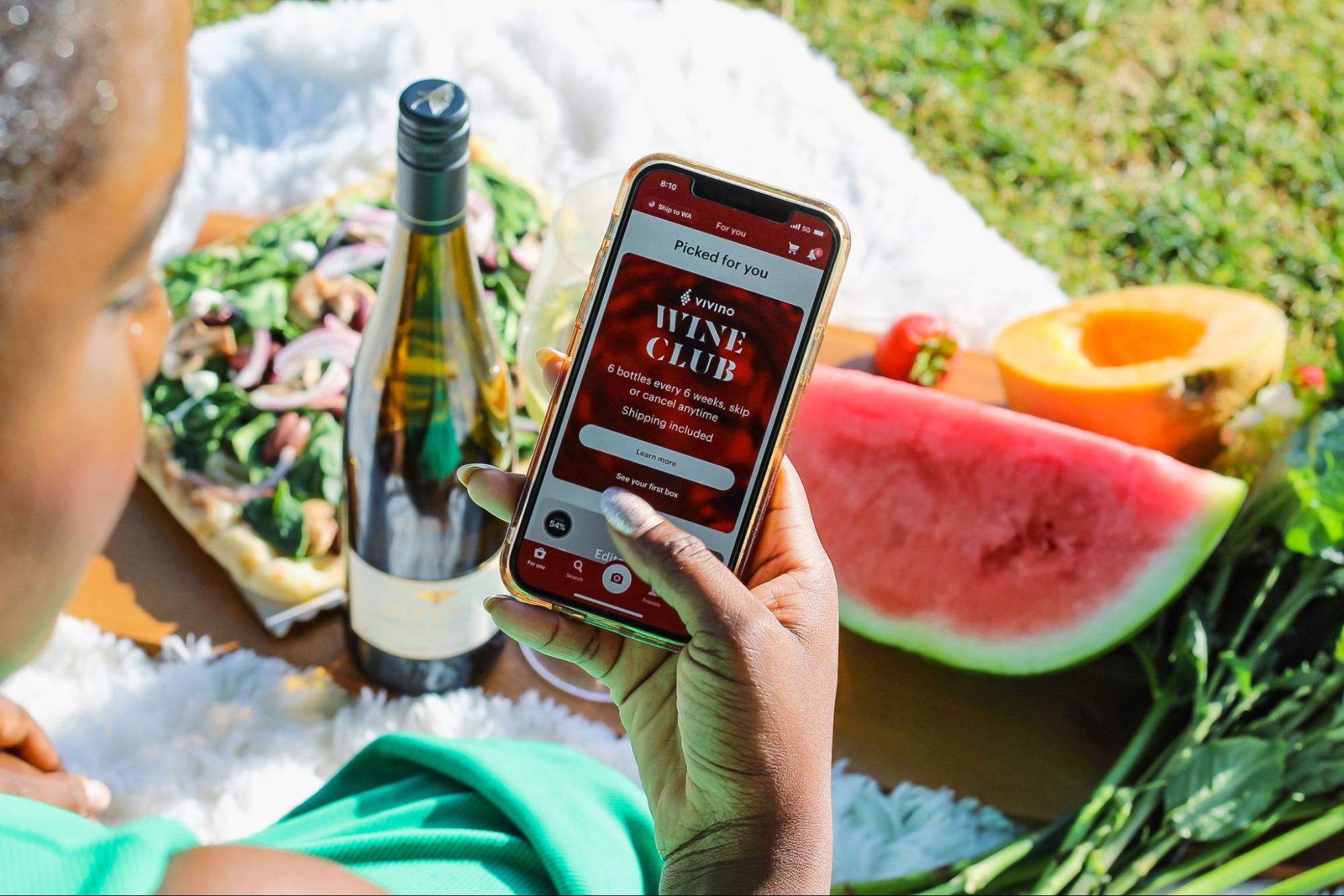 Source: Micro-influencer @by_lakeisha for Vivino
Affiliate partnerships: The tried and true method for revenue growth
Affiliates are another popular type of partnership that entails a performance-based strategy.
Affiliate partnerships happen when an affiliate promotes a brand's products using promo codes, banner ads, text ads, and more in their content. Consumers can click on these assets, which direct them to the brand's website to make a purchase. Once a consumer makes the purchase, the brand pays the affiliate commission– typically a percentage of revenue.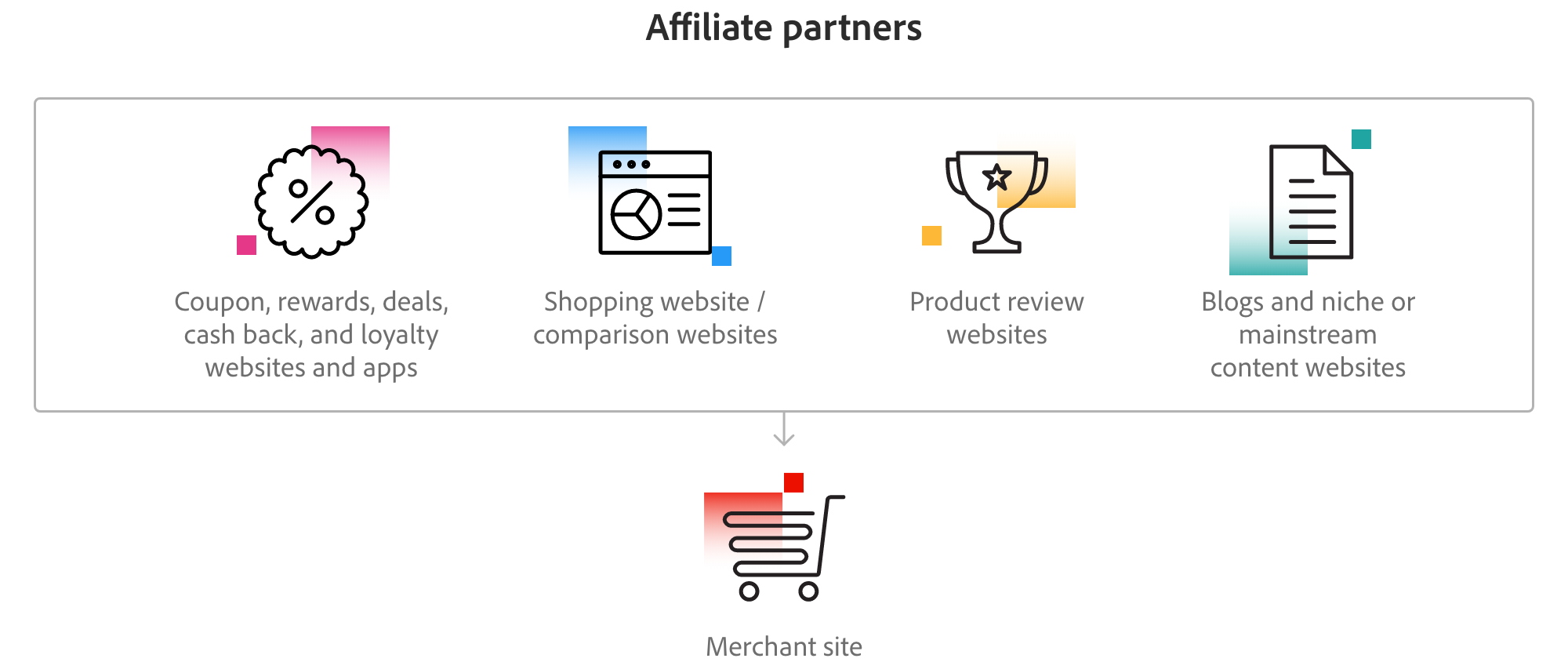 Source: impact.com
The benefits of affiliate marketing
Affiliate marketing is an effective channel that can maximize return on investment (ROI). According to Performance Marketing Association, the affiliate channel's return on ad spend (ROAS) delivered a 12:1 return.
Other benefits include:
Low-risk. Brands only pay when affiliates get agreed-upon results, such as sales, sign-ups, or clicks.
Builds trust. These partnerships rely on trust and deliver more authentic brand promotion than traditional advertising.
Reach new target audiences. Brands can work with affiliates to reach untapped and niche audience segments.
Flexible. The channel's flexibility allows for easy expansion into other types of partnerships.
Affiliate marketing keeps growing
The power of affiliate marketing continues to gain momentum. For instance, online face mask retailer Enro scaled its affiliate program to reach these results:
2,500% ROAS from coupon, deal, and loyalty partners
More than 60% MoM increase in total revenue partners
62% of total revenue generated by partners
72% of all orders were new-to-file (NTF)
69% of web traffic driven by affiliate coverage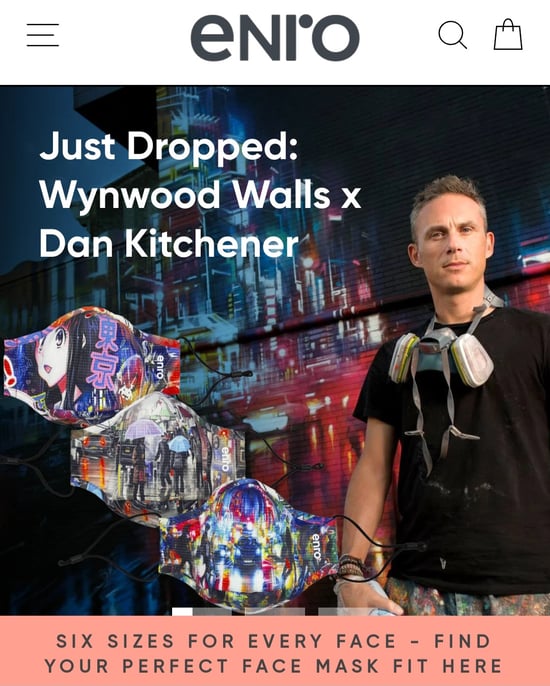 Source: Enro
Take your ecommerce business to new heights with partnerships
Whether you work with affiliates, creators, or content publishers, partnerships offer a cost-effective way to substantially grow your ecommerce brand. Great partnerships build consumer trust, boost revenue, and attract ideal customers.
However, finding the time and resources to start and maintain partnerships can be challenging.
Fortunately, partnership management platforms like impact.com take the guesswork out of finding, recruiting, engaging, and paying partners that will bring value to your bottom line.
Do you want to launch a thriving partnership program like Vivino and Enro? Request a demo to see how the Rockerbox and impact.com integration makes executing affiliate and influencer partnerships a breeze.