Goals and Recommendations from Rockerbox give marketers
the tools they need to set targets for channel ROAS and CPA

, then monitor their progress toward those goals with clear recommendations on where to spend more or less for better results.
Why you need Rockerbox

Goals and Recommendations
Set Goals, Adjust as Needed
Historically, it's been difficult to understand how one campaign is performing in comparison to all of the other campaigns you are running on a given channel. With Rockerbox Goals and Recommendations that changes. Now you have the ability to set goals and adjust your spend based on performance.
Marketing Recommendations, Backed by Data
There's no shortage of marketing data at your disposal, but the difficulty comes in determining how to take action on that data and make optimizations that will actually move the needle. Rockerbox's recommendations functionality does just this. After you set goals, you'll be able to see recommendations per campaign for where you should be spending more or scaling back—or where you're right on track.
Rockerbox: Insights for Your Entire Team
While Goals and Recommendations is built for channel managers who need insights for tactical, daily optimizations, Rockerbox as a whole meets the needs of your entire marketing team (and even beyond).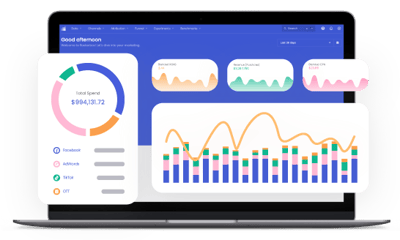 Set and hit targets for channel ROAS and CPA.
This isn't set it and forget it. With Rockerbox, we monitor your progress toward your goals and make CLEAR recommendations on channel budgets.