A popular fashion brand with a large ecommerce and brick-and-mortar presence came to Rockerbox as they were going through a company wide re-evaluation of all its marketing efforts in an attempt to cut waste. They wanted to reevaluate all of their channels and strategies to ensure that they weren't unintentionally spending money in less profitable areas.
The Goal: Identify the best performing channels
By identifying the top and least performing marketing channels, the client would be able to reallocate spend to the channels that were most effective. Previously, the brand struggled to make this evaluation given that they were primarily relying on the ROI numbers presented by each platform rather than looking at all of their marketing (digital and offline) in a cross channel capacity.
The Rockerbox Solution: A Cross Channel Approach
Rockerbox quickly got the client integrated cross channel. This included centralizing all of their paid digital, non-paid digital and offline marketing into Rockerbox Attribution Platform. Rockerbox normalized all of the clients campaigns strategies across different channels, giving the client for the first time the ability to compare prospecting in social to prospecting in search. At the same time, Rockerbox was able to also ingest the client's retail and OTT buys so they could determine the impact that offline channels were having on digital conversions.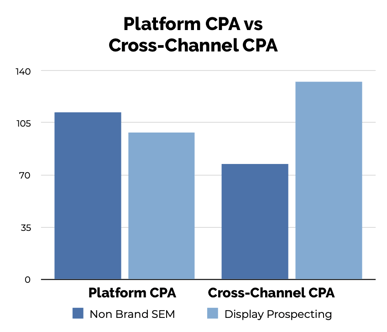 Results
Rockerbox was able to identify that Display Prospecting was a worse performing channel than previously thought. This enabled the client to shift more of their budget to a top performing channel — Non Brand SEM. And as a result, the client was able to drive down their CPAs by 31% for their most effective channel (SEM), increase revenue by 26%, and generate a 122% ROI.
If you're interested in learning more about how you can also utilize Rockerbox Attribution Platform, sign up for a demo here!