If you have post-conversion surveys for your customers, you can now reach out to your account manager to fill in the Analytics > Survey page with response data.

The Survey page is valuable for a couple reasons.
The first is that it's another way to measure your marketing impact across channels since the data is coming directly from your customers. You'll be able to identify relationships between survey responses and marketing channels.
The second reason is that Rockerbox can inject events from the survey data into the multi-touch report. For example, if we determine a marketing channel like Podcasts isn't represented enough, Rockerbox can subsequently inject survey data as synthetic events into the multi-touch report.
---
Let's walk through what the page looks like once its fully set up.
The left-hand side of the page shows the total number of conversions, survey responses, and response rate in the given time frame. The table below shows a breakdown of the responses along with the respective counts, percentage of survey respondents, and percentage of conversions.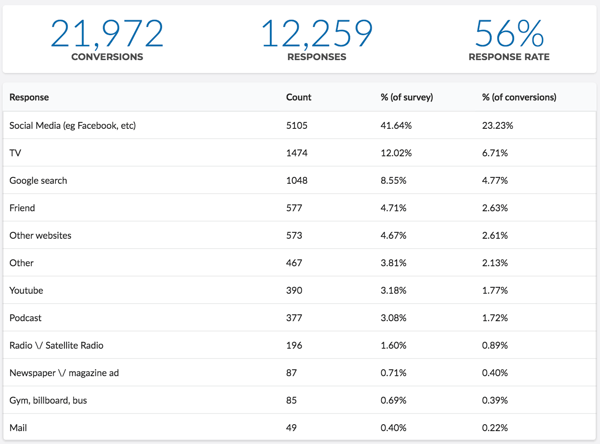 At first, you'll see data for all survey responders on the right side of the screen like this: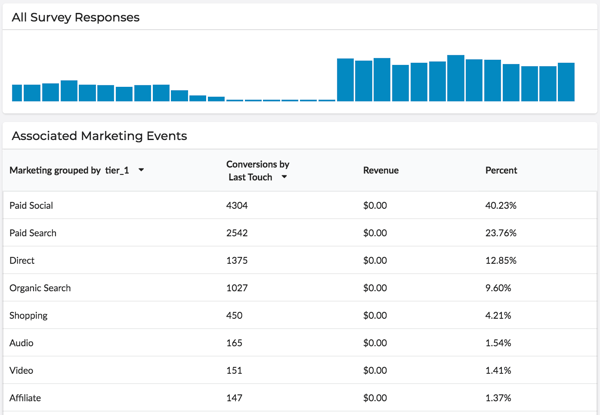 Click any of the above rows in the Responses table, and you'll notice the data in the bar graph and the Associated Marketing Events table below will change to reflect the selected "survey response."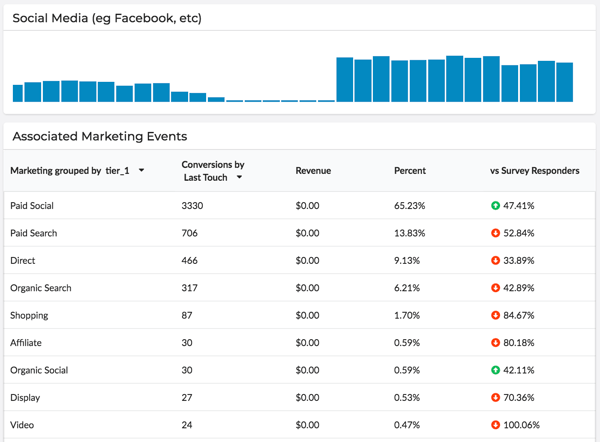 For more information about what the different columns represent, check out our help doc.
---
If you'd like to consolidate your survey data, Rockerbox is able to classify similar survey responses into one group so you can easily digest the data. For example, "IG" and "insta" would both fall under "Instagram."

If you'd like to ungroup these and view the original responses, you can do so by clicking the show raw responses checkbox in the bottom left corner of the page.

Separately, Rockerbox can exclude any survey response that you think is irrelevant.
If you want to set up your Survey page with your survey response data, please contact your account manager.