While the last pro-tip was about using the Inspect page to find granular insights on your customer's journey, this is a guide on how to use the Paths page to find high-level cumulative data on the most popular paths to conversion.
The Customers > Path page offers you insights on your customer's journey, including:
learn how the marketing mix interacts with each channel
if the customer paths align with your strategy
the most common paths taken by your customer
For a walkthrough on the Paths page, watch the video below or scroll down to view a transcript & screenshots.
Watch time at 1.5X speed: 1 minute
The different pages within "Customers" will help you understand which of your marketing buckets are the most valuable.
With this "Paths" page, you'll see the most common paths customers take before converting. With each path to conversion, you'll find the number of conversions and the average revenue associated with it.
On the top left, you'll see a dropdown menu where you can get more granular results by selecting "Buckets 1-2", "Buckets 1-3", etc. This will reveal which campaigns within "email" or "paid social" were the most popular.
On the left of the page, you'll be able to filter by "marketing buckets" and see the relevant paths.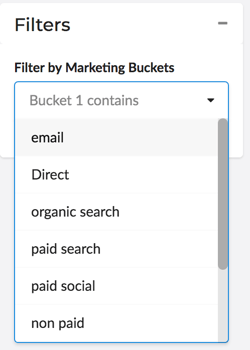 In the top right of the page, you'll see the above icons. If you click the "road" icon, you'll get a new view that will visualize the most common paths your customers take before converting. You can also adjust the time range for the data you want to view.
In this new visualization, on the top, you can adjust the "number of paths to display" as well as the "minimum number of steps."