By viewing the Baseline Comparison report in the Rockerbox dashboard, you can take a look at how your marketing buckets are performing versus the baseline CPA (or the average CPA across all marketing buckets). This report can be as a valuable resource when deciding how to best allocate marketing budget between different campaigns.
To view this report, simply can toggle from the Attribution Report to the Baseline Comparison on the Analytics > Reports page.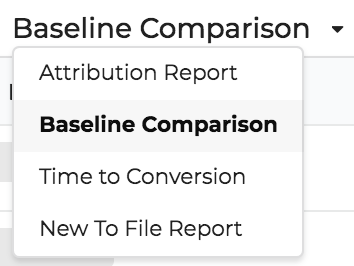 Below is the
baseline
for Paid and Non-paid buckets.
The right most column is
"Versus baseline"
which is showing how these paid channels compare against the baseline (or average CPA).
The first section includes the Top Performers, or the marketing buckets performing at a lower CPA. The second section includes the Laggards, or the marketing buckets performing at a higher CPA.
Lastly, the bottom section are the Non-paid channels. While they are missing Spend and CPA, they do have the number of conversions which can be compared to the Non-paid baseline above.
---
Let's walk through a quick example of finding how different retargeting campaigns are performing for Facebook and Instagram.
Now that we've selected Paid Social / facebook-instagram, let's drill down into retargeting campaigns. You have the ability to search and filter the different marketing buckets. To do so, simply click the + icon.

In the example below, we search rtg for retargeting events and can compare the performances of each retargeting campaigns. We can use this data on top performing, neutral, and laggard campaigns to make business decisions about how to best allocate our marketing budget.
It's important to note that this filter option is used for Bucket #2 and below. In our example, you'll notice we searched for retargeting (Bucket #3) under Paid Social / facebook-instagram.